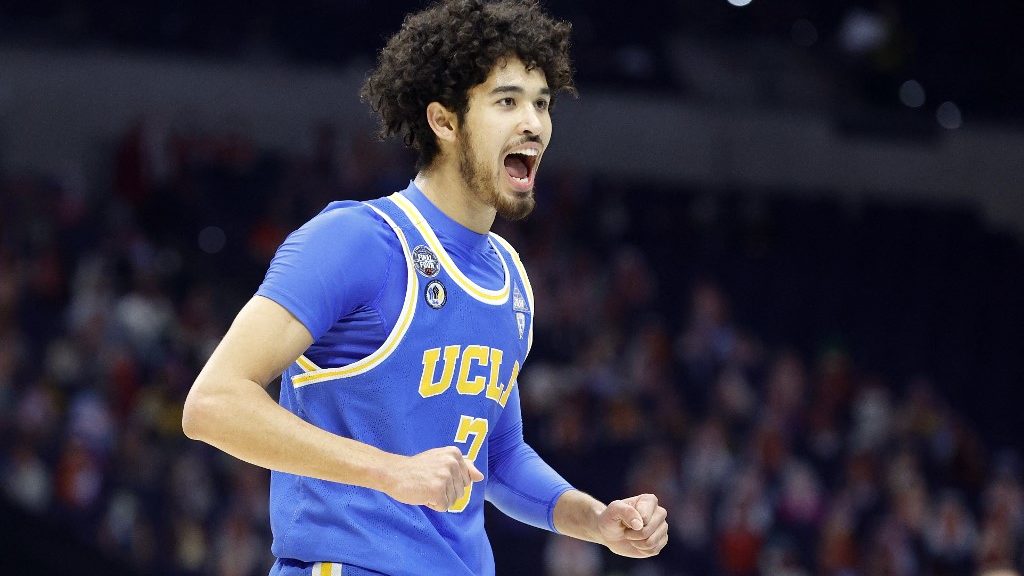 While Cinderella runs are always fun, they are hard to predict. That's why so many were shocked when UCLA went from a bubble team to the Final Four. There was a perfect storm with health, a few key upsets and clutch performances down the stretch, but the UCLA Bruins made it to the Final Four and defied the NCAA odds.
That was thanks to great players stepping up in the postseason. One example of this was Johnny Juzang. He led the team in scoring all year, but he reached another level in the NCAA Tournament. UCLA turned to him when they needed a play, and he often delivered. Juzang made the NCAA All-Tournament team and was an all-conference player, and he decided to return for another year.
He will be a key performer alongside Cody Riley, the well-sized forward. This will be one of the best duos in the Pac-12, but they have high expectations due to last year's crazy ride. Can they lead UCLA back to the Final Four? Let's break down each player and see what they can do.
What Juzang Brings to the Table
First and foremost, Juzang is a bucket. He can score in a variety of ways, and he developed this skill last year. His shooting improved at every level of the floor, and he became a constant threat to score the ball as the season progressed. Last year, Juzang proved that he could be the best player on a title contender. Very few college basketball players can say that.
Also, Juzang proved that he is capable of performing in clutch moments. The Bruins were one play away from making it to the title game, and Juzang's clutch performances were why. He stepped up in every big moment, and the ice in his veins should run through him this year. Next season, we will see if Juzang can develop as a facilitator.
He won't run the point, but the offense will flow through him. If he can boost his assist numbers, he will be an all-around offensive weapon for a tournament team once again. However, this is easier said than done. Juzang made a massive leap from Kentucky to UCLA. Does he have more climbing to do before he reaches his ceiling?
What Riley Brings to the Table
Cody Riley has a lot of strengths. He has now played three years with the Bruins, but last season was the first time he started every game. He is now a reliable veteran, which is hard to come by in today's era of college basketball. As his role has increased, Riley has become a better offensive player. He stopped shooting threes after his freshman year and instead focused on scoring in the paint. With his size, this seems to be the best course of action.
Still, Riley has some things he needs to fix as a senior. He turned the ball over too much for comfort last season. While he is a solid rebounder, there is room to grow here. Also, his numbers from the free-throw line are poor. He'll have to improve if he is to play in clutch moments. On defense, Riley can contest shots and defend the interior. He gets in a bit of foul trouble, but he rarely crosses the line. He was also a key player on last year's tournament team, so that experience should help him as he looks to carry the Bruins to the Final Four again.
So, Can They Bring UCLA to the Final Four?
UCLA has +1100 at the future NCAA odds to win the title this year thanks to these returning players. However, it is important to note that very few teams make the Final Four in back-to-back years. Even fewer do so when they were incredible underdogs in one of those years. As I said, UCLA had a perfect storm last season.
You can't catch lightning in a bottle twice. Juzang and Riley are great players, but plenty of great players fail to carry their teams to the Final Four. Expect a better regular season from the Bruins. Juzang may even be in the discussion for some individual awards this year. However, that doesn't mean that the Bruins will make it back to the Final Four.