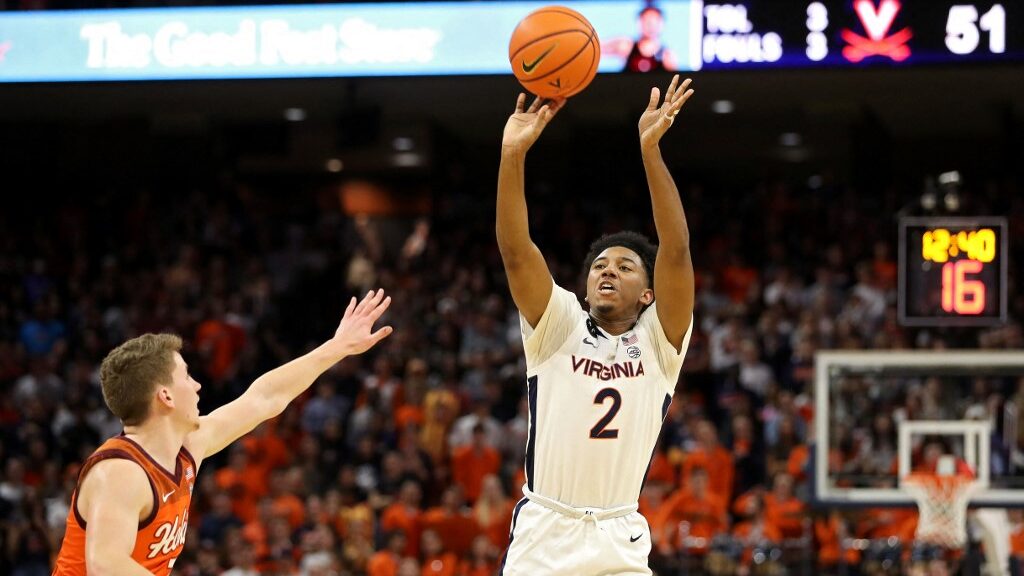 ---
NCAAB Pick: Virginia -14.5 (-105) at BetOnline (visit our BetOnline Review)

---
The best sportsbooks have released their NCAAB odds for Saturday's college basketball game between Boston College and Virginia.
The Eagles might seem to be gaining momentum. To their credit, they've won their last two games. But to be fair, those two teams ranked in the bottom two in defensive efficiency in the ACC.
Needless to say, Virginia's defense poses a much tougher challenge. The Cavaliers are coming off wins over teams featuring generally powerful offensive play. Their win streak is currently at five games.
For reasons that I will explain, you should play both spread and total for your NCAAB picks.
---
Boston College Eagles vs. Virginia Cavaliers
Saturday, January 28, 2023 – 12:00 PM EST at John Paul Jones Arena
Virginia's Great Defense
Make no mistake, Virginia under Tony Bennett is always known for its top-level defense.
It might not seem like Bennett is quite as willing to live up to this reputation because he's more often playing the more offensively-minded Ben Vander Plas at the center instead of the highly-ranked shot-blocker, Kadin Shedrick.
Despite this personnel move, Bennett's Virginia is continuing to distinguish itself defensively.
According to KenPom, Virginia ranks 25th nationally and second in the ACC in defensive efficiency.
Virginia's Pack-Line Defense
Bennett employs the pack-line defense in which defenders are positioned closer to the basket. They are positioned in alignment with each other to compel opposing players toward the middle where the help defense is located. So, in video footage, you will often see opposing ball handlers drive around the free-throw line and then be confronted with a wall of Virginia defenders that forces them to stop their dribble.
Given the emphasis on the Cavaliers' help defense, opponents generally would rather drive baseline. So, why don't players just simply drive baseline in order to avoid the middle help emphasized by the pack-line scheme?
While Bennett emphasizes no baseline, the Cavaliers' defense remains stout against baseline drives because an extra defender will help at the basket should the opposing ball-handler succeed in using the baseline drive to reach the basket.
So, Virginia's defense remains able to garner a numerical advantage that impedes the opposing player from scoring.
Virginia's Defensive Weakness
Given the Cavaliers' general emphasis on stopping dribble penetration in addition to its inclination to double-team the post, they are one of the nation's best teams at limiting scoring around the basket. To be exact, they rank 30th nationally at limiting field goal attempts at the basket, and they rank 46th at limiting opposing field goal percentage at the basket.
The Cavaliers try to compel opposing teams to attempt three-point shots that they hope to contest. This is the team's best chance of scoring: by getting hot from behind the arc.
Therefore, we should focus on whether the Eagles' offense characteristically likes or is at least good at making threes. Or, is Boston College like the teams that routinely struggle against Virginia's defense?
---
Evidence From Game Results
Because Virginia excels at limiting scoring at the basket, we should expect offenses that prioritize scoring at the basket to struggle against Virginia.
This is indeed the case. The Cavs have faced two teams that rank in the top 100 in the ratio of field goals attempted at the basket. Those two teams were James Madison and Monmouth.
James Madison scored 50 points and Monmouth mustered 42. The obvious objection to this line of reasoning is that neither offense is particularly potent.
First of all, JMU's offense ranks much higher than Boston College's in terms of efficiency. But in any case, I can make my point in another way.
Considering a Stronger Offense
Virginia's defense thrives against offenses that, even if they don't focus on attempting shots at the basket, struggle to make threes and are disinclined even to attempt them.
North Carolina, for example, possesses a highly-ranked offense with some offensively very talented guards and forwards. But the Tar Heels rank 10th in the ACC in the ratio of three-pointers attempted, and they rank 12th in the conference in three-point percentage.
They mustered 58 points against Virginia.
---
Boston College's Offense
The Eagles match up terribly against Virginia's defense because they are disinclined to shoot threes and are terrible at making them. In ACC play, they attempt the lowest ratio of three-point attempts and rank 13th in three-point percentage.
Indeed, Boston College is one of the nation's most dependent teams on scoring at the basket. Now, I doubt that the Eagles are better than James Madison offensively - they failed to reach 55 points against the likes of Tarleton State and Rhode Island.
But let's pretend that they are. They won't exceed offensively superior North Carolina's point total. Reasonably, we can expect the Eagles to finish with around 52 or 53 points.
Virginia's Offense
On offense, the Cavs are rather dependent on shooting threes. They attempt a uniquely high ratio of threes per game while ranking among the nation's leaders in three-point percentage.
Four different Cavaliers' players convert 39 or more percent of their three-point attempts.
---
Boston College's Defense
Virginia's offense matches up well against the Eagles on defense because they are awful at defending three-point attempts. They rank last in the ACC at limiting opposing three-point percentage.
While one may say that a defense cannot help whether the ball goes in the basket once it's in the air, it is not just bad luck that the Eagles' defense allows a lot of threes.
Throughout the year, teams repeatedly amass three-pointers against Boston College. Defensively, Boston College overloads in the paint and collapses on dribble penetration.
These tendencies allow the opponent to engage easily in inside-out play. Especially in going inside-out, offenses accrue sundry open three-point attempts against Boston College.
Virginia Three-Pointers
As part of its mover-blocker scheme, Virginia especially likes to use side ball screens like pin-downs to free up space for potential scorers to pop up for a three-point attempt. Defenses counter this tendency by switching on screens and using length to contest these three-point shots.
Because the Seminoles are lengthy, they regularly give Virginia's offense fits. But the Eagles are not lengthy. They rank 148th in height, right around the D-I team average.
Virginia will also achieve dribble penetration in order to kick the ball outside to an open shooter like especially Notre Dame did against Boston College.
Look out, especially for the small, shifty, quick-dribbling point guard Kihei Clark, who owns the nation's 11th-highest assist rate. Fellow guard Reece Beekman is also dangerous because of the speed with which he'll beat his man off the dribble and penetrate the lane. Beekman boasts the nation's 23rd-highest assist rate.
A third straight Virginia game in which it exceeds 75 points will ensure that the Cavaliers score more than enough in order to cover the spread.
---
The Verdict
Virginia will cover the spread because it matches up excellently with Boston College on both sides of the ball, deploying its pack-line defense to suffocate Boston College's inside-focused offense and relying on screens and dribble penetration to attack Boston College's vulnerable perimeter defense.
Boston College's low point total and the lack of pressure on Virginia to score an amazing number of points will keep the game "Under."
Are you a Boston College fan who thinks the Eagles will do better? If so, you can place your bets at any of our top Massachusetts betting sites.
NCAAB Pick: Virginia -14.5 (-105) at BetOnline
NCAAB Pick: Under 124.5 (-110) at BetOnline

*The line and/or odds on picks in this article might have moved since the content was commissioned. For updated line movements, visit BMR's free betting odds product.