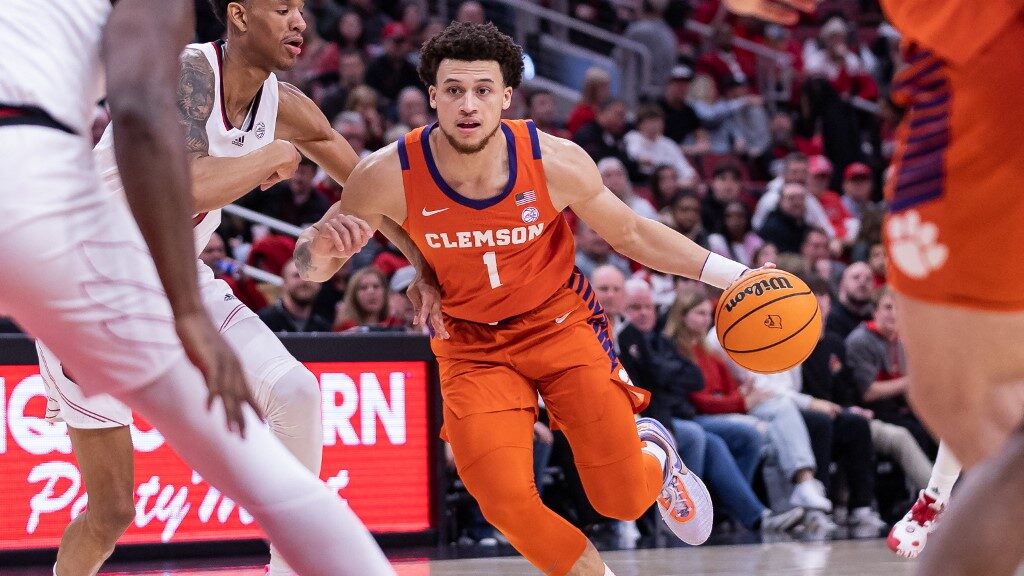 NCAAB Pick: Clemson +6.5 (-108) at Heritage Sports (visit our Heritage Sports Review)

Sportsbooks have released their NCAAB odds for today's action. Three games, in particular, interest me as worth investing in: Clemson vs. Virginia, Iowa vs. Indiana, and Arkansas vs. Tennessee.
For reasons that I will explain, you should play the spread for all three games. Hoosier State residents can make these bets at any of the top-rated Indiana betting sites.
---
Pick Summary
Clemson +6.5 (-108) at Heritage Sports
Indiana -5.5 (-108) at Heritage Sports
Tennessee -6.5 (-110) at BetOnline
---
Clemson Tigers vs. Virginia Cavaliers
Tuesday, February 28, 2023 – 07:00 PM EST at John Paul Jones Arena
Virginia's Offensive Rut
Whereas Clemson can score in droves—the Tigers have scored over 90 points in three of their last four games and over 70 points in six straight games—Virginia's offense is struggling. The Cavaliers' offense is primarily predicated on the ability of its shooters to make shots. Known in recent history primarily for its mover-blocker, or "sides" offense, Virginia likes to set flares or pindowns on either side of the court to free its shooters for jump-shot opportunities.
Even the triangle offense that helped Virginia surge past North Carolina in January was predicated on the shooting ability of guys like center Ben Vander Plas, who could emerge from the commotion of screening inside to pop up behind the arc for a three-point shot. But Virginia repeatedly struggles to reach 60 points because its shots are no longer falling.
After the team converted four of 21 three-point attempts in a 48-63 loss at Boston College, Virginia relied in its last game against North Carolina primarily on inside scoring via the mid-range game of forward Jayden Gardner. Gardner is usually good for a double-digit performance, although he remains prone to laying an offensive egg.
Despite the frequency with which he remains limited to scoring a few points, there just aren't efficient options for Virginia's offense to lean on since Vander Plas and forward Armaan Franklin cooled off from their previous shooting form. The fact that Franklin attempted only two three-pointers in his team's last game against the Tar Heels is alarming. He seems to be lacking confidence in his shot.
Clemson's Shooters
By placing emphasis on protecting the paint, preventing dribble penetration, and limiting post-scoring, Virginia's pack-line defense renders it vulnerable to opposing three-point shooters. A Tigers team that has a bevy of hot shooters is primed to exploit a UVA defense that allows a relatively high rate of threes.
Look out, among others, for center PJ Hall, who's shooting 38.9 percent in ACC play. Also consider guard Chase Hunter, who's four-for-seven from deep in his past two games, power forward Hunter Tyson, who's eight-for-16 from deep in his past two games, and guard Brevin Galloway, who's eight-for-13 from three in his past two games.
Clemson's Frontcourt
Virginia has struggled with frontcourt players who can shoot the three. Two recent good examples are Tar Heels forward Pete Nance, who scored 22 on Saturday against the Cavaliers, and Fighting Irish center Nate Laszewski, whose team-leading 18 points nearly helped double-digit underdog Notre Dame defeat Virginia.
For Clemson, both Tyson and Hall will be particularly dangerous, although the Tigers can also rely on the shooting of their guards. All of this is to reemphasize my initial point: Clemson can score but Virginia cannot.
NCAAB Pick: Clemson +6.5 (-108) at Heritage Sports
---
Iowa Hawkeyes vs. Indiana Hoosiers
Tuesday, February 28, 2023 – 07:00 PM EST at Simon Skjodt Assembly Hall
Iowa's Interior Defense
Iowa lacks size and shot-blocking ability near the basket. Given this deficiency, the Hawkeyes are very poor at limiting opposing efficiency at the rim. They will likely try to compensate for this deficiency by devoting extra attention to opposing offensively talented centers.
When they played Michigan, for example, they approached center Hunter Dickinson with a double-team and positioned multiple guys in the paint who would be ready to bother Dickinson in case he should manage to find an open path to the basket.
The Hawkeyes often employed such tactics in their first game against Indiana, a 91-89 victory, although Hoosiers center Trayce Jackson-Davis makes it difficult to contain him because of his energetic off-ball movement in the form of setting screens and other actions.
The Need for Balance
Jackson-Davis will get his lion's share of points, as he did in the first meeting between these teams when he scored 30 points. Even if Iowa does manage, on certain possessions, to prevent him from shooting, he will find teammates behind the arc who will be open as a result of the extra attention that Hawkeyes defenders devote to Jackson-Davis.
In this respect, Indiana benefits from being one of the nation's most efficient three-point shooting teams. With three players who shoot 40% or better from deep, the Hoosiers boast the personnel to make Iowa's defense pay with a balanced offensive attack.
Indiana's Defense
When they lost at Iowa 91-89, Indiana was in a phase—this game took place at the beginning of January—where they were figuring things out defensively. This team would go on to concede over 80 points against Northwestern and Penn State. Indiana has overcome these defensive issues, especially at home where, since that time period, it has only failed to beat Purdue by more than five points.
After completing a crazy comeback at home against Michigan State—Iowa's 21-point comeback against Indiana also took place in Iowa—the Hawkeyes' offense finds itself in a let-down spot. Iowa will fall flat at Indiana, where the Hoosiers will be uniquely motivated for revenge after losing that 21-point lead.
If you're thinking for your NCAAB picks that Indiana will fall flat after beating Purdue, just look at how the Hoosiers victimized a Rutgers team against which it came out firing.
NCAAB Pick: Indiana -5.5 (-108) at Heritage Sports

---
Arkansas Razorbacks vs. Tennessee Volunteers
Tuesday, February 28, 2023 – 09:00 PM EST at Thompson-Boling Arena
Tennessee's Defense
Tennessee's defensive success is largely a product of its good organization. The Volunteers work together to make it difficult for opponents to find easy paths to the basket.
Their compact positioning helps in addition to the quickness of their guards, the athleticism of their wings, and the size of their bigs. Regarding their bigs, center Jonas Aidoo ranks 16th nationally in block rate.
Overall, Tennessee's defense is a disruptive, high-pressure one that is hard to be efficient against.
Arkansas' Offensive Outlook
Arkansas' offense remains one-dimensional even with the return of Nick Smith, as the Razorbacks remain determined to attempt shots at the basket. This preference and the team's general inability to shoot make it match up poorly against Tennessee's defense which allows the nation's 10th-lowest field goal percentage at the rim.
Tennessee's defense will help slow this game down, bothering an Arkansas team that would rather play fast and that underperforms in games in which it does not play at its preferred fast tempo.
Josiah-Jordan James Is Back
Volunteers forward Josiah-Jordan James' return is crucial because Arkansas tends to concede high-scoring outputs to guys who combine size with ball-handling skills. JJJ's skill set allows him to score on his own inside the arc, where he'll re-boost Tennessee's offensive rebounding prowess against an Arkansas defense that doesn't rebound particularly well.
Besides by relying on a quick point guard in Zakai Zeigler and another guard in Santiago Vescovi whose experience at point guard makes him comfortable being a distributor in addition to being an efficient three-point shooter, Tennessee will score plenty of points by exploiting the Arkansas offense's tendency to turn the ball over.
NCAAB Pick: Tennessee -6.5 (-110) at BetOnline (visit our BetOnline Review)

*The line and/or odds on picks in this article might have moved since the content was commissioned. For updated line movements, visit BMR's free betting odds product.