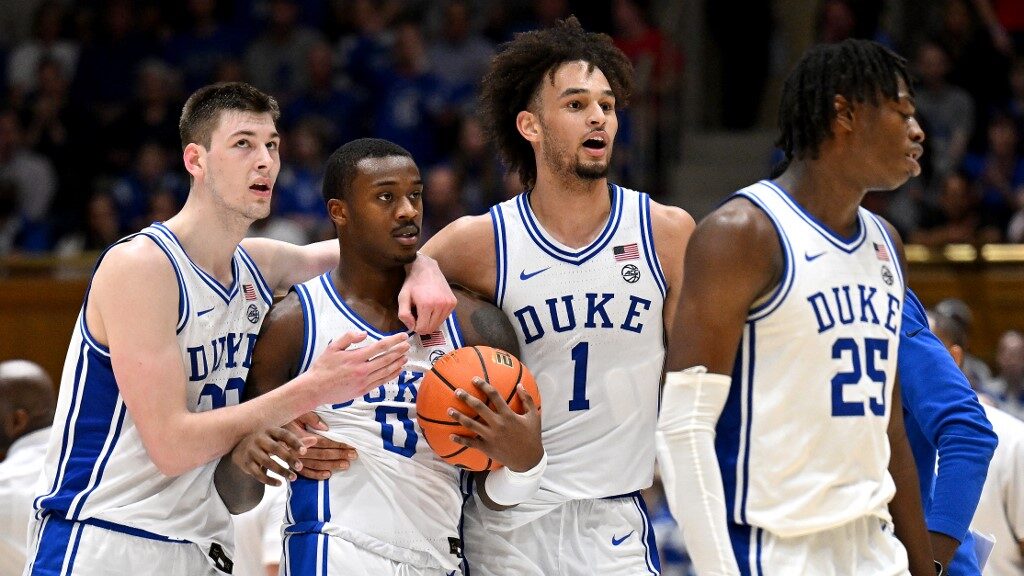 NCAAB Pick: Duke -2.5 (-108) at Heritage Sports (visit our Heritage Sports Review)

The best sportsbooks have released their NCAAB odds for tonight's ACC Tournament action.
Both semifinal games, Duke vs. Miami and Clemson vs. Virginia, are worth investing in.
For reasons that I will explain, you should play the spread for both games.
---
Duke Blue Devils vs. Miami Hurricanes
Friday, March 10, 2023 – 07:00 PM EST at Greensboro Coliseum
Forget the Last Meeting
Never-minding Duke's repeated ability to beat the same team elsewhere that they lose too badly on the road, it might seem tempting to bet on Miami because the Hurricanes beat Duke 81-59 in their last meeting. However, coming off a win over rival North Carolina two days prior, Duke played worse and with much less focus and intensity than Miami did.
The Blue Devils played carelessly and sloppily, turning the ball over 21 times, with many of those turnovers being unforced. They missed open layups that set them back from the start of the game.
Their defense was apathetic, as defenders stood in no man's land instead of closing down open shooters, and they were likewise slow to pursue loose balls. Conversely, the Hurricanes were out for revenge, and its relentless dunk show at the end highlighted the extent to which beating Duke meant something to them.
Avoiding Turnovers
On offense, Blue Devil turnovers hindered their general productivity, inhibited their flow, and made Miami's job on defense too easy. While tonight's Hurricane backers will point to the aggressiveness of Miami's defenders, Duke has displayed elsewhere its ability to withstand defensive pressure.
Against Miami, Duke's guards performed terribly, but they, for example, recently maintained composure against a Wolfpack defense notorious for applying strong on-ball pressure. Whereas the Blue Devils likewise committed 21 turnovers in their first game against NC State, they reduced that number to six in the rematch.
To the end of reducing turnovers, Duke relies especially on the skilled ball-handling of quick veteran point guard Jeremy Roach, whose strong run of play in February and now into March primes him to produce his typical bounce-back effort against an opponent that he struggled against in its venue.
Inside Scoring
With more composed and confident guard play, specifically an improved Roach, Duke will do a much better job of distributing the ball to its wings and bigs inside the arc, who will use their size advantage to finish over the top of a much smaller group of Hurricane players.
Undoubtedly, the Blue Devils' size advantage – they are the tallest team in the nation – will translate to success on the glass, leading to second-chance points and enabling their defense to limit Miami to one shot attempt per possession.
Improved Ball-Screen Defense
Yesterday in its win over Pitt, Duke could rely on the individual defensive abilities of its lengthy wing players.
While these abilities of the versatile Mark Mitchell and other key defenders will be meaningful against Miami's array of shot-takers, what will be especially important to Duke tonight is its ball-screen defense, because, led by point guard Nijel Pack, Miami is relatively inclined to run ball-screen actions. Duke's ball-screen defense used to be simplistically switch-heavy, which allowed opponents to hunt for the right matchup.
Now, Blue Devil players are more selective as to when they switch. Miami's center rarely shoots threes, so Duke's prolific shot-blocking machine Dereck Lively will comfortably remain in drop coverage. When defending against ball screens against NC State, Duke often executed a "show," which prevents the opposing ball-handler from using the screen to achieve dribble penetration or secure room for a shot attempt.
Expect similar success – Duke held NC State to 67 points – against Miami's ball-screen attack.
The Verdict
Even though Miami shoots the ball more dangerously from three, Duke's characteristically stout perimeter defense will possess the focus and the length to close out effectively on opposing shooters while their ball-screen tactics keep opposing ball-handlers from comfortably executing decisive passes.
Back Duke at -2.5 for your NCAAB picks.
NCAAB Pick: Duke -2.5 (-108) at Heritage Sports
---
Clemson Tigers vs. Virginia Cavaliers
Friday, March 10, 2023 – 09:30 PM EST at Greensboro Coliseum
Missing Advantages
In last night's triumph over North Carolina, Virginia had two key benefits that it will miss tonight.
One, a Virginia team that practices defense hard – especially after its bad loss at Virginia Tech – benefitted from getting the rest that it badly needed. Compared to what they had been doing before the pre-tournament pause, Cavalier bigs were hedging more effectively; their ball handlers were driving more explosively; their shooters were more able to use their legs. This freshness will be inapparent tonight because they just played yesterday.
The Cavaliers also benefitted from the almost-complete absence in the second half of North Carolina's injured rim protector, without whom the Tar Heels' interior defense was vulnerable to a Virginia offense that was not going to make them pay from outside the arc.
Since Clemson's team is healthy, this will be another advantage that Virginia won't have tonight.
The First Meeting
These teams met quite recently – on February 28 and Clemson lost at Virginia. Because that game took place so recently, it might seem obvious to expect a similar result. After all, what could change in so little time?
This time, Clemson will be better prepared. To explain, Virginia began its last game against the Tigers relying on its triangle offense. This scheme had helped the Cavaliers thrive in January, but shooting problems, Ben Vander Plas' injury and poor form, and opponents' adjustments rendered the triangle offense ineffective.
Against Clemson, Virginia switched gears, proceeding to rely on its characteristic mover-blocker offense. As evident in their PPP (points per possession), the Cavaliers were critically efficient with this particular offensive scheme, which deserves the credit for their seven-point win.
Clemson's Defense Is Ready
Clemson's defense is going to be prepared because it will study the mover-blocker offense more closely particularly by rewatching its recent experience against this offense. Expect Tiger defenders to respond quickly to opportunities created by the mover-blocker.
They will avoid ball-watching, keep track of their man, fight through screens – the mover-blocker is essentially two bigs on the elbows setting screens for teammates trying to gain a step on their defender – and bump Virginia players off their cuts.
The Tigers should be especially devoted to protecting the basket, because, outside of Jayden Gardner, Virginia lacks efficient mid-range scoring options. Plus, the Hoos continually decline in their three-point shooting. Given this decline, players like Armaan Franklin have grown more inclined to attack the basket.
However, as evident in their opposing rate of field goals attempted and opposing rate of field goals converted at the rim, the Tigers excel at protecting the basket – they will wall up Virginia's potential inside scorers, making it way harder to achieve the baskets that they did against North Carolina's beleaguered interior defense.
Clogging the lane is particularly crucial against Virginia's top distributor, point guard Kihei Clark, who often relies on probing the opponent's interior as a means to finding teammates or scoring himself.
Clemson's Shooters
On offense, Clemson likes to spread out its array of three-point shooters – the Tigers rank fifth in the ACC in the rate of threes attempted and sixth in the ACC in three-point percentage – such that it's harder for help defense to arrive punctually to any individual shooter.
The key shooter will be the power forward Hunter Tyson, whose three-pointers keyed Clemson to a 67-50 win at Virginia last year, but whose bricks allowed the Cavs to hold on to their narrow win this year.
Tyson's positioning will help him attempt open shots. He'll also pop up behind the arc after setting a screen – the pick-and-pop is a well-known weapon against the hard hedge that the Cavs like to execute.
PJ Hall
It is hard for the opposing defense to account for Clemson's center near the basket – although PJ Hall can also be dangerous from deep – and for Tyson behind the arc. Virginia likes to double the post with its power forward, but he'll be focused on Tyson.
The Cavs have physical and athletic options at center, although Francisco Caffaro is not one of those athletic options. Fellow Cavalier center Kadin Shedrick is more athletic and still physical, but he is terrible at defending without fouling.
Hall, a regular option to score in double digits, will have another good game against a Virginia defense wishing it could double him as it normally uses double teams to pressure opposing top interior scoring options.
The Verdict
Clemson benefits from having just encountered Virginia's mover-blocker. The Tiger defense will hold Virginia to below 60 points by responding more quickly and more physically to the Cavaliers' offensive scheme, while Virginia will fail to support itself with its typically inefficient mid-range and three-point shooting.
Offensively, the Tigers love to shoot three-pointers, which is great news against a pack-line defense that compels opponents to shoot them. A stronger performance especially from Tyson will help Clemson outdo its point total in these teams' first game.
Play Clemson in addition to Duke. For Tigers fans looking to bet on this game, you can check out our top South Carolina betting sites.
NCAAB Pick: Clemson +3.5 (-108) at Heritage Sports

*The line and/or odds on picks in this article might have moved since the content was commissioned. For updated line movements, visit BMR's free betting odds product.