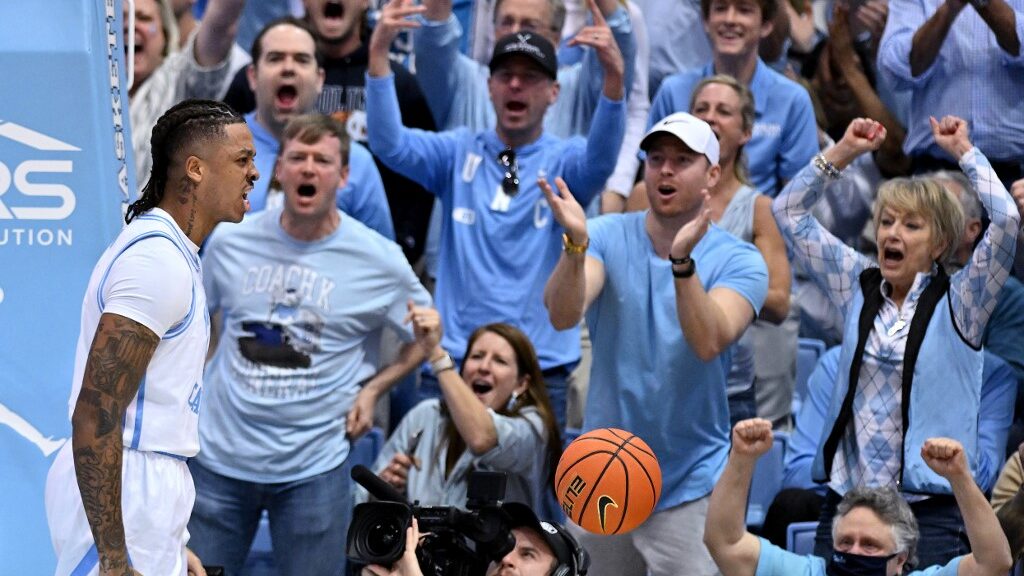 NCAAB Pick: Duke -6 (-110) at Bovada (visit our Bovada Review)

Picks Summary:
Duke -6 (-110)
North Carolina +2 (-105)
Top Sportsbooks have released their NCAAB odds for today's college basketball action.
Two games, in particular, interest me as worth investing in: Pittsburgh vs. Duke and North Carolina vs. Virginia.
For reasons that I will explain, you should play the spread for both games.
Remember, fans from the Tobacco Road area who want to wager on this game should check out our top-rated North Carolina betting sites.
---
Pittsburgh Panthers vs. Duke Blue Devils
Thursday, March 9, 2023 – 02:30 PM EST at Greensboro Coliseum
The First Meeting
These teams played once in the regular season, back on January 11.
Despite the game being at Duke, it is surprising that the Blue Devils won — the score was 77-69 — given how poorly they played in the first half.
Duke's first half was characterized by a brutal array of turnovers, which exemplified the offense's failure to execute on simple plays, and which were often caused by silly and unnecessary passes. Duke would eventually settle down, outscoring Pitt 45-26 in the second half to win by eight.
My contention is that, since that game almost two months ago, Duke has improved in relevant ways that more than outweigh the consideration that that game took place on Duke's home floor. Given the Blue Devils' improvements, I expect them to win this rematch by an even larger number of points.
---
Avoiding Turnovers
To be precise, Duke turned it over 17 times in the first game. A significant reason why the Blue Devils won the second half of that game by 19 points was that they held themselves to five turnovers in that half.
In today's game, the Blue Devils' offense will likely hold itself to five turnovers in both halves because they are much better now about preventing turnovers.
For example, when Duke played NC State, a defense that is good at forcing turnovers, on February 28, the Blue Devils only committed 10 turnovers. Pitt is not even good at forcing turnovers — its defense's turnover rate is mediocre compared to that of other ACC teams.
But Duke struggled in the first game with turnovers because it missed point guard Jeremy Roach. Roach's presence is critical because of the ball-handling responsibility that he gladly assumes. Without him, other Duke players are trying to drive inside and trying to handle the ball despite lacking Roach's dribbling skills.
---
Jeremy Roach's Importance
With his vision and general ability to run the offense, Duke is a significantly stronger team. Its turnover-heavy first half against Pitt was just one symptom of Roach's absence. This team, without Roach, beat Boston College by a single point and lost by eight at Clemson.
Now, Duke's ongoing six-game win streak is being propelled by Roach, who has accumulated 24 assists to 11 turnovers during this streak.
---
Wings and Forwards
Duke has a significant size advantage with its wings and forwards, which include the 6-7 Dariq Whitehead, the 6-8 Mark Mitchell, and the seven-footer Kyle Filipowski, with whom the offense can pound it inside.
Pittsburgh's rim protection is thin — meant more literally than metaphorically — spearheaded by the 6-11 220-pounder, Federiko Federiko. Federiko struggles to defend without fouling — he has committed at least four fouls in five of his last six games.
While Whitehead is more of a shooter, Mitchell and Filipowski are more efficient inside, and specifically, the latter will challenge Federiko Federiko to defend without fouling. Since February 18, Pittsburgh ranks 321st in defensive efficiency, as wings like Seminole Jalen Warley help their respective teams accrue high point totals against the Panthers.
---
Key Duke Defenders
The three Pitt players Duke needs to be most concerned about defending are Pitt's top two shot-takers, forward Blake Hinson and small forward Jamarius Burton, plus the Panthers' top assist-getter, point guard Nelly Cummings.
For Duke, Mitchell is a valuable wing defender with his footwork and versatility, which will make it easier for him to use his length advantage against Burton to contest the latter's shot attempts. Furthermore, Tyrese Proctor has repaired Duke's earlier-season tendency to struggle against guards.
Proctor is a likewise lengthy and stifling defender with the athleticism to contain the likes of Wolfpack star point guard Terquavion Smith, who mustered eight points on February 28 against Duke. Filipowski will also use his length advantage to make Hinson's life difficult behind the arc. Hinson is a big reason why Pitt attempts threes at such a high rate.
Life Outside the Arc
Perimeter defense is a calling card for Duke — even mediocre Blue Devil squads defend the perimeter well.
While Filipowski lacks athleticism, he doesn't need much of it to limit a guy in Hinson who doesn't create his own shot and won't be able to shoot over the top of him. Of course, Duke's defense is so good — ranking 27th nationally in efficiency — because it also is one of the nation's best teams at limiting opposing field goal percentage at the rim.
Here, Duke is led by seven-footer Dereck Lively, the center who grew into a shot-blocking menace after the Pittsburgh game where his shot-blocking would have been helpful to his team's interior defense. Since playing Pitt, Lively has had eight games in which he accrued at least three blocks, whereas, before the Pitt game, he had so many blocks only in December games against Boston College and Maryland Eastern Shore.
---
Improved Ball-Screen Defense
One reason why Duke's defense is stronger now than in January is that its ball-screen defense has grown more nuanced.
Pitt succeeded as much as it did offensively partly because it could hunt for favorable matchups against what was a much more switch-heavy Blue Devil ball-screen defense.
But Duke's defense is much smarter now about preventing opposing offenses from gaining those matchup advantages.
---
Rebounding
One thing that will continue in Duke's favor is rebounding. The Blue Devils dominated Pitt on the glass in the first game.
Being the tallest team in the nation, Duke has the rebounding prowess to repeat this performance, creating second-chance points for itself on offense while limiting Pitt to a single shot attempt per possession.
---
The Verdict
In today's rematch, scoring will be more difficult for Pitt inside given Lively's growth, in general given Duke's assortment of lengthy defenders and improved ball-screen defense, and the Panthers will continue to struggle to make shots against Duke's consistently stout perimeter defense.
On the other side, scoring will be easier for Duke because Roach will play this time, bringing his vision, ball-handling, and passing to the fore, and the offense is much better about limiting turnovers.
For your top NCAAB pick, expect a double-digit Blue Devil victory.
NCAAB Pick: Duke -6 (-110) at Bovada (visit our Bovada Review)
---
North Carolina Tar Heels vs. Virginia Cavaliers
Thursday, March 9, 2023 – 07:00 PM EST at Greensboro Coliseum
The First Game
These teams first met on January 10 at Virginia, where the Cavaliers prevailed in what was a tight game — although 65-58 might look like a solid win for a team that plays at a slow pace.
Virginia prevailed with its small-ball tactics and triangle offense, which worked for it at the time because center Ben Vander Plas was shooting well at the time and opponents felt like they had to respect his shot.
But Vander Plas has fallen back to Earth — he is 0-for-4 from deep in his past two games combined; and, despite previously being a higher-volume shooter, he hasn't made more than two threes in a game since January 14.
Since Vander Plas is a liability when guarding the post by himself on defense, he really hurts the team, although the team's other centers are so helpless offensively that he still shows value compared to them.
---
The Second Game
UNC and UVA most recently played on February 25 in Chapel Hill.
North Carolina won 71-63 in a game whose scoreline was flattered by Virginia's tenacious effort, as part of which Kihei Clark capitalized on silly Tar Heel turnovers.
Virginia's determination- perhaps more so than UNC's laxity- enabled the offense to reach 63 points and end the game with only a single-digit deficit.
---
Expectations for Tonight's Game
Tonight's game will be lower-scoring because a more focused Tar Heel effort will limit a Virginia offense that, never-minding its domination at home against a pathetic Louisville team, has failed to shoot with anywhere near the efficiency that it did earlier in the season, with the result being that the team struggles to reach 60 points even against lesser defenses like Notre Dame's.
Now, North Carolina will score fewer points in this rematch because it relied on a great game from power forward Pete Nance to score as many points as it did, and Virginia has improved against versatile frontcourts, as evident in its efforts against Boston College sharpshooting center Quinten Post and against Clemson's power forward Hunter Tyson, whose 17-point output is a product of his volume rather than his efficiency.
Focus on D Tonight
But in scoring fewer points, the Tar Heels will be more focused defensively, and so won't allow Virginia's offense to accomplish the late surge that it did to exceed 60 points.
Without the sharpshooting from January's game, the Cavaliers' offense will again struggle to reach 60 points, leaving a Tar Heel offense that is built to feature its highly talented guard duo plus center Armando Bacot — who played a minute in the January game which Nance missed entirely — inside to outdo its 58-point output in the January road game.
Because North Carolina has been shooting well from deep lately — see last night's game as an example — and Virginia's pack-line defense compels other teams to shoot threes at a high rate, I find it likelier that the Tar Heels cover easily than that the "under" hits.
NCAAB Pick: North Carolina +2 (-105) at BetOnline (visit our BetOnline Review)

*The line and/or odds on picks in this article might have moved since the content was commissioned. For updated line movements, visit BMR's free betting odds product.