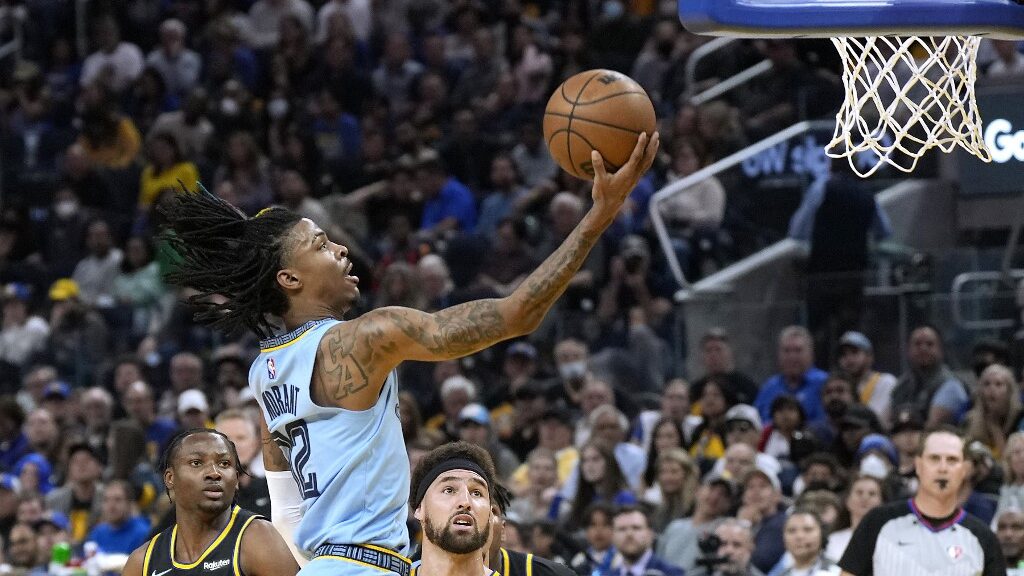 The NBA season will start before you know it. We've put together an outlook of MVP odds for the Regular Season and discussed why Ja Morant won't win the award this year.
Let's see what the NBA odds tell us at the top-rated sportsbooks!
PLAY NOW: $25,000 Free-To-Play NFL Contest: BMR's 2022 Pick'Em Pool Opens for Registration
---
New Talented Faces in NBA
The NBA season will be here shortly. The league has so many new faces of the game. There's talent everywhere.
The Timberwolves spent many assets on Rudy Gobert, while the Cavaliers gave up a ton for Donovan Mitchell. When looking at MVP odds, you won't see either of those names until you get to +8000.
That just shows you how many great players are in the league. Only one player can win the NBA MVP.
Here's an odds breakdown of this year's MVP race before the season begins. I'll also discuss why a player like Ja Morant won't win the MVP this season. Let's get to it.
---
Out of MVP Odds for Regular Season
Luka Doncic (+425) has the highest probability of winning the MVP this season. He's followed by, Giannis Antetokounmpo (+600), Joel Embiid (+650), Kevin Durant (+800), and Nikola Jokic (+900).
After those five, Jayson Tatum (+1200) is next on the list, followed by Steph Curry (+1200) and Ja Morant (+1500). Next, it'll be LeBron James (+1800) and Kawhi Leonard (+3000), who hasn't played in nearly two seasons. After Leonard, Devin Booker (+3000), Trae Young (+3500), and Zion Williamson (+3500) have the next highest probability.
Have you seen the trend here? None of these players switched teams this year. The first player on the list that changed teams is Donovan Mitchell.
The Cavaliers paid a boatload for Mitchell, while oddsmakers think he's not even a top 20 player coming into the season. No wonder why Kevin Durant couldn't get out of Brooklyn.
---
Ja Morant Won't Win MVP
Many analysts and fans are high on the Memphis Grizzlies this season. After all, they put together a great season last year with a young group. But when Morant wasn't playing, the Grizzlies went 20-5 last season.
Morant doesn't look like the most valuable player on the Grizzlies from that standpoint. Morant continues to miss multiple games every year since coming into the league. He's never healthy for an entire season.
He played 57 games last year and shot under 50% from the field. Morant also hit under 35% from deep and wasn't the most efficient player. He's capable of having big performances, but his consistency lacks.
How Far Can He Go?
His athleticism will take him far but not far enough to win the MVP.
Last year, Morant made the highlight real for a block defensively, where he chased down the offensive player and made a ridiculous block. He was praised for it, but the media never really talked about the fact that he first turned the ball over on that play.
In the West semifinals playoffs against Golden State, Morant was deadly from three, shooting 43% in three games on ten attempts per game.
However, against the Grizzlies, in the previous playoff series, he averaged less than one three per game and shot 20% from deep in that series. The consistency, again, just won't be there for Morant.
What Needs to Change
He's a great athlete but doesn't consistently play at a high level. He's always going to likely miss at least ten games due to injury, and when the Grizzlies were without Morant, they won 20 of 25 games last year.
Don't take Ja Morant at +1500 this year. The hype is a little over the top at this point.
---
Who Could Win the MVP This Season?
The Mavericks did whatever they could to improve their roster this season. That helps Luka Doncic, who averaged 28.4 points, 9.1 rebounds, and 8.7 assists per game last year.
Doncic will need to shoot at a higher percentage this season, but he does so much of the little things well that he has to get noticed.
Just like Morant, however, Doncic struggled to defeat the Golden State Warriors in the playoffs, shooting just 41.5 percent from the field.
What Needs to Change
He needs to improve his efficiency from the area, but ultimately, if he's able to average a triple-double for the Mavericks, he should be considered for the MVP at +425. Doncic has been in the league for four seasons.
He's improved from three, but has ultimately seen his field goal percentage drop. His 2019-2020 campaign was a bit better than last year's.
If he outdoes both seasons and puts the Mavericks in the top three in the West standings this year, Doncic should win the award as the NBA pick.
*The line and/or odds on picks in this article might have moved since the content was commissioned. For updated line movements, visit BMR's free betting odds product.