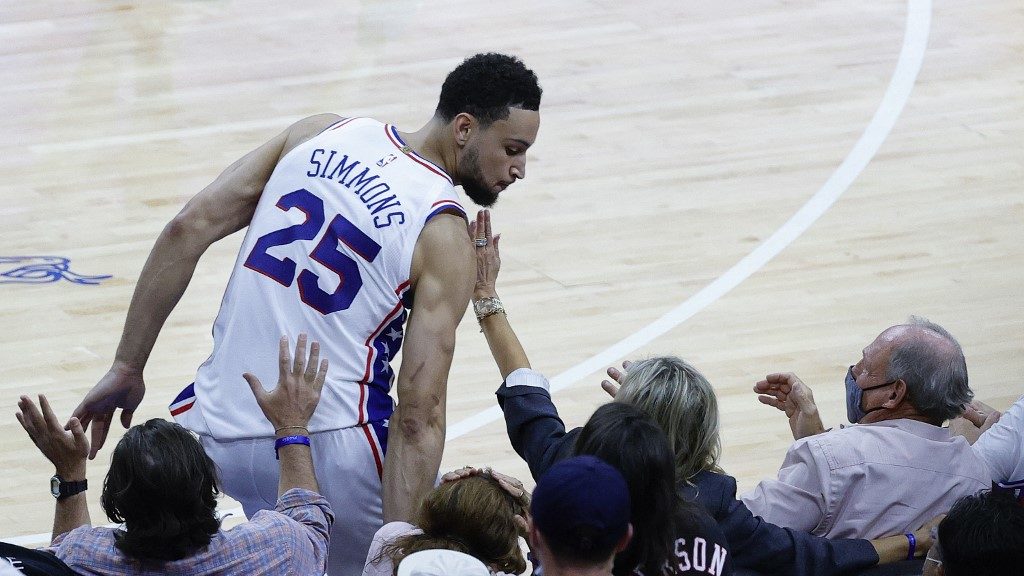 With only a few weeks left in the NBA offseason, the game of chicken between Ben Simmons and the Sixers is intensifying. Will Simmons get traded this offseason and, if so, who is most likely to land him?
Will Ben Simmons Attend Sixers Training Camp?
*All odds are available at BetOnline (visit our BetOnline Review)
Simmons Trade Conundrum
The ongoing saga of Ben Simmons' breakup with the Sixers is well documented. Simmons was a shadow of himself in the playoffs last season and it seems like since then, the team, fans, and Simmons have all been asking for a breakup. The problem with this is Simmons recently signed a five-year extension worth almost $170 million. He currently has four years and about $130 million left on that contract.
Combining his play regressing and this massive contract, there are only a few teams that have the assets and the wherewithal to make a deal happen. However, as has been noted in recent weeks, the Sixers seem to be misjudging Simmons' trade value tremendously, which has potentially scared away some teams.
Before this week, the Sixers were reportedly asking for several young assets and picks for Simmons, which would be similar to the deal the Nets did for James Harden. However, in reality, where most of us live, Simmons is not worth that asking price, or anywhere close to that. His basketball upside is extremely high; however, his floor is also pretty low and when you throw in his lack of a jump shot and the $130 million still owed to him, there are not too many teams with that kind of guts to make a trade like that.
Who Could Trade for Simmons?
There have been a few teams thrown around as potential landing spots for Simmons and all of them have been patiently waiting for the Sixers to lower their absurd asking price. The Warriors might be the best destination for Simmons. They have Andrew Wiggins, who makes similar money over the next two seasons, and landing Simmons for cheap would really boost this team's championship odds.
Cleveland is another destination being thrown around simply because they have too many high-priced bigs as is, and they could use one or two to lure Simmons away from the Sixers. However, they may balk at giving up Collin Sexton or Darius Garland in the deal too, so this may be a long shot unless the Sixers don't ask for too much. Philly has also held out hope that maybe Bradley Beal or Damian Lillard will become available, but that is also unlikely before the season. Meaning the Sixers and Simmons are probably playing chicken with themselves right now.
Most Likely Scenario
Speaking of holdouts, that's exactly what Simmons is likely to do if a trade hasn't been made prior to camp. Simmons can be fined about a quarter of a million dollars every day of training camp he misses and it seems like he and his agent are willing to do that as of now. Things could change and a reunion with the Sixers isn't out of the question, but right now it seems like Simmons is going to miss training camp and the chicken game will be intensified.
BetOnline has -500 odds on Simmons not reporting to the Sixers' camp in a few weeks. Right now, that may as well be -1000. I think this may drag on into the season. Simmons may choose to sit out until he is traded, but the longer that goes, the more it will become a distraction for a team hoping to be in the title hunt this season. I could see a scenario where Simmons holds out and the Sixers' coaches and players get tired of being asked about it, leading to Philly making a deal before the regular season starts. The where is the million-dollar question.