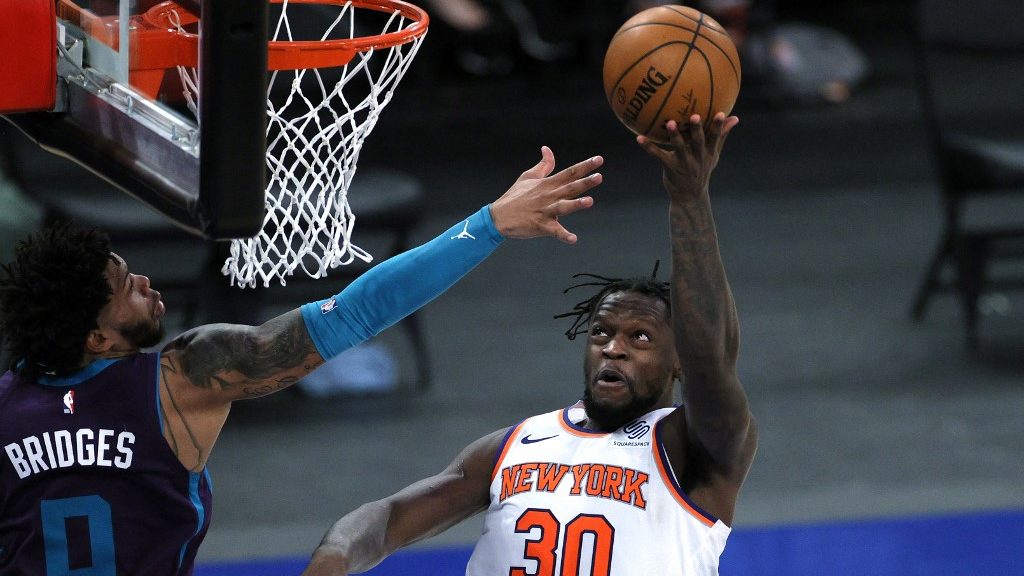 It is finally over. The New York Knickerbockers have not reached the playoffs since the 2012-13 season and barring a complete meltdown, the Knicks will play postseason basketball.
After years of owner James Dolan making a complete mess of the New York professional basketball franchise, he again did something controversial, but this time it worked. Dolan hired much-traveled Tom Thibodeau. The ardent taskmaster typically wears down players with his 24/7 approach, though it is hard to overlook the results which had him at 353-246 in his NBA career before coming to the Big Apple.
With a roster not known for offense, "Tibs" sold his team on playing defense in a league dominated by offense. After seven seasons of winning three out of 10 games (184-374), an 8-10 start was enough to catch the players' attention and being competitive was a real change.
For the first time in years, the Knicks had an identity as something else other than a bumbling loser and the players bought into the lunch pail mentality of playing defense and trusting the offense would come.
Recently, New York won nine in a row and they were talked about more positively than the Yankees at the same juncture. And those making NBA picks at whatever online betting sites, could not believe their exceptional fortune when the Knicks went 12-0 ATS!
With the playoffs all but assured, we can look ahead to what New York might do in the postseason for the first time since singer Robin Thicke became a sensation with "Blurred Lines".
First Things First, Secure No. 4 in Eastern Conference
As of the morning of the last day of April, New York is in 4th place in the East, going toe to toe with Atlanta for the all-important home-court advantage. Though this 4/5 matchup over the years is basically 50/50 in first-round series outcomes, for the Knicks it could prove invaluable.
At this time, the Knickerbockers are 22-11 SU and for those like us working the NBA odds, a delectable 21-10-2 ATS. Madison Square Garden attendance has been limited to 10 percent of capacity but rest assured they are working with city officials to raise that limit and make an even greater home-court edge. This could springboard them to the quarterfinal round in the East.
New York Playoff Prospects – Coaching Matters
As anyone who follows professional basketball during the playoffs understands, the postseason is completely different. Coaching staffs can pour all their energy into following one opponent and break everything imaginable down.
This becomes about finding weakness before a series starts and, on a game-by-game basis thereafter, exploiting what works and covering up what you don't do well.
Thibodeau has what could be described as a – stubborn streak – believing what has worked before can work again. Those from his Bulls days will say he will never change, but an observation from this seat shows a person who learned something from his ultimate failure in Minnesota and at the very least is not as inflexible.
That will take on great significance almost immediately.
The Bottom Line on the Knicks
If New York secures that 4th seed, we'd give them a 55 percent chance of moving on if they face Atlanta. If it would be Boston or Miami and they have all their key players healthy, that becomes a virtual tossup.
The strengths as noted are suffocating defense. At this time, Tibs' guys are first in points allowed, defensive field goal percentage, three-point shooting defense and fluctuate between 1st and 4th in defensive efficiency. In other words, they are hard to score on consistently.
This gives them a chance every time they play and that should be advantageous against the sportsbooks as underdogs.
Nevertheless, defense and coaching make up part of the picture, not the entirety. Teams that win in playoffs have their top two or three star players shine and if one is not at their best, a player or two coming off the bench fills that role.
Because this is a new experience for almost anyone other than Derrick Rose and to a lesser degree Alec Burks, this group will have to follow their experiences.
Forward Julius Randle has established himself as a top-flight player and is the unquestioned leader. Though Rose has only played about 35 percent of his team's games, his words and actions matter and he will be a soothing voice in huddles.
As good as RJ Barrett is, in just his second year and 20-years old, one has to believe his play could yo-yo home and away.
Burks and Immanuel Quickley could be where the key points come off the bench and they will have to be regular contributors for an offense that will have dry spells.
It's been an exciting return of Knicks basketball and this is a club with a shot at the East quarterfinals and a realistic chance to cover the spread in more than half their postseason conflicts.