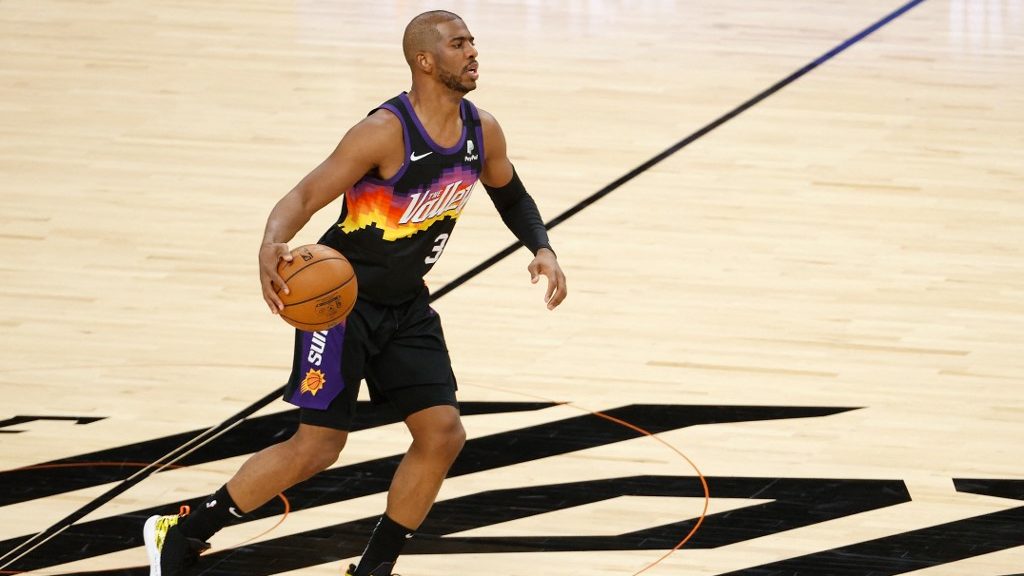 Top Sportsbooks have released their odds for Tuesday's attractive slate of NBA games. Two games stand out to me, in particular: Phoenix vs. Cleveland and Brooklyn vs. Milwaukee.
For reasons that I will explain, you should play the spread in both games.
Phoenix Suns vs. Cleveland Cavaliers
Tuesday, May 4, 2021 – 7:00 PM ET at Rocket Mortgage Fieldhouse
Cleveland's Defense
When I wrote about expecting Utah to struggle against Phoenix's offense, I talked about how a lot of teams — like Utah — are driven by analytics. According to analytics experts, offenses should want to either attempt a layup or attempt a three-pointer. These analytics experts establish this either-or based on risk-reward mathematics.
So defenses that are driven by analytics will want its strengths to be interior defense — in order to stop opposing layup attempts — and perimeter defense — in order to limit opposing three-pointers.
Cleveland's defense is such a defense. The Cavaliers are great at limiting opposing efficiency within five feet of the basket. Likewise, Cleveland is good at limiting the number of opposing three-pointers made per game.
Phoenix Offense vs. Cleveland Defense
You have to look at Cleveland's defensive numbers in between the space closest to the basket and the perimeter in order to identify Cleveland's defensive weakness. At 10-14 feet from the basket, for example, the Cavs are seventh-worst at limiting opposing field goal efficiency.
Phoenix, however, loves almost more than any other team to attempt field goals from 10-14 feet from the basket. Moreover, the Suns are the second-most efficient team from this area. Sun players tend to thrive from the mid-range. Leading offensive contributors like Chris Paul and Devin Booker are as productive as they are largely because of their mid-range prowess.
Keep guys like Paul and Booker in mind when making your NBA Picks.
The Importance of Larry Nance Jr.
In following the Cavs throughout the season, I've noticed that their defensive turnover rate drops when Nance Jr. is absent. He is known for helping to create havoc on the defensive end. Because he has been absent so often, the Cav defense has dropped to ninth in forcing turnovers.
Cavalier havoc helped mask other defensive weaknesses. So when the Cavaliers don't force turnovers, they are more likely to be exposed.
Cleveland's Struggling Offense
One reason for Cleveland's ongoing six-game ATS losing streak is it offensive ineptitude. In their past four games, the Cavs' highest point total was 107. This figure is appalling when you consider that, in that game where they scored 107 points, they converted 20 of their 40 three-point attempts.
In that game, they more than doubled their average rate of three-pointers made per game — they rank last in this category with 9.9 three-pointers made per game. So that one game was an utter anomaly, one that we shouldn't expect to repeat itself, because of how poor the Cavalier three-point shooting has been throughout the season.
In these last four games, Cleveland failed to reach 100 points twice. Its low offensive floor and low offensive ceiling help explain why Cleveland is repeatedly losing games by double-digit deficits. Cleveland is a guard-centered offense whose leading scorers like to drive and attack the basket. One reason for the Cavs' struggles is the absence of Darius Garland, who averages the second-most points on the team. He has been ruled 'out' for tonight's game with a swollen ankle. Note this absence for your Sports Betting.
As a team, Phoenix owns the fifth-best defensive rating. So it is more than able to stop Cleveland's anyhow woeful offense.
NBA Pick: Suns -12.5 at -108 with Heritage Sports
Brooklyn Nets vs. Milwaukee Bucks

Tuesday, May 4, 2021 – 7:30 PM ET at Fiserv Forum
Milwaukee's Perimeter Defense
Throughout the season, Milwaukee's defense has been hurt primarily by opposing three-point shooters. The Bucks struggle largely because of their proclivity to employ drop coverage and to send help defense inside.
While they invest extra effort into protecting the basket, they allow opposing three-point shooters to have stronger opportunities. So far, the Bucks rank 28th in limiting opposing three-point attempts and they allow the second-highest rate of wide open three-point attempts.
In order to help fix this weakness, Milwaukee's defense has experimented with different ball-screen coverages, but to no avail.
Brooklyn's Dangerous Shooters
Brooklyn boasts a strong variety of effective three-point shooters. Four different guys attempt over five threes per game while converting over 38 percent of them. The two most worth noting are Kevin Durant and Joe Harris. Durant shoots 47.8 percent from deep as he stretches the floor as a power forward.
Harris, who is slightly more efficient than KD from deep, is known as a catch-and-shoot guy. But he is increasingly able to dribble in order to accrue necessary space for himself behind the arc. Landry Shamet is less regimented than Harris and doesn't have this stringent requirement to be balanced when taking a shot. Kyrie Irving is the fourth-most dangerous high-volume shooter, using his ball-handling ability to create his own shot.
Largely thanks to these guys, the Nets rank seventh in three-pointers made per game. With your Best Bets, expect them to exploit Milwaukee's vulnerable perimeter defense.
Milwaukee Offense vs. Brooklyn Defense
Like the Nets' offense, Milwaukee's offense is largely reliant on three-point shooting. The Bucks attempt the eighth-most three-pointers per game. Good spacing with big men who can shoot is supposed to make the Bucks' offense work more smoothly. But Brooklyn possesses versatile bigs who are comfortable in the team's switch-heavy ball-screen defense.
Centers like Jeff Green and the lengthier Nicolas Claxton are mobile and able perimeter defenders. This defensive versatility will offset the advantage that Milwaukee's offense seeks with its own versatility. Moreover, the switch-happy scheme helps explain why the Nets don't share Milwaukee's tendency to concede wide open three-point attempts.
Switching is a conceptually simple, but effective way to keep a defender guarding the ball-handler. In addition to good spacing, the Bucks want to score via their transition offense. Their reliance on scoring in transition — they run the highest frequency of transition plays — is problematic against a Net defense that ranks fifth-best in limiting PPP (points per possession) in transition plays.
Brookyln's defense helps justify an investment in the Nets at a Sports Betting Site.
NBA Pick: Nets +2 at -108 with Heritage Sports