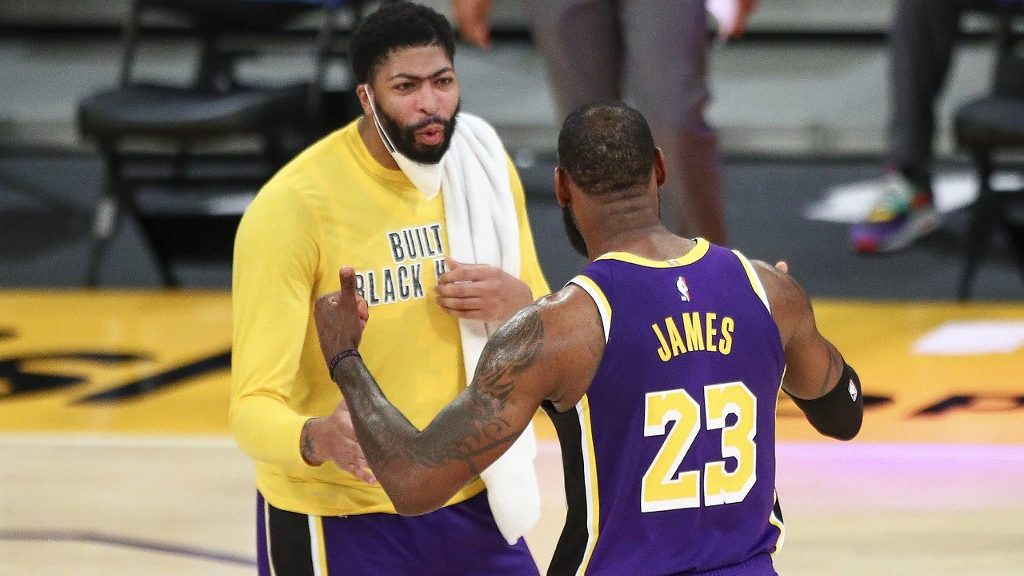 The NBA's constricted 2021 season is causing teams and coaches to carefully monitor their players' fitness, manage minutes, and keep a close eye on the potential MVP's. But Los Angeles Lakers have already suffered the most significant blow, which has not been so dreadful as what was expected.
We are now exceeding fifty games into the 21′ NBA season. Although the LA Lakers' pre-season vision wasn't the plan that played out, the defending champions have the most excellent excuse for their lacklustre results.
When LeBron James and Anthony Davis suffered injury woes, fans and critics alike knew the competition would attempt to take advantage. They have gone 6-10 in results without LeBron & Davis, 14-16 without Davis but have still managed to maintain a confident composure required on the court. Losing your two most prominent stars is not easy for talent and influence. The Lakers still kept a higher win percentage than the Washington Wizards with Beal/Westbrook and the New Orleans Pelicans with Zion/Ingram.
Yes, team performance has evidently been weaker, and the continued phrase of "watch when LeBron and AD return" still repeats. But on a lighter note, the season is far from over. Even with the absence of their key players, several pointers suggest the playoffs could have been made without them.
Lakers Noble Defense
The Lakers still possess a solid defense, and through their previous twelve fixtures, they hold the 2nd best defensive record in the league. Perhaps the key factor in keeping their playoff hopes alive, the high-level defensive structure in LA is a testament to head coach Frank Vogel and his squad's ability to keep the fire alight.
The Lakers have allowed 2.8 points less (101.3) per game than that of the New York Knicks, who remain the second-greatest defensive team in the league. At first, you could have called the Lakers defence a fluke, but we are now two weeks deep into a defensive masterclass that does not seem to be stopping anytime soon.
Stepping Up to the Plate
Markieff Morris, Marc Gasol and Wesley Matthews have been standout figures during the LeBron/Davis absence. While regularly rotated, it's obvious how hard they have worked, especially on Morris's behalf. His pot ups, turnarounds, and capitalization on fadeaways deserve some respect. Matthews found his flow from deep, with Gasol responding well to limited game time while switching places with Andre Drummond.
Kyle Kuzma, Montrezl Harrell and Dennis Schroder have also taken matters into their own hands. These three have given their all through every minute played since the team's injury woes.
The most significant positive could be visualized through the minutes played and experience gained for the role players. Once comfort zones are pushed, a coach can genuinely expose the player he can or can not trust in future games.
Davis Return Imminent
More than two months following his right leg injury, Davis has stated he's ready and willing to play against the Dallas Mavericks this Thursday night. He went on record to say he hasn't suited up since February 14th, failing to reach the Lakers previous thirty games and the most extensive period off the court during his nine-year NBA career.
"I wanted to make sure I was coming back 100% because it wouldn't be fair to myself, wouldn't be fair to my team," Davis told reporters on Wednesday. "I feel great. These last games lead to the playoffs, many teams aren't healthy, and many players aren't healthy. I'm 100%, and we've got Bron coming back as well, who's going to be 100% healthy. I think we've put ourselves in a good position."
And it's hard to disagree with Davis statement; The Lakers squad have managed to keep their hopes above float during the absence of their two best. And whilst the rest of the NBA is starting to suffer from fatigue and injuries, the Lakers star-studded line-up is a few weeks away from being complete. Sure, Davis minutes on the court will be limited, but he'll be back to his regular scheduled game time once proven there are no lingering issues.
The absences have been challenging, but with their supporting cast making it sure they're still playoff-bound, by May time, the squad will have two well-rested, overly eager superstars in the lineup once the postseason begins. Back-to-back championship should not be counted out.