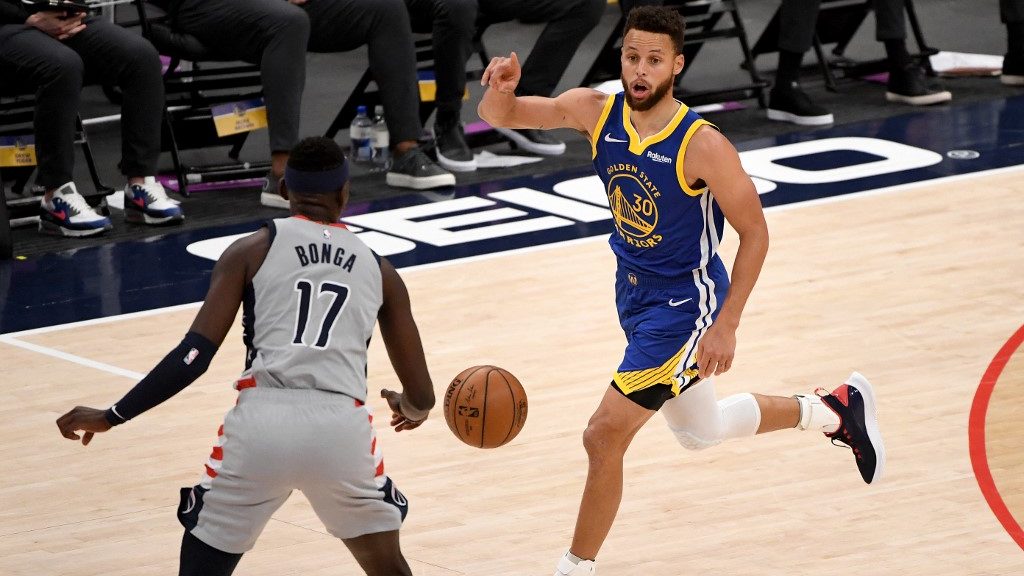 The two-time league MVP is making a push for the award again with his play in the second half of the season. He even said himself that he thinks he is the league's most valuable player which is unlike his usual public persona. In this article we'll explore the case for and against Steph Curry winning MVP this season.
Steph Curry Should Be League MVP
In order to make the case for Curry as league MVP, you'd have to focus on his play since the All Star break. It's not to say that he was playing badly before the break but he's been on another planet in the second half of the season. Pre All Star break, Curry was averaging 29.7 points on 48% shooting and 41% on threes. The thing is, he wasn't in the MVP conversation because his team was only 19-16. At that point in the season, there were several candidates who were clearly ahead of him.
Take Joel Embiid for example, who was averaging 30.2 points per game while also being dominant on the defensive end of the floor, something Curry has never been in his career. On top of Embiid's ability on both ends of the court, he had one very important advantage over Curry, his team was 23-7. Team success is a factor when it comes time for MVP voting and for that reason, Steph wasn't really a part of the early season conversation despite putting up similar stats to his other two MVP seasons.
In the second half season he's played at such a ridiculous level that he's changed the narrative. In 2016-17 when Russell Westbrook won the MVP, 6th in the Western Conference. He single handily brought them there while averaging a triple double, something that had only ever been done once before. Steph isn't quite averaging a triple double, but what he is doing is scoring at a rate that is changing the way the game is played. Since the All Star break, Curry is averaging 34 points per game on 51% shooting and 46% from three.
It's really hard to put those numbers into proper perspective but it's pretty obvious we've never seen anyone shoot a basketball like this in the history of the game. Remember, Curry has done that over a 30 game stretch where he is attempting 12.5 threes per game. He's making 5.7 threes per game during a stretch where he is still maintaining an overall field goal percentage over 50%. At this point, there is no question who the best shooter to ever play the game is. If he can keep this up and lead the Warriors to a playoff appearance
Curry's Team Hasn't Done Enough for Him to Win It
The reality is, he's not going to win MVP as a 10th seed. There are only a handful of games left in the regular season and the Warriors would have to go on a really big run to make up ground here. It's not that they can't do it, but unless they do, Curry probably won't' win the award. There are too many other candidates for him to get it without moving up in the standings. The Warriors will probably finish the season closer to .500 than not which is another strike against Curry's MVP case.
The real obstacle to him winning the award is the amount of candidates that there are. Nikola Jokic, Joel Embiid and Giannis Antetokounmpo have stronger cases for the award. Giannis is a victim of his own success to a certain extent and is having another monster season individually while his team is top three in the east. Remember, while Giannis might not shoot threes, he basically does everything else at an elite level. In fact, he actually averages more assists than Steph while also being one of the league's best defensive players.
Then there's the case of Nikola Jokic, who not only has a case for being the best passing big man of all time, he also is probably the leading candidate for MVP at the moment. Despite injuries and roster turnover, Jokic has consistently maintained a level of play that has rarely been seen in this league. He's almost averaging a triple double (26pts, 11 rebs and 9 assists) while his team also happens to be top 4 in the very competitive western conference.
Big Ben Have Made a Comeback
The shortened season is not going to help Curry's case. There are only 72 games being played this year and you have to think the ten fewer games will cost him the award in the end. It makes moving up in the standings that much harder which is what will cost him in the end. His run has been great but the other candidates will finish with similar scoring averages while contributing more in other areas. They've been trying to convince us that big men no longer have a place in this game.
Instead this season they've proven their worth by being some of the best players in the game. If you have a quality big man, you have something that most other teams don't have. Which means you have a mismatch on a regular basis. Giannis might not claim to be a big man and does spend a good amount of time on the perimeter but he's a big man. Most of his points are dunks or short shots in and around the paint. He's also won league MVP two years running. Those types of players are dominant right now and they present a matchup problem every single night.
Curry has made an amazing case for the last few weeks but the other candidates have been more consistent in other ways besides scoring. If anything, most people that think Curry should be the MVP believe that because the way he does it is so spectacular. Unfortunately, being box office isn't enough to win you the NBA MVP award so instead, let's just appreciate Curry's greatness while we can.