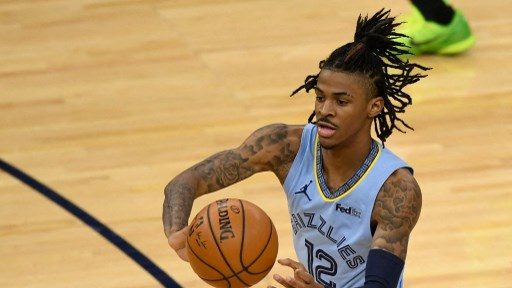 The New Orleans Pelicans still have slim playoff hopes and are without their two best players in Zion Williamson and Brandon Ingram as they visit the Memphis Grizzlies on Monday. Which way to lean at BMR's top-rated sportsbooks?
New Orleans Pelicans vs. Memphis Grizzlies
Monday, May 10, 2021 – 08:00 PM ET – at FedEx Forum
The storyline of Monday's Pelicans at Grizzlies matchup would have been a meeting of the two best players from last season's rookie class in Memphis point guard Ja Morant, who won Rookie of the Year honors, and New Orleans forward Zion Williamson. Alas, Williamson will not play (more on that below) and the Pels could be without several key guys in the second of a back-to-back.
New Orleans leads the season series 2-0 and this is the final meeting. The Pels won 118-109 at home on Feb. 2 and 144-113 in Memphis on Feb. 16. Zion averaged 30.0 points, 5.5 rebounds and 5.5 assists in the two while shooting a crazy 76.7 percent from the field. Brandon Ingram averaged 24.5 points, 8.0 rebounds, 5.0 assists and 2.5 blocks in the two (more on him below as well). Morant averaged 22.0 points, 8.5 assists and 5.0 rebounds in the two games and Jonas Valanciunas 16.5 points and 6.0 rebounds. The Pelicans have won 11 of their last 15 meetings with the Grizzlies, including five straight – 5-0 against the spread on NBA picks. That means current Memphis head coach Taylor Jenkins has yet to beat New Orleans.
Pelicans Still Alive
While New Orleans hasn't technically been eliminated from the Western Conference play-in tournament, its's hard to see that happening with the team's two leading scorers, Zion Williamson and Brandon Ingram, likely done for the season due to injuries. Williamson fractured his left ring finger last week. The 20-year-old is having a historic season in averaging 27.0 points on 61.1 percent shooting along with 7.2 rebounds and 3.7 assists. Earlier this year, he recorded 20-plus points in 25 straight games, the longest streak in NBA history for a player under 21 years old.
New Orleans executive vice president of basketball operations David Griffin blamed lousy officiating on Zion's injury in that he was being beaten to a pulp daily in the paint. Among other things, Griffin said the injury was "avoidable" if the NBA did a better job officiating Williamson. Griffin was fined $50K by the league. Meanwhile, Ingram (23.8 ppg, 4.9 rpg, 4.9 apg) also is likely done for the season with a left ankle injury. Ingram is one of just five players in the NBA averaging at least 23.8 points per game while shooting at least .465 from the field, .375 from three-point range and .875 from the free throw line.
Without those two, Josh Hart and Steven Adams, the Pels upset the Hornets in Charlotte on Sunday 112-110 to keep their play-in tournament hopes alive. Eric Bledsoe had 24 points and 11 rebounds, his first 20/10 game since being traded to New Orleans. Nickeil Alexander-Walker returned after missing more than a month with an ankle injury and had 13 points. The Pelicans are 6-0 ATS on the NBA odds in their past six on the road.
Grizzlies Still Have Motivation
At 34-33, the Grizzlies are going to be in the Western Conference play-in tournament, it's just a matter of which seed. They aren't going to get to seventh but are right behind Golden State for eighth. The teams in the 7 vs. 8 game need to win just one game to get in, while those who finish 9th and 10th would have to win two. To win the West, the Grizzlies are +17500 on the Bovada NBA futures odds. Can't say I recommend that wager.
Memphis has been off since a 109-99 win at Toronto (in Florida) on Saturday. Jaren Jackson Jr. had 20 points for the Grizzlies in his first start of the year. He only debuted in late April due to offseason knee surgery. Ja Morant had 12 points, seven rebounds and six assists, and Jonas Valanciunas 18 points and 21 rebounds against his former team. It was his 47th double-double of the season, third-most in the NBA. De'Anthony Melton had 15 points, all on three-pointers and all in the fourth quarter. Starting guard Grayson Allen missed his third straight game with a sore abdomen and is questionable for Monday. The former Duke star averages 10.6 points per game.
Memphis ranks inside the Top 10 in the league points off turnovers (18.7, 2nd), percentage of total scoring off turnovers (16.6%, 5th) and opponent turnover percentage (14.8%, 8th). While I have no doubt the Grizzlies win this game, I think the NBA spread is too big.
NBA Pick: Pelicans at +9.5 (-110) with BetOnline