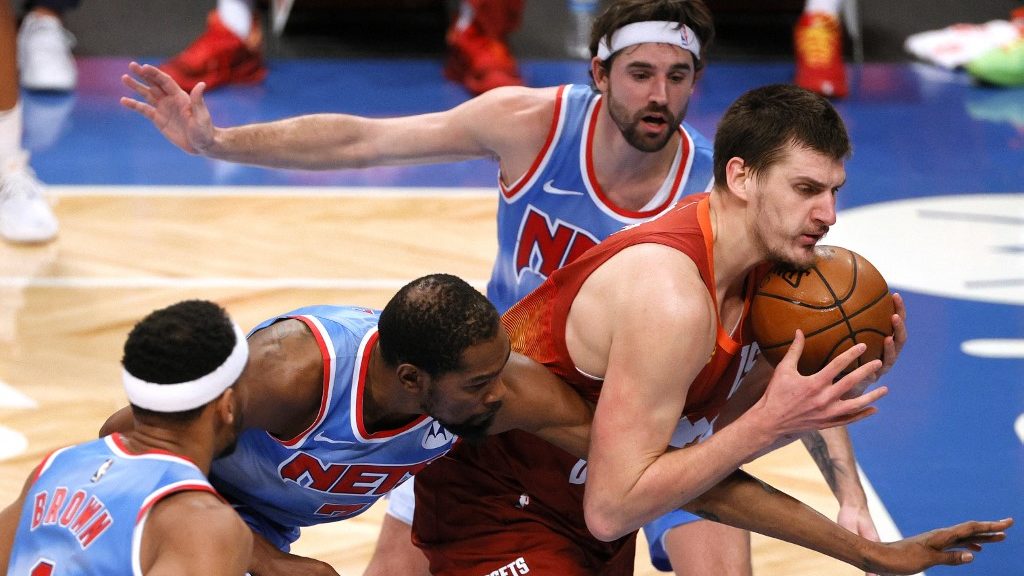 Once the top seed in the Eastern Conference, with a fifth straight loss tonight, Brooklyn could fall to the third seed with 11 days left in the regular season. Trying to win at Denver will be no walk in a Colorado park.
After overcoming not having James Harden for so long, the Nets need him desperately. The NBA's top offense has slid to No. 2 behind Milwaukee at 118.5 PPG and is at 112.5 PPG in this dry spell. The reasons are varied as we'll explain, but primarily, coach Steve Nash needs a facilitator to distribute the orange.
Denver too is fighting for something, attempting to surpass the Los Angeles Clippers for the third seed in the Western Conference. This makes for a fascinating encounter and the stakes are rather high at this juncture point of the season. Sportsbooks like Heritage Sports have NBA odds listing Brooklyn as 3.5-point road favorites. Is that correct?
Brooklyn Nets vs. Denver Nuggets
Saturday, May 08, 2021 – 10:00 PM EDT at Ball Arena
Brooklyn Needs Ball Distribution
Kevin Durant and Kyrie Irving have each scored 40+ points in this losing streak, and that's part of the problem. When they get their hands on the ball, it's a 'black hole' and that's where the offense stops, with them taking a shot attempt. In this series of contests, there is no rhythm to the offense, especially at crunch time and others just set a screen for them or watch them shoot.
This is where Harden would be more useful and he embraced the role of point guard in this borough and needed his shot less with this team. This has sucked the life out of necessary contributors like Jeff Green, Joe Harris and even Blake Griffin, who seem unsure of themselves as just an outlet when Durant and Irving cannot find an open look.
Fill-in point guard Larry Shamet has lost all confidence in his shot and opponents are sagging and playing more help defense and giving him any outside shot he wants, not thinking he can connect. The Nets (43-24, 33-34 ATS) have to share the ball to win.
Denver Looks to Follow Others Plan to Knock Off Nets
Denver (44-23, 32-35 ATS) has a second straight battle on their hands after their loss at Utah last night 127-120.
Coach Mike Malone may or may not be the smartest NBA coach, but rest assured the film he's watched on the Nets will provide him his game plan to beat them.
This is not complicated, if Durant or Irving is hot, do your best to contain who is, but lock down on everyone else and force whoever to attempt 30 shots to get to 40 to 45 points. This is not an enlightened strategy, because if one player goes off, yet is eating up possessions with volume shooting and you hold the others below their season averages, that's how you overcome a high-scoring effort.
On offense, if you watch the Nets, because they switch so much on defense, if a team is patient and is willing to keep the rock moving until five seconds or less on the shot clock, invariably an open three-pointer or a little push shot inside three-feet are available. Brooklyn's defense will break down, especially against a skilled player like Nikola Jokic.
Who's the Play On?
Denver is only 6-5 and 5-6 ATS playing on consecutive nights. Nevertheless, their margin of victory in those 11 contests is +3.5 PPG.
That helps build our case for NBA picks to back the home underdog at the current price. The Joker (Jokic) and his crew can utilize Michael Porter Jr. and Will Barton from deep and have Aaron Gordon making dunks and layups while Jokic scores his 26 or more points.
On defense, Denver just has to execute the aforementioned game plan and they should send Brooklyn to a fifth straight setback and engineer the upset.
NBA Pick: Nuggets +3.5 points (-108) at Heritage Sports