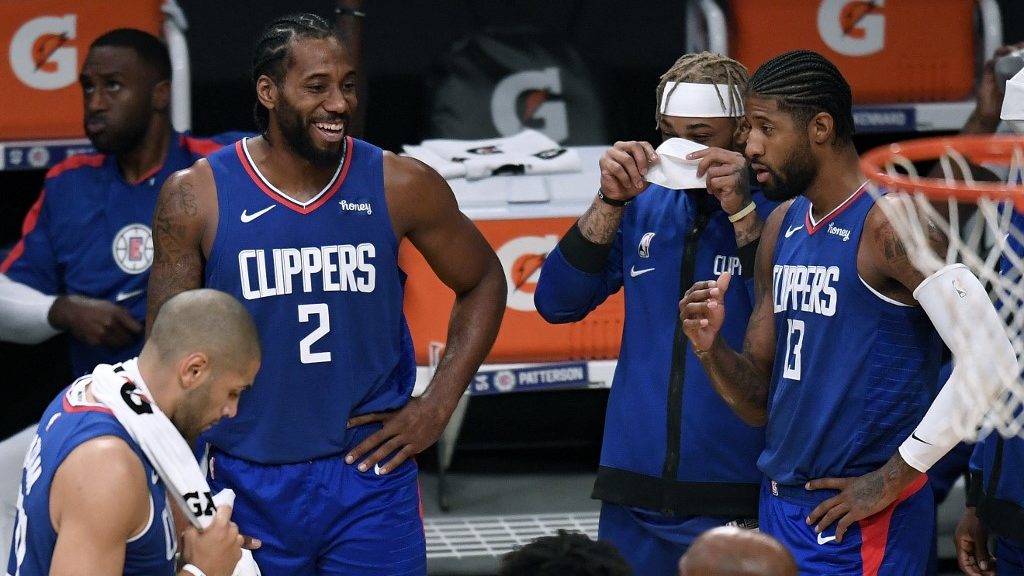 The Los Angeles Clippers have never reached the NBA Finals. Could this be the season Kawhi Leonard, Paul George and Co. finally break through? The simplest answer: It depends on injuries.
Are you aware that the Los Angeles Clippers have never reached the NBA Finals? They are one of six current franchises to never do so, along with the Charlotte Hornets, Denver Nuggets, Memphis Grizzlies, Minnesota Timberwolves and New Orleans Pelicans. In fact, the Clips have never been to the Western Conference Finals. That's almost hard to believe considering this franchise once had Chris Paul, Blake Griffin and DeAndre Jordan all in their prime. Only the Hornets and Pelicans have also failed to reach a conference finals.
Could the Clippers win the West this season? They are +250 second-favorites on the Bovada NBA futures odds to do so, behind only the Lakers. Will the Clippers win the West? It completely depends on injuries.
Can Clippers Get Healthy?
No question that a team with Kawhi Leonard, Paul George, Serge Ibaka, Patrick Beverley, Marcus Morris and Rajon Rondo is talented enough to win it all. The Clippers acquired Rondo at the trade deadline for Lou Williams, and Rondo is a proven playoff stud; hence the nickname "Playoff Rondo." The Lakers last season probably don't win a title without Rondo. That was Rondo's second title.
Beverley is a good defender but can't shoot a lick. Neither can Rondo much, but he can help take some of the ball-handling pressure off of Leonard and George.
"He's one of the smartest players that I've ever coached," Lakers coach Frank Vogel said. "He's got a great lens on what's happening with our group, has a great BS meter and he'll call it out with guys to make sure guys are going about their business the right way, whether it's on the court, off the court, whatever. He's a champion for a reason and he should help the Clippers."
Again, though, it's all about injuries for this club. Neither Beverley nor Ibaka has played for weeks because they are hurt. Ivica Zubac has played well in Ibaka's place and Coach Ty Lue said "there's been thought" about keeping Zubac in the starting lineup, even when Ibaka does return. Leonard is currently out with right foot soreness. He is averaging 25.7 points, 6.7 rebounds and 5.1 assists per game this season.
Lue said the team is holding Leonard out to be safe as the postseason nears.
"He wants to get out there," Lue said. "But right now, it's not the smartest thing to do with him feeling it and trying to manage it for the most part for a while now. We just got to be smart about it. Sometimes you got to protect the player from themselves, and right now that is what we are doing."
That's fine and all, but at some point you have to build team chemistry. There's also the fact of trying to finish as high as possible in the West. L.A. currently sits third in the West but could catch Utah for the top seed. There's essentially little chance that the Clippers slip below third. Los Angeles has the fourth-best home record in the NBA and ranks first in three-point percentage (.427), second in plus/minus differential (8.6) and third in free-throw percentage (.828) at home.
Thus, perhaps it wouldn't be the worst thing to face the Lakers in the postseason since those two clubs share Staples Center. The magic number for the Clippers is clearly 120. They are 23-1 this season when scoring at least 120 points.
I might have favored the Nuggets over the Clippers in any playoff series but no longer do with Denver losing star guard Jamal Murray to a season-ending injury. The injury factor works both ways: L.A. also could theoretically benefit if other contenders lose key guys. Sometimes, it's better to be lucky than good. If the Clippers can get the West's top seed and are healthy entering the playoffs, finally reaching the Finals is doable.