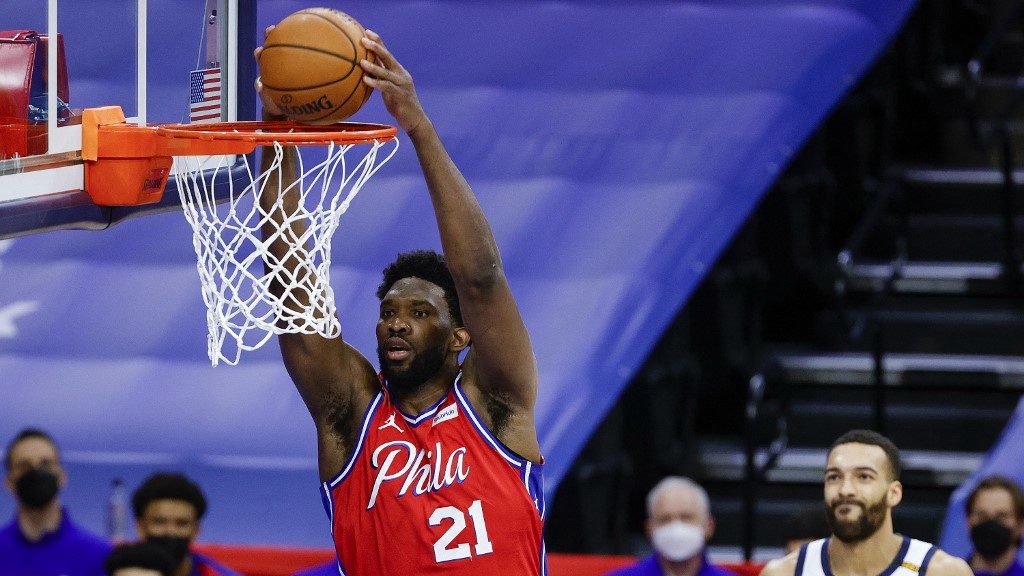 I did not see many critics tipping the 76ers to have a great run during the 2021 NBA season, but those doubters are now speculating whether this team can make a strong run in the playoffs. Key player Joel Embiid has elevated his game this term, allowing his teammates to follow suit. But do the 76ers have a real chance in the NBA playoffs?
It has been some time since Allen Iverson's impressive run took the 76ers to a dominant playoff streak back in 2001, which took Philadelphia into the NBA finals. He posted a winning percentage of .656, and this year's 76ers team are not too far away from this record.
The 76ers roster could well be positioned for success, and much like Golden State Warriors Steve Kerr, it feels like Rivers is the finishing touch that was needed in Philadelphia. The OG skipper has transformed the confusing state of the 76ers team into one close-knit squad who support each other well. With the years of great talent becoming available for them but failing to make use of it, it's a delight to witness River's piece the puzzles together. Joel and Ben are the backbone, which could easily create a future title contender within the next few years.
River's is no stranger to success, former NBA championship winner and a Coach of the Year award to match. Could he be the coach who brings gold to Philadelphia's fans who have so desperately prayed for NBA success over the years; Steve Kerr seems to believe so after his team fell victim to the 76ers this past weekend.
"I like their chances," Kerr commented regarding the Sixers victory. "They were obviously, severely shorthanded tonight without Ben and Harris. That was not their team. They were shorthanded, and if they're healthy, they are excellent. They are a great two-way team and one of the best defensive teams in the league. They cause a lot of problems offensively, too. They are a hell of a team."
The NBA Eastern Conference isn't the most difficult, but it's far from the easiest, and with the Brooklyn Nets lurking upon the 1st place position, the Sixers 39-18 record proves they don't plan to give that up anytime soon. The first seed is vital, and that's precisely what remains in their sights. Image link HERE if required
How About that Sixers Defense?
The defensive player of the year award could easily fall into Embiid or Simmons lap this term. The spotlight doesn't start and end with those two because Danny Green and Matisse Thybulle also provide the statistics of a championship-winning defence.
As a whole, nobody is more stubborn in defence than the Sixers. They are in the second position for defensive efficiency whilst ranking 3rd in the oppositions field goal and turnover percentage, respectively. Thirteen teams have been held to under one hundred points this season, something you will rarely see in today's trigger happy NBA league. In addition, they won all thirteen of those fixtures.
With that said, we're confident in the 76ers capability of handling the pressure of this year's postseason matches.
The Star Man, Joel Embiid
Let's not pretend, without Joel Embiid; the 76ers may not have had the success they're currently flourishing in. Embiid is an anomaly, integral, with the ability to do it all. His style is reminiscent of past legends and was far over the 1980's style of basketball, but Embiid makes classic techniques with modern-day skills look effortless. Nobody wants to face up with him this season, and you cannot blame them, he is an absolute nightmare to play against on the court, and he's only getting better. Image link HERE if required.
With a deep dive into his seasonal statistics, he continues to outshine his former self by destroying career-best performances consecutively. With a 29.8 point per game combined with his 51.4/37.6/85.0 tearing, there are not many players from the entire NBA roster who're faring well in stopping him. And when they attempt to surround him, it doesn't last long with his precise passing and understanding of the game.
So, to answer the question "how far can the 76ers go in the playoffs", if current and season form is to go by, they could win the NBA championship this year, and if not, teams should take notice for the 2022 season.