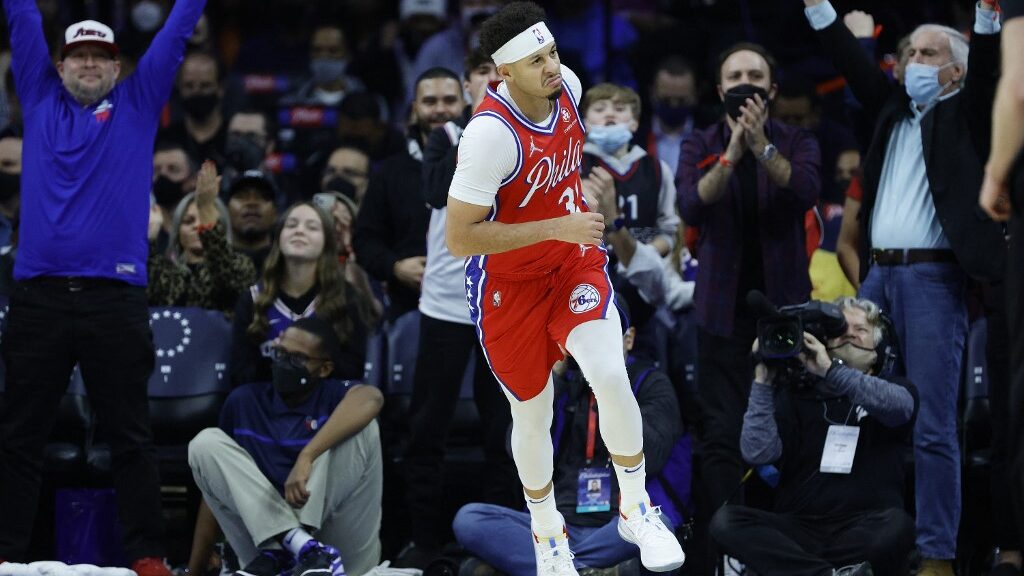 The Heat and 76ers clash in a high-profile matchup that may miss high-profile players. Read here for all the relevant information. Top sportsbooks have released their NBA odds for tonight's game between Miami and Philadelphia.
Both teams are enjoying fairly strong seasons. Miami currently occupies the fifth seed in the East with a 16-12 record. The 76ers, meanwhile, sit at 15-13 and hold the sixth seed. A reality in sports betting is that players get injured and that, because games are played by players, player absences affect how games turn out.
This game is filled with injuries and potential absences. But if we let such complications deter us from betting on games, then we would miss a ton of awesome betting opportunities. My point for this game is that I needed to do some groundwork sorting out the injuries.
But once I explain the essential injury news, you'll see why there is great profit to be had from this game. For reasons that I will explain, you should play the spread for this game.
Miami Heat vs. Philadelphia 76ers
Wednesday, December 15, 2021- 7:00 PM EST at Wells Fargo Center
Missing Adebayo
Obviously, shooting guard Victor Oladipo and center Bam Adebayo are absent as they continue to deal with long-term injuries. Oladipo hasn't logged a minute this season, so the Heat is obviously already used to playing without him.
Adebayo has been absent for the past couple of weeks. In his absence, Dewayne Dedmon has received a significant uptick in minutes per game. Dedmon's athleticism, to be sure, is not to be underestimated. But he is more well-known as being a powerful force around the basket.
He will use his strength and long arms around the hoop to out-physical opponents. Despite Dedmon's concentration around the basket, he is intelligent and very aware of what is happening around him.
You'll see him point to teammates behind the perimeter in order to communicate to the ball-handler where the ball should go. Dedmon's defensive rating is very similar to Adebayo's. The former's is 105.3, which is very solid, as one should expect it to be given his physical skill set including his size at 7-0.
While Adebayo is regarded -- justly so -- as a jack-of-all-trades on offense and is the team's third-leading scorer, Dedmon has been gaining comfort on this end of the court. Most recently, he scored 20 points in his team's blowout win over Chicago.
While he struggled against Cleveland, the Cavaliers are the best team at guarding the basket as they allow the lowest field-goal percentage within five feet of the hoop.
Missing Jimmy Butler and Tyler Herro
While Miami can certainly live with Dedmon replacing Adebayo, can the Heat survive without Jimmy Butler? Butler is well-known as the team's leader. Especially because of his driving and rim-attacking prowess, he averages 2.5 more points per game than Miami's second-leading scorer, Tyler Herro.
Miami's leading scorer has been out before this season, so we have a nice sample size to use for betting purposes. Without Butler this season, the Heat are 3-4 ATS. One may thus conclude that his absence doesn't really affect Miami's chances.
One can't rely on a similarly high-quality data sample for Herro, who is listed as 'questionable' for tonight's game with a quadricep injury. While his defense has improved, he is mainly known for his offensive spark.
But his spark is something that Miami can live without as Gabe Vincent gains comfort in his larger role while fellow point guard Kyle Lowry turns it up. Lowry's play has, especially recently, been tremendous. He is averaging 3.1 points per game more in December than he did in November as he is finally finding his stroke from deep.
Last year, Lowry converted nearly 40-percent of his three-point opportunities, which resembles the efficiency that we are currently seeing from him. Herro's Philadelphia counterpart, Seth Curry, is anyhow himself listed as 'questionable' for tonight's game with a shoulder injury. In sum, I say "who cares" to Miami's bevy of injuries.
Missing Embiid
The most important player to talk about is 76er star center Joel Embiid, the perennial Defensive Player of the Year and MVP candidate who averages almost six more points per game than the next leading 76er scorer and is well-known as a physical monster protecting the rim on defense.
Know for your best bets that Embiid is listed as 'questionable' for tonight's game as he's dealing with the same injury that kept him out of Monday's bout against Memphis: sore right ribs. Embiid's defensive tenacity and offensive prowess are unparalleled.
His replacement, Andre Drummond, brings a major regression on both ends of the court. While Drummond famously posts attractive stat sheets -- he is best known as a high-volume rebounder -- the fact is that his defensive rating and several defensive metrics paint him as just above average. Offensively, he poses a minimal threat, which is why he's averaging a paltry 6.3 points per game.
Embiid Verdict
Because Embiid is so vital to Philadelphia's chances and because the 76ers sorely lack a replacement, the 76ers are 3-8 SU and 4-7 ATS without Embiid. They've only beaten losing teams and one team that's a game above .500.
The Heat, in other words, is much better than any team Philadelphia has beaten without Embiid. Thus, I recommend investing in Miami if Embiid is ruled out for tonight's contest. Dedmon will excel on offense again -- as he did against the Bulls -- if Embiid is not playing.
The sizzling Lowry, too, will benefit as Embiid's rim protection would allow other 76er defenders to guard the three-point line more closely. This is a classic advantage that great rim protectors bring because perimeter defenders know that they have a monster behind them who can clean up their messes.
If Embiid does play, then he'll be the best player on the court by far, the star of the show. He'll help attack a Heat defense that allows the third-highest field goal percentage within five feet of the basket.
While Miami does a good job of limiting opposing attempts at the basket, this is largely a product of its switching as guys like Butler and Adebayo are very versatile defenders. But without Butler or Adebayo, the Heat are worse-off defensively.
With less apt switching, they become more readily exposed at the basket, which is where Embiid obviously dominates. Thus, if Embiid plays, I recommend backing the 76ers for your NBA picks.
NBA Pick: Heat +6 (-110) if Embiid does not play with BetOnline (visit our BetOnline Review)

NBA Pick: 76ers -6 (-110) if Embiid plays with BetOnline

*The line and/or odds on picks in this article might have moved since the content was commissioned. For updated line movements, visit BMR's free betting odds product.