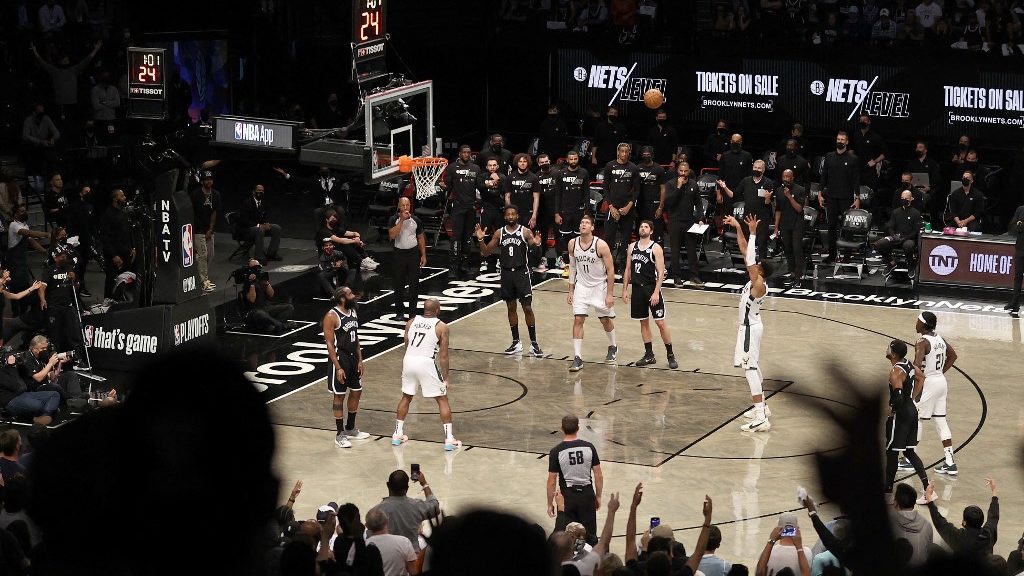 Betting on the winner of the NBA Finals is hard and usually the toughest offseason future market to crack. However, one can also find some value in a top-heavy NBA betting the exact NBA Finals matchup odds. Odds Courtesy of BetOnline (visit our BetOnline Review)
Brooklyn Nets vs. Golden State Warriors (+1200)
Betting the chalk in NBA works out more than any other sport when it comes to futures. Usually, unless there are some catastrophic or poorly timed injuries, the best teams make it to the conference finals, or NBA Finals. In the East this season, the Nets are clearly the favorites if they stay healthy. That was a huge problem in their inaugural season together, but if they can balance their loads and avoid injuries to the big three, the Nets can and probably will beat the Bucks in the conference finals.
That leaves a West that's wide open. At +500 you could bet a juiced up and overvalued matchup between the Nets and Lakers, or you can bet that someone out West is going to stop LeBron James.
If anyone is going to do that, it's Stephen Curry and the Warriors. Klay Thompson's health is the wildcard here, but the Warriors are stacked with talent, so if Thompson comes back to 100 percent, they should be one of the favorites in the West.
Brooklyn Nets vs. Los Angeles Clippers (+1800)
A theme here is going to be players coming off injury giving their teams a boost. Kawhi Leonard may not come back at all this season, but if he does make it back right before playoff time, this Clippers team could make noise in the postseason.
A fully healthy Clippers team is one of the best in the West and it would be an amazing matchup between them and the Nets. Clippers vs. Bucks is priced at +5000 also, which also seems undervalued compared to the other combinations.
It's kind of a risk betting on the Clippers when Leonard won't play all season, but there is also value in the 18:1 NBA Odds because of it.
Milwaukee Bucks vs. Golden State Warriors (+3300)
Probably my favorite combination for the price is the Bucks and Warriors. Milwaukee can beat the Nets in a seven game series, but like last year that may depend on the health of the Nets once we get to May.
Returning to the NBA Finals would be a huge accomplishment for Giannis Antetokounmpo, but definitely not impossible considering how top heavy the East is. The Bucks and Nets seem to be head and shoulders above the other Eastern Conference teams considering Philly's drama with Ben Simmons and the unknown of how the Heat will look with Kyle Lowry.
Seemingly though, all of the Warriors' matchups have value in this market. Philly and Miami have +5000 and +7500 NBA Odds respectfully to make the Finals and play the Warriors.
If you're going to bet on this market, I would suggest a play on Golden State at the very least. They are 12:1 to win the title at BetOnline and all of their matchups against the projected top four in the East pay 12:1 or better.