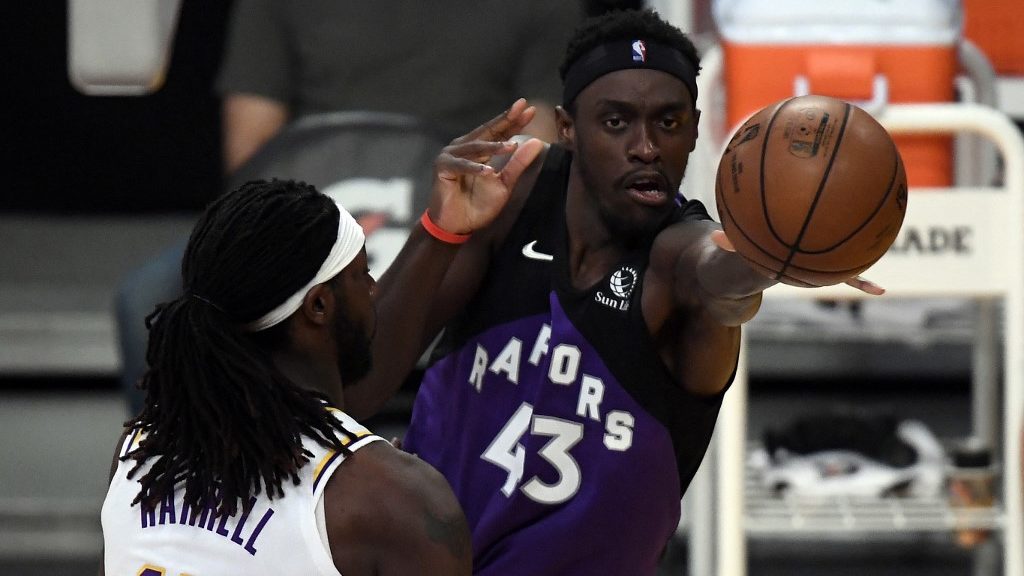 Top Sportsbooks have released their odds for Thursday's slate of basketball games. Two in particular stand out to me: Washington vs. Toronto and Memphis vs. Detroit.
For reasons that I will explain, you should play the total in the former game and the spread in the latter.
Washington Wizards vs. Toronto Raptors
Thursday, May 6, 2021 – 7:30 PM ET at Amalie Arena
Washington's Perimeter Defense
Normally, one can simply look at the rate at which a defense allows open or wide open three-point attempts in order to gauge its effectiveness in guarding the perimeter. The idea is that if a team strongly limits uncontested three-point attempts and instead mostly contests them, then its perimeter defense is good.
But the thing about Washington's perimeter defense is that there is a strong divide between how it performs against good shooting teams and how it performs against bad ones. This divide is apparent throughout the season, but also recently, such that this divide helps characterize the current poor form of Washington's defense.
Three games ago, Washington faced a Maverick team that ranks ninth in three-pointers made per game. These Mavericks scored 125 points — even without important floor-spacer Kristaps Porzingis — largely by converting 17 of 38 three-point attempts for a 44.7 three-point conversion rate. Two games ago, the Wizards allowed Indiana to convert 14 of its 27 three-point attempts — so more than half — even though the Pacers aren't normally very effective from deep.
In their last game, the Wizards conceded 18 three-pointers from Milwaukee, which ranks fourth in three-pointers made per game. The Bucks converted 48.6 percent of their three-point attempts en route to a 135-point effort.
It is true that the Wizards have performed well in the past against good shooting teams. But one has to see who was missing in those games in order to find out the reason for Washington's strong performance.For example, the Wizards and Raptors combined for only 204 points in their last game. However, Toronto's fourth-leading scorer, Kyle Lowry, did not play in that game.
Raptor Offense vs. Wizard Defense
Lowry is an important factor largely because of his shooting ability. Despite attempting 7.2 three-pointers per game, he converts 39.6 percent of his three-point attempts. The top-level Raptor point guard can create his own shot in order to be efficient. But he can also run the offense, make difficult passes, and create for others.
So his mere presence makes the offense more dangerous. Largely due to Lowry, the Raptors rank third in averaging 14.7 three-pointers made per game. They will exceed this average against a Wizard perimeter defense that proves to be porous both recently and against higher-ranked shooting teams like Dallas and Milwaukee.
With Lowry and in general, the Raptors also love to run. Only five teams score more points per game in transition than they do. For your NBA Picks, rely on them to excel also in this respect against a Washington defense that allows the seventh-most points in transition per game.
Washington Offense vs. Toronto Defense
Washington's offense is showing superb form, producing over 120 points in four straight games. The Wizards scored 122 against a Cleveland team that allows 112.2 on average, 124 against a Maverick defense that averages 110 opposing points per game, 141 against an Indiana team that allows 115 points per game, and 134 points against a Milwaukee team that allows 113.4 points per game. So the Wizards are scoring at least 10 points more per game than the opposing team allows on average. Keep this trend in mind for your Best Bets.
One respect in which they are thriving is at the basket. They benefit from the distribution of point guard Russell Westbrook, who, since March, has become much more of a facilitator, as evident in his uptick in assist rate. They own the second-best field goal percentage within five feet in the basket, which is an area they can thrive in against a Raptor defense that struggles to limit opposing efficiency in this area.
NBA Pick: Wizards/Raptors over 235.5 at -110 with BookMaker
Memphis Grizzlies vs. Detroit Pistons
Thursday, May 6, 2021 - 8:00 PM ET at Little Caesars Arena
Detroit Offense vs. Memphis Defense
Offensively, Detroit likes to live at the basket. It attempts the seventh-most field goals within five feet of the basket. Guys like Saben Lee and Killian Hayes love to drive inside partly because they are so ineffective from behind the arc. Others, like Jahlil Okafor, would rather post-up inside.
More than most teams, the Pistons want to rely on dribble-handoffs instead of ball-screens in order to open up driving lanes. They need to succeed inside because they rank 22nd in three-point percentage. This reliance on scoring inside will be problematic against a Grizzly defense that allows the eighth-lowest field goal percentage within five feet of the basket while allowing the 10th-fewest field goal attempts per game within this range.
Memphis benefits from the stout rim protection of center Jonas Valanciunas. Moreover, Jaren Jackson Jr. will return tonight, giving the Grizzlies a more mobile and still lengthy offering to help secure the interior.
Turnovers
Note for your Sports Betting that the Pistons are missing four starters and all of their top ball-handlers to injury. One place where the resulting regression is evident is in the point guard position.
Normally, veteran Cory Joseph starts at point guard. Without Joseph, the Pistons have to rely on Killian Hayes at the position. Hayes averages 3.5 more turnovers per game than Joseph. In Hayes' last two games alone, he turned the ball over a combined total of 12 times. With guys like Hayes handling the ball, the Pistons now rank 24th in limiting offensive turnovers.
Memphis In Transition
Turnovers will be a problem for Detroit especially tonight because the Grizzlies love to feast on them. They rank seventh in forcing 15 turnovers per game, often creating deflections in order to win the ball. Memphis' ability to create turnovers feeds its transition game, which is spearheaded by Ja Morant.
Morant has been criticized for his on-ball defending. But his problems have come primarily against ball-screens. He's more promising tonight because he's significantly stronger against dribble handoffs, as evident by opposing PPP and percentile. With his speed, he's characteristically great at turning defense into offense. He's a big reason why the Grizzlies score the fifth-most points per game in transition, of which Detroit allows the 11th-most.
Morant provides one more reason why you should invest in Memphis at your favorite Sports Betting Site.
NBA Pick: Grizzlies -9 at -108 with Heritage Sports