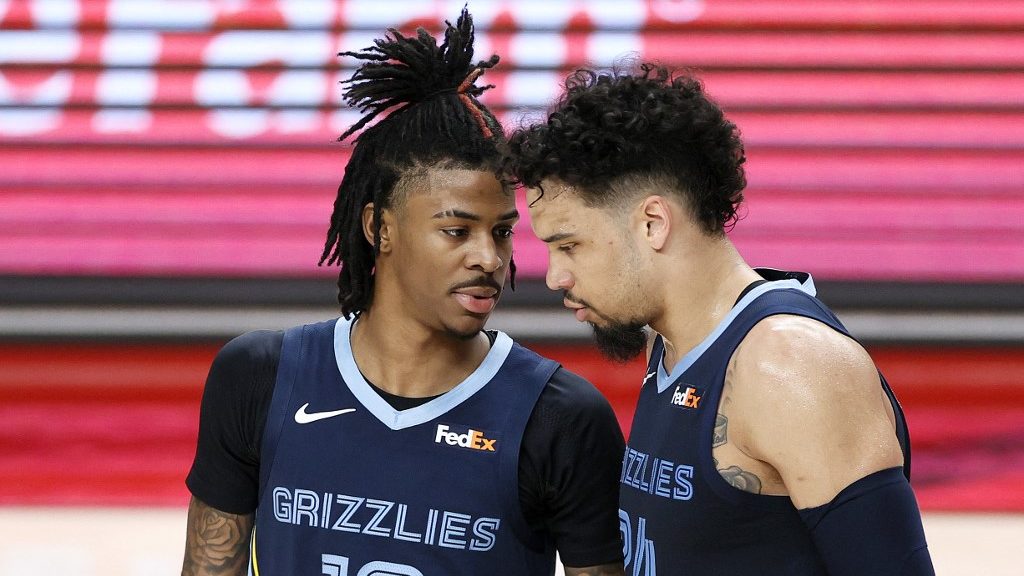 Top Sportsbooks have released their odds for a large slate of NBA games today. Two particular stand out to me as worth investing in: Memphis vs. Minnesota and San Antonio vs. Utah.
For reasons that I will explain, you'll want to play the spread for each game.
Memphis Grizzlies vs. Minnesota Timberwolves
Wednesday, May 5, 2021 – 8:00 PM ET at Target Center
Memphis' Improved Perimeter Defense
Throughout large segments of the season, perimeter defense has been a problem for Memphis. Memphis' season-long three-point defensive numbers reflect these large problematic segments. But these season-long numbers do not reflect the strong improvement that Memphis is experiencing.
One myth is that Jaren Jackson Jr.'s return to the lineup is responsible for this improvement. Jackson Jr. returned on April 21. He wants to use his length and athleticism to inject a solid presence into the interior defense. With Jackson Jr., the Grizzlies supposedly lose the need to send excessive help inside. With the interior hopefully secure, they can then focus more strongly on defending the perimeter.
While Jackson Jr., is supposed to bring this benefit, his stats say otherwise. In particular, his defensive rating is appallingly bad. Moreover, he has missed two games since April 21. In those two games — including one against a Portland squad that loves to shoot the three — Memphis remained solid in limiting opposing wide open three-point attempts.
If you were to look at Memphis' season-long opposing rate of wide open three-point attempts, you would see that Memphis allows one of the higher rates of these uncontested shot opportunities. But for weeks now, the Grizzlies are allowing by far the lowest rate of wide open three-point attempts.
So do not worry — and maybe even be glad — that Jackson Jr. is resting tonight. His absence will allow stronger defenders like Xavier Tillman to gain playing time.
Minnesota Offense vs. Memphis Defense
For your Sports Betting, it's important to be aware of Memphis' improved perimeter defense because the Timberwolves are rather reliant on converting three-point opportunities. They attempt the seventh-most threes per game. It is true that Minnesota is rather inefficient from deep. Minnesota ranks 24th in three-point percentage.
A lot of Minnesota players who are normally inefficient from deep attempt a lot of threes. But even Minnesota's stronger shooters will struggle against Memphis' strongly improved perimeter defense. The Timberwolves also love to attempt field goals inside. Karl-Anthony Towns will try to provide a mixture of driving and post-up scoring.
Teammates like Anthony Edwards drive a lot inside. Overall, Minnesota attempts the third-most field goals per game within five feet of the basket. But this reliance on scoring inside will be problematic against a Grizzly defense that allows the eight-lowest field goal percentage within five feet of the basket.
Center Jonas Valanciunas brings stout rim protection and elite rebounding ability — he ranks third in rebounds per game — that limits opposing second-chance opportunities.
Memphis Offense vs. Minnesota Defense
There isn't much to like about a Minnesota defense that, throughout the season, has been one of the worst. Currently, the Timberwolves rank 28th in limiting opposing scoring. But Minnesota's offense — which is often inefficient and prone to turning the ball over — bends its defense into even worse shape.
Memphis loves to turn defense into offense. It will make Minnesota pay for bad offense by creating more transition opportunities, which speedsters like Ja Morant excel at taking advantage of. Morant helps his Grizzlies rank fifth in transition points per game. They will thrive in transition against a Minnesota defense that allows the second-most points in transition per game.
Bounce-Back Spot
Note for your NBA picks that the Grizzlies are in a great betting situation tonight. They are on a 4-0 ATS streak in the game following a two-game SU losing-streak.
Memphis will be confident tonight in its ability to bounce back because it faces a Minnesota team that it regularly beats. Currently, the Grizzlies are enjoying 5-0 SU and ATS winning streaks against the Timberwolves.
NBA Pick: Grizzlies -3.5 at -110 with BetOnline
San Antonio Spurs vs. Utah Jazz
Wednesday, May 5, 2021 - 9:00 PM ET at Vivint Smart Home Arena
San Antonio Offense vs. Utah Defense
Utah's defensive focus is predicated on the realization that many NBA offenses are driven by analytics. Many NBA offenses consider layup attempts and three-point attempts to be the most worthwhile ways of attempting to score. By worthwhile, I mean in terms of assessing risk versus reward.
So Utah's defense primarily wants to stop easy layup attempts and to guard the perimeter closely. But there's one big problem: there are still some teams that do not focus on scoring at the basket or from behind the arc. Phoenix, which has given Utah's defense recent trouble, is one team whose offense thrives in the mid-range.
San Antonio is another. The Spurs attempt the third-most field goals from 10-14 feet from the basket. They also attempt the most field goals from 15-19 feet from the basket. DeMar DeRozan is San Antonio's leading scorer largely because of his prowess in the mid-range, for which he has been known since his days as a Raptor.
DeRozan will lead a Spur offense against a Jazz defense that struggles to limit field goal attempts or make opponents uncomfortable in the mid-range.
Utah Offense vs. Spur Defense
Utah really misses Donovan Mitchell, its top ball-handler along with fellow guard Mike Conley, who is also injured. Both players were strong on the ball and used their solid ball-handling to drive inside. Without their driving ability, the Jazz miss crucial sources of inside scoring.
They are already heavily reliant on their three-point shooting. They attempt by far the most three-pointers per game. But this reliance on three-point scoring is problematic against a Spur defense that is one of the best teams both at running opponents off the three-point line and at limiting opposing open three-point attempts.
With your best bets, expect San Antonio's attentive perimeter defense to punish Utah's increasingly one-dimensional offense.
NBA Pick: Spurs +6.5 (-110) at Bovada