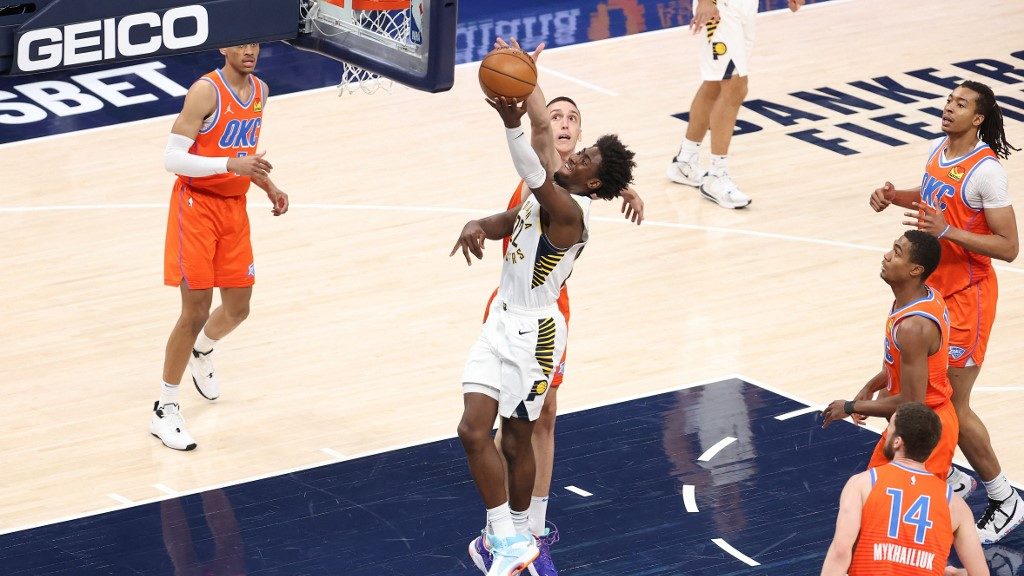 Monday's NBA betting card features some high-profile teams. But don't forget about the lower-profile teams when placing your best bets. Top Sportsbooks have released their odds for tonight's NBA action. Two games, in particular, stand out to me as worth betting on: Indiana vs. Cleveland and Washington vs. Atlanta. For reasons that I will explain, you'll want to play the spread in the former game and the total in the latter.

Indiana Pacers vs. Cleveland Cavaliers
Monday, May 10, 2021 at 7:30 PM EDT at Rocket Mortgage Field House
Throughout the season, Cleveland's offensive productivity has been negligible. The Cavaliers rank last-place in scoring 103.9 points per game because of their season-long struggles.
But these offensive struggles have been most apparent lately and they characterize the offense's current form. In their last three games, the Cavs scored 105 points in a blowout loss against Portland, and 90 and 97 points in two respective games against Dallas. Portland's defense averages 114.3 opposing points per game while Dallas' averages 109.7. So the Cavalier offense is allowing defenses to yield around 10 points fewer than they normally do.
Scoring Inside
This season, the Cavalier offense has been one-dimensional. It lacks capable three-point shooters and instead prefers to score inside. Cleveland ranks last-place in making 9.9 three-pointers per game. Because they possess this deficiency from behind the arc, the Cavs attempt the fourth-most field goals within five feet of the basket.Their offense is guard-centered. When the team is healthy, leading scorers Collin Sexton and Darius Garland will spearhead the offense primarily by driving to the basket.These two players have only been able to do so much. This season, the Cav offense owns one of the worst field goal percentages within five feet of the basket.
So not only can Cleveland not shoot the three-ball well, the Cavs can't succeed scoring in the way that they most prefer to score. This inability to score inside has been transparent especially lately. Since May 1, Cleveland is converting 52.9 percent of its field goal attempts within five feet of the basket. This figure is the second-worst during this time span.
To understand how bad 52.9 percent is, note that since May 1 the top team is converting field goals within five feet of the basket at a 24 percent higher rate. I chose May 1 because this is the day on which Darius Garland's absence began. Without him, Cleveland's already limited offense misses its second-leading scorer. Garland's absence is something you need to consider when you visit the Online Sports Betting Sites.
Pacer Interior Defense
You might counter: isn't Indiana's interior defense suffering an important injury? Should this injury — to starting center Myles Turner — mitigate our pessimism about Cleveland's offensive ceiling? The answer is no because Indiana's interior defense still ranks in the upper half in limiting opposing efficiency within five feet of the basket. This Pacer defense has still most recently stymied the two-point attack of bottom-feeders like Orlando and Oklahoma City.
Indiana Offense vs. Cleveland Defense
As is the case with Indiana, Cleveland's defense is strongest in the interior. But note for your Best Bets that the Cavaliers have regressed without Larry Nance Jr. Since he has been absent — that is, since April 26 — the Cavs allow the fourth-highest field goal percentage within five feet of the basket. The Cavs also lack healthy bodies in the interior with Isaiah Hartenstein out and with Andre Drummond having been dealt away.
So what was Cleveland's defensive strength has become a weakness .On offense, the Pacers love to attempt field goals within five feet of the basket almost more than any other team. They are filled with guys who like to drive inside, plus post-up threats like All-Star Domantas Sabonis. Moreover, they possess the offensive versatility that Cleveland lacks. They rank towards the middle in three-point percentage. In this last respect, Oshae Brissett has offered the Pacers a positive surprise with his ability to space the floor via 41.6-percent three-point shooting.
The Verdict
Indiana will thrive inside against Cleveland's regressed interior defense. Minus Garland, the Cavaliers' already weak offense further lacks the ability to take advantage of Turner's absence from Indiana's interior defense.
NBA Pick: Pacers -6.5 at -108 with Heritage Sports
Washington Wizards vs. Atlanta Hawks
Monday, May 10, 2021 at 7:30 PM EDT at State Farm
Atlanta's Offensive Style
Atlanta loves running the pick-and-roll for the ball-handler more than almost any other team. The Hawks love this play type because it suits offensive centerpiece Trae Young. Young is versatile as both a scorer and a playmaker, for which reason he ranks both 14th in the NBA in scoring average and second in the NBA in assists per game.
He has great chemistry with roll man Clint Capela. Capela will set a screen and roll to the basket. Young ably uses his vision and passing ability to locate him for an easy basket. The threat that Capela poses as a scorer forces defenders to pay extra attention to the basket. But if defenders pay attention to Capela, Young can punish them with his ability to pull up for a jump shot.
Atlanta Offense vs. Washington Defense
Given the Hawks' offensive style, they will live or die with the pick-and-roll for the ball-handler. Washington is an ideal opponent for the Hawk offense because the Wizards allow the third-most points per game and one of the highest PPP (points per possession) against this play type. Be confident for your Sports Betting that the Wizard defense cannot deter the Hawk offense from executing its favorite play type.
Washington's Offensive Streak
It's true that Washington and Atlanta met on January 29 in a game that flew under the total posted by NBA Oddsmakers. But Washington's offense resides in a different stratosphere than the one it inhabited on that day. On January 29, the Wizards found themselves in the midst of a losing streak following a COVID-induced pause. Such a mid-season pause was lethal to both the momentum and the chemistry that they were trying to build.
Whereas, from January 24 to January 29, the Wizards failed to exceed 106 points in a single game, they currently exhibit the desired offensive capacity. In Washington's current stretch of games, the Wizards have scored 130+ points in four consecutive tries. They are easily scoring more than 10 points per game than opponents allow on average.
This latter statistic remains true on average when you account for Washington's recent pair of overtime games since the Wizards blasted the Pacers with a 154-point scoring effort. One reason for their offensive improvement is the development of Russell Westbrook. Westbrook has become more of a facilitator, as evident in his uptick in assist rate. Expect Westbrook to help push the total "over" for your NBA Picks.
The Verdict
Washington will replicate the damage that Atlanta can do via its pick-and-roll game. The Wizards will rely especially on Westbrook to create offense for others and to thrive inside.
NBA Pick: Wizards/Hawks over 237 at -110 with BetOnline