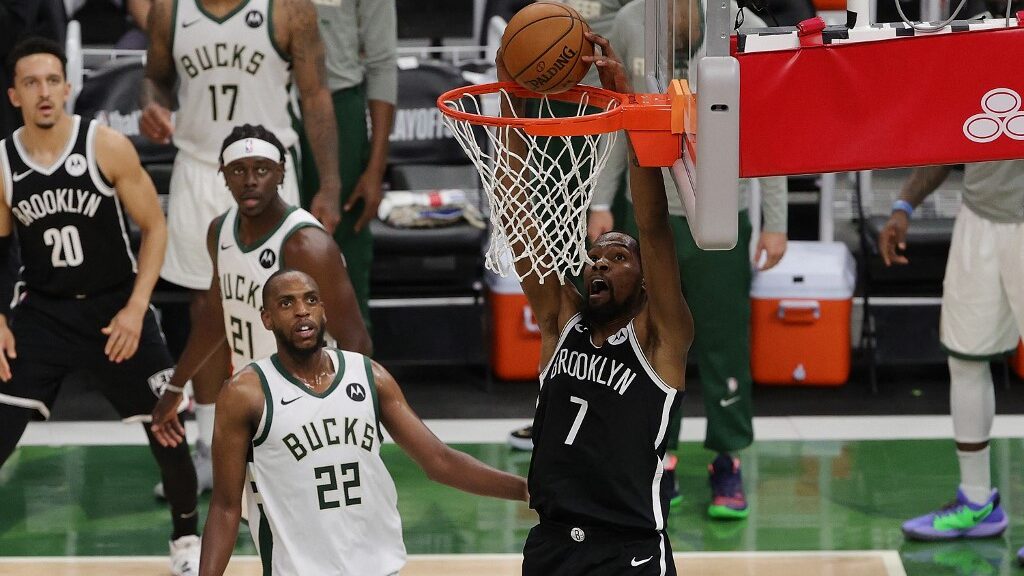 Two of the NBA's Elite Eastern Conference teams will face off on Thursday night in Brooklyn. Unfortunately, both teams are shorthanded due to injuries and covid.
While the teams are not at full strength, this game could be meaningful at the end of the year when the playoff seedings are determined. Which team should we back to make the right NBA pick?
Philadelphia 76ers vs. Brooklyn Nets
Thursday, December 16, 2021 – 07:30 PM EST at Barclays Center
Philadelphia 76ers
I was not happy with Joel Embiid and 76ers head coach Doc Rivers on Monday night. Embiid was a scratch five minutes before game time after not appearing on the injury report at all. As someone who spends the majority of my time handicapping and promoting the NBA, this brazen disregard of the NBA injury report rules makes the NBA a tough sell to casual fans and bettors.
The blame here is twofold. First, we must admonish the 76ers for their willful disregard of the fans. Yet, more importantly, NBA Commissioner Adam Silver is charged with enforcing the rules of the National Basketball Association.
Silver's reticence to hold anyone accountable is a cause for shame for the league as it attempts to broaden its fan base and partner with gambling companies. As Silver's tenure as commissioner progresses fans have to wonder, is Silver strong enough to hold such an important position? So far we have yet to see anything that indicates that he is.
On to the game on the court. At least the 76ers had the common decency to list Joel Embiid on the injury report for this game. Embiid is a game-time decision which makes this handicap difficult. With Embiid in the game, the 76ers are capable of beating any team in the NBA.
When Embiid sits, the 76ers are a mediocre basketball team. Seth Curry joins Embiid on the injury list with a shoulder injury. And because the 76ers have shown little class or respect for the rules and the fans when it comes to reporting injuries, we must also be wary that a player will be scratched right before tip-off.
Tobias Harris is to play in the game regardless and the 76ers need more of a contribution from him this season. With Ben Simmons sitting, Harris has had an opportunity for more usage and the team is relying on him to step up. Harris has not been the player that the 76ers need to compete with the elite in the East.
With Harris as the number two option, the 76ers are going to need more efficiency and scoring output from him if they want to truly make a run for the NBA finals.
Brooklyn Nets
The Brooklyn Nets have been ravaged by covid this week. On Tuesday night, I kept checking before the game to see if it would be canceled as the Nets were down to the requisite eight players.
Kevin Durant played 48 minutes on an injured ankle and the Nets short-handed squad got the overtime victory against the Toronto Raptors. The Nets will use the same group of young players in order to field a lineup tonight.
The Nets lineup on Tuesday featured many players that are unfamiliar to NBA fans. David Duke Jr. was in the starting lineup and scored 10 points and grabbed 13 rebounds. Kessler Edwards came off the bench to chip in 17 points and 10 rebounds.
Day'Ron Sharpe added 7 points and 7 rebounds in just 13 minutes. Cam Thomas was the only young player that failed to step up with a disappointing 2-10 performance from the field. Thomas only scored 4 points in his 22 minutes.
This young Nets lineup can help the team get by for now and this playing time could be helpful to develop young players in competitive situations. One must wonder how much of a toll it will take on Durant to carry a group of players that spent last week in the G League.
Now, these inexperienced players will accompany Durant against the NBA's best. Interesting storylines abound in the NBA this season, and the Nets dealing with this covid outbreak is definitely one of them.
Key Matchup
Kessler Edwards vs. Tobias Harris
What?! Kessler Edwards in my key matchup?! Nothing is more indicative of the current state of the NBA that a player that I have not written about yet this season now will play such a crucial role in the outcome of a high-profile game.
Just because we don't know Edwards, however, doesn't mean that he isn't worthy of this spot. Edwards is a rookie out of Pepperdine who shows a lot of potential but has been shoved into the spotlight quicker than we expected. Edwards was able to handle the pressure in his first appearance. We will see if he can follow it up.
If Edwards is able to have a good game and keep Harris from having a big night, the Nets have a good chance to win, even shorthanded. If Edwards' success turned out to be a one-game wonder, and Harris is able to score over the rookie with ease, Philadelphia will have a great advantage in this game.
Best Bet
This is a tough one with the injury news still to be released but my guess is Durant plays and Embiid doesn't. In that case, the Nets have a severe advantage. The NBA really needs to get this injury reporting under control. This should be an exciting game that has lost its luster because the NBA has devalued its regular season. This game is a perfect example.
In an interesting dilemma for this handicapper and with these NBA odds, I will take the Nets.
NBA Pick: Brooklyn Nets PK (-110) at BetOnline (visit our BetOnline Review)

*The line and/or odds on picks in this article might have moved since the content was commissioned. For updated line movements, visit BMR's free betting odds product.