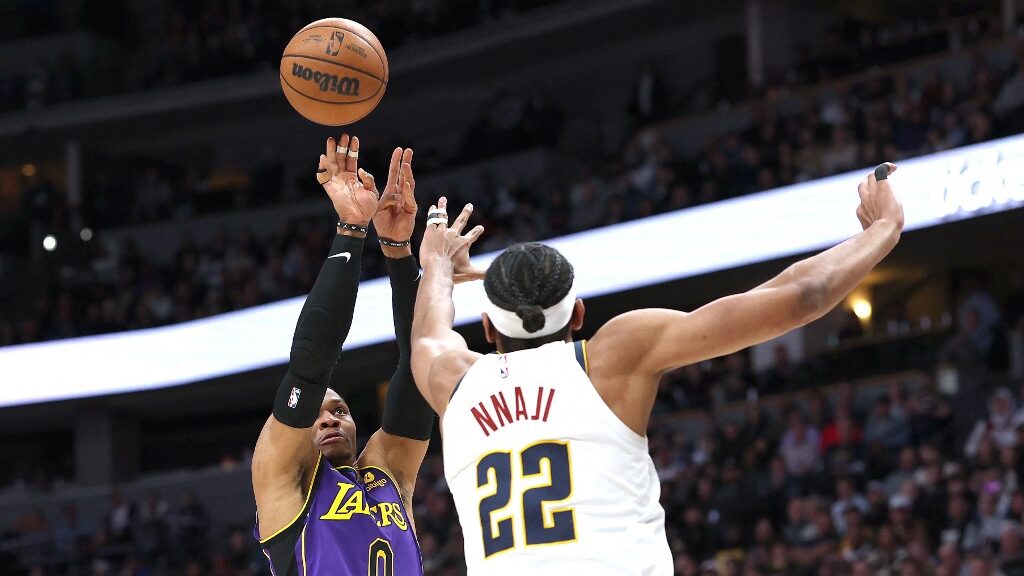 NBA Pick: Russell Westbrook To Win Sixth Man of the Year (–160) at Bovada (visit our Bovada Review)

Russell Westbrook To Win Sixth Man of the Year

(–160)
He isn't what he used to be, but there's a reason Russell Westbrook leads the odds for this year's NBA Sixth Man of the Year Award.
Make sure to check out the best US Betting Sites available in order to make your bets.
---
Strange Bedfellows
It must have felt like a back-handed compliment when the NBA decided to name their Sixth Man of the Year award after John Havlicek.
Not that he'll mind; Havlicek sadly left us three years ago. But Havlicek was one of the all-time greats, joining Bill Russell as the backbone of the Boston Celtics during their dominant run through the 1960s.

Imagine how Russell Westbrook will feel when they hand him the first-ever John Havlicek Award. That's what we're predicting here at the ranch – Westbrook is the clear favorite on the NBA odds board at Bovada Sportsbook as we go to press, and a virtual lock to win in our estimation.

It isn't because Westbrook (plus 0.4 BPM at Basketball Reference) has outperformed his competition.
It's more about the narrative that the writers and broadcasters on the voting panel have carved out for Westbrook since the Los Angeles Lakers removed him from the starting lineup in late October.
---
What Are the Odds?
The race for Sixth Man honors has boiled down to four players, at least according to Bovada's NBA futures market:
Russell Westbrook, Los Angeles Lakers (-160)
Jordan Poole, Golden State Warriors (+400)
Malcolm Brogdon, Boston Celtics (+400)
Norman Powell, Los Angeles Clippers (+900)
It's a big step down from here to Indiana Pacers super-sub Bennedict Mathurin (+2000), who also happens to be in our NBA picks for Rookie of the Year.
Speaking of which, Mathurin's ROY odds have moved from (+800) to (+700) since we weighed in.
That's what we do: move mountains.

Westbrook's Sixth Man odds seem destined to get shorter from here as well – and not just because of our vast influence over the NBA lines. In all seriousness, we're just trying to stay ahead of the curve here, and that curve is the story arc Westbrook is following in La La Land.
---
Does Westbrook Deserve to Win?
"Deserve" is a loaded word. Let's just say his performance level is nowhere close to that of Brogdon (plus-3.2 BPM), the real NBA Sixth Man of the Year in our eyes.

Westbrook is being celebrated in the press for "taking one for the team" and not completely freaking out over his demotion as many had feared. The Lakers took a big gamble in August 2021 when they sent these useful players to the Washington Wizards as part of the larger 5-team trade (!) that brought Westbrook to L.A.:
SG Kentavious Caldwell-Pope
C Montrezl Harrel
SF Kyle Kuzma
That trade proved to be a disaster for the Lakers. Caldwell-Pope's 3-and-D prowess was a big reason why the Lakers won the title in 2020; Harrell was coming off his own Sixth Man of the Year season with the Clippers, and Kuzma – well, he's got potential.

With their bench strength sapped, and Westbrook clearly on the decline as he enters his mid-30s, the Lakers had to do something after they dropped their first four games of 2022-23 SU and ATS. So they sent the former MVP to the bench, and since then, the Lakers are… a .500 club at 20-20 (20-19-1 ATS). Yay?
---
Where's the Love for Brogdon?
I've been wondering that for a while now. Brogdon was Rookie of the Year for the Milwaukee Bucks back in 2016-17, and he has made tremendous progress since then, turning into an All Star-level point guard who won't hurt you on defense.
Brogdon wasn't good enough for Milwaukee, though.
Despite joining the 50-40-90 Club in 2018-19, Brogdon was apparently too young to fit their championship window, so the Bucks unloaded him on the Indiana Pacers for a collection of picks, then made their own big gamble to acquire veteran Jrue Holiday from the New Orleans Pelicans.
The result: Milwaukee's first NBA title in 50 years.
Voters' Eyes Roam Elsewhere

Meanwhile, Brogdon toiled in relative obscurity for three years with the rebuilding Pacers, and missed half of last season to a sore Achilles before they shipped him to Boston in July. Brogdon now has a chance to contribute to a title contender; he's third on the Celtics in the Box Plus/Minus behind Jayson Tatum (plus 5.8 BPM) and Robert Williams (plus 3.9 BPM).

And… nobody cares. Or at least that's how it seems, given the way people are fixated on starting PG Marcus Smart (minus 0.7 BPM) and his green hair.
Smart won NBA Defensive Player of the Year honors in 2021-22, and probably didn't "deserve" it; his mere existence will help prevent voters from even thinking about Brogdon – not that they were going to move off their Westbrook narrative.
So it was written, so shall it be done.
NBA Pick: Russell Westbrook To Win Sixth Man of the Year (–160) at Bovada (visit our Bovada Review)

Russell Westbrook To Win Sixth Man of the Year

(–160)
*The line and/or odds on picks in this article might have moved since the content was commissioned. For updated line movements, visit BMR's free betting odds product.