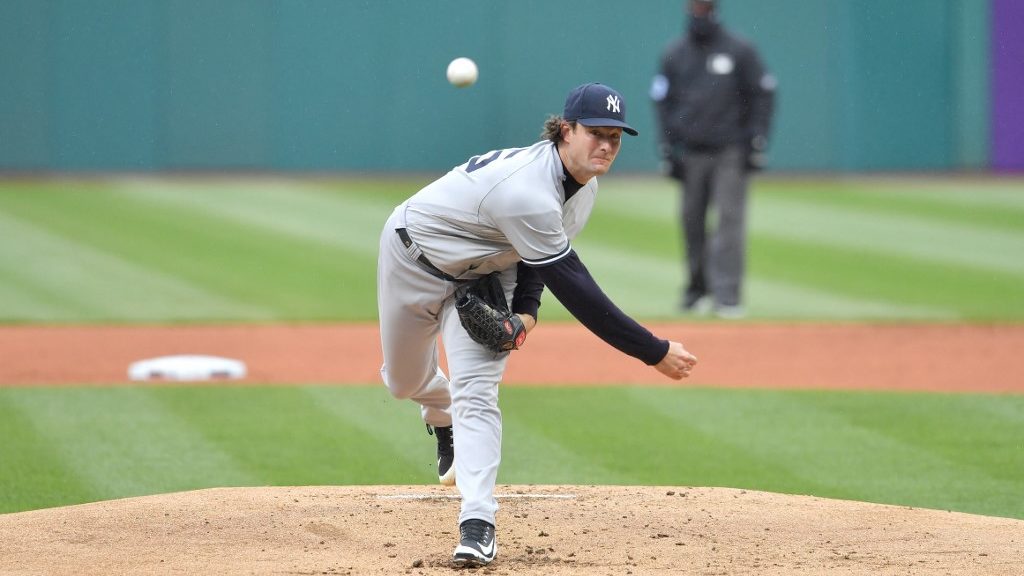 It's the middle encounter of a three-game series between AL East rivals, both trying to move up on first-place Boston. New York is the favorite, but can they complete the task? With last night's victory, New York has taken over sole possession of second place in the East Division of the American League. The goal tonight is to expand the lead, win the series and go for the sweep on Thursday.
New York Yankees vs. Tampa Bay Rays
Wednesday, May 12, 2021 – 07:10 PM EDT at Tropicana Field
The Yankees are the betting odds favorite with their ace Gerrit Cole the listed starter at YouWager and other sportsbooks. Will that be enough to hold off Tampa Bay who has won five of seven over New York this season?
New York Finding Ways to Win
Though the Yankees (19-16, -5.9 units) are only averaging 4.1 runs a game, there are positives. Aaron Judge has cooled after his hot streak and he was immediately followed by Giancarlo Stanton blowing up. After a sluggish opening, Stanton is on par with his 2017 MVP numbers to this juncture of the season. Stanton currently is in the Top 10 in the American League in home runs, total bases, and home runs per at-bat, while leading the Yankees in OPS+, doubles, home runs, batting average, and runs batted in. Not bad.
Yesterday, Luke Voit returned from the DL and while it will take time to find his swing, he led the majors in home runs in the 2020 shortened season. This will add punch to Aaron Boone's lineup card.
While Yankees fans and backers are fidgety about their start to the season and narrow victories recently, as we have seen previously with this franchise, winning becomes contagious and a long winning streak could be looming.
Rays Offense is Pedestrian
Tampa Bay (19-18, -0.3), like the Yankees and many other teams, is not hitting for average and is like their opponent at 4.1 RPG. That problem has been even bigger at "The Trop" where manager Kevin Cash's Rays are at a mere 3.0 RPG and that explains their 7-11 home record.
Last season when Tampa Bay won the AL championship, there was a group of unheralded players outside west Florida that were very productive based on modern baseball numbers.
Last year, Brandon Lowe, Joey Wendle, Manuel Margot were all very effective and efficient offensive weapons for Cash's club. To date, only Wendle is having close to a similar campaign.
Randy Arozarena is playing well and delivering. Austin Meadows is hitting about .200, but his on-base percentage is close to .320 and first baseman Yandy Diaz has a respectable .250 average and leads his team in walks, lifting his OBP past .360.
The sense of the Rays is they have not clicked yet and history tells us you have to have patience, as this organization delivers.
Pitching Breakdown
Gerrit Cole (4-1, 1.61 ERA) is one of the five best starting pitchers in baseball and at 30, in his prime. It's clear now Pittsburgh was holding his career back and once unleashed without restraints in Houston, Cole blossomed. His numbers are foolish, with a WHIP of 0.71 over 44 2/3 innings, with only 29 hits allowed, to go with 66 punchouts and THREE walks. Absurd numbers even in today's environment.
Collin HcHugh (0-1, 7.36) is the Rays starter and he might be pitching to stay with this team. Never a hard thrower, the righthander has made five appearances and one start and has allowed 12 hits in 7 1/3 innings and eight runs (six earned). Lacking in velocity more than ever, he needs movement low in the zone to get hitter's out.
Both Boone and Cash know how to manipulate bullpens and properly assign roles after determining a closer and setup guys. That is a legitimate skill and why these teams have better records than what should be based on the offenses.
Game Prediction
With Yankees coaches, testing positive for Covid, this game is possibly up in the air. Yanks skipper Boone said after last night's win he expected to play, while recognizing more results are necessary.
We are expecting New York at around a -200 money line favorite and that's higher than we prefer. However, for MLB picks, the run line was heavily shaded early today with the Yankees at -135 (if should be -105 to -110), leaving no value.
With Cole only 3-4 lifetime against the Rays, -200 is a big risk and we'll hope New York creates a working margin and we'll side New York on the run line.
Free MLB Picks: Yankees -1.5 (-135) at YouWager