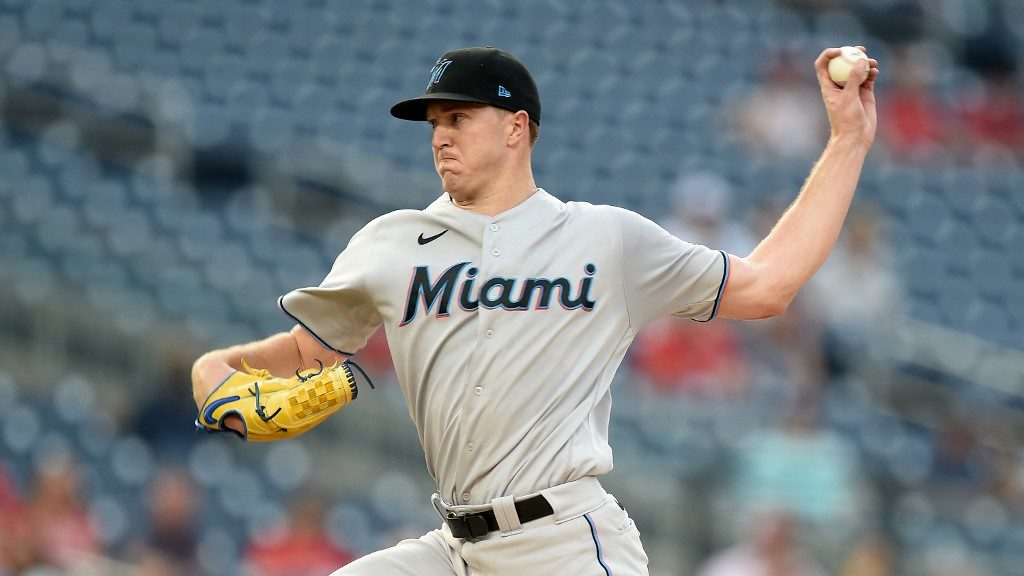 There are a lot of tight races this season in the MLB for different awards. But the awards that haven't been talked about nearly as much as they should are the Rookie of the Year awards. Let's break it down while you look for your MLB picks.
NL Rookie of the Year
The NL Rookie of the Year is currently led by Trevor Rogers of the Miami Marlins. He's currently 8-8 on the year with a 3.20 ERA but at this point, others are closing in on the award with Rogers throwing just four starts in July. In July, Rogers didn't pitch past five innings and allowed 20 hits in 17.2 innings with nine runs and eight walks.
Rogers is a big strikeout thrower and struck out 19 but in his last three starts, he struck out four or less in each. The lefty is giving the Marlins a chance to win every game but he's also allowed two or more runs in every start this season but one in June and July. I'm not so sure he should be the favorite at this point in time.
Rogers is currently -160 to win the award Jonathan India is the only man chasing him for the award but, to me, India is more deserving of the award. India started the season batting 8th and is now batting first for the Reds with a .284 average and OPS of .853, which is 36th best in baseball. There's not a single batter in the MLB doing what India is doing against left-handed pitching.
He's put together an OPS of .974 against lefties and even against righties, although he hasn't been nearly as good, still has a .817 OPS. India had an average of .239 in April and .220 in May but in June he stepped up with an average of 303. Then in July, he hit .319 and in August, he's already hitting .300 through 15 at-bats.
If you take away India's first two months in the big leagues, he's been on an absolute tear and is one of the reasons why the Reds have one of the top offenses in the league. It's a shame their pitching isn't nearly as good because the Reds have an offense, led by India at the top of the order, that can do real damage. I would look at India at +150 at the MLB odds at this point to win the award.
AL Rookie of the Year
The AL Rookie of the Year award has more contenders and no clear favorites. Currently, Adolis Garcia, of the Texas Rangers, leads slightly on top sportsbooks with +230 odds while Randy Arozarena has +280 odds to win the award. Behind him is Luis Garcia and Akil Baddo. Adolis Garcia started the season red hot for the Rangers.
He hit 16 home runs in two months and looked like the real deal. But he's been struggling ever since with an average of .242 in June, .216 in July and .133 in August, thus far. Garcia only hit seven home runs in June and July compared to hitting 11 in May. His average is now sitting at .252 and his OPS is at .781. Garcia is losing ground in the race in front of Arozarena.
Arozarena is already coming off a big playoff performance last season and voters will absolutely keep that in mind when making decisions. He also has a higher average at .268 and an OPS greater than Garcia's at .802. On the year, Arozarena has been much more consistent and has an OPS of about .775 basically every month this year.
Not only is he playing consistently, he's starting to heat up in August with seven hits in 11 at-bats for a playoff team looking to win the American League division. With Garcia struggling to finish the season and Arozarena heating up, with a playoff team, it's clear that Arozarena should be the favorite and not Adolis Garcia. Taking a stab at Arozarena at +280 to win the award looks like a steal at this point.