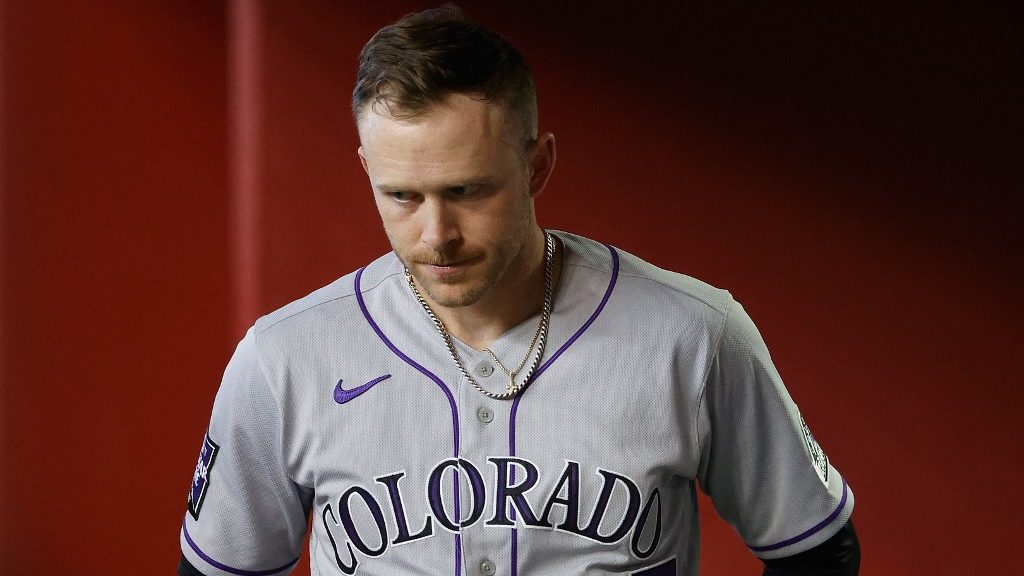 It's only June and we've got plenty of baseball left to play but if you've been watching baseball since April, you already know the pretenders and the contenders. The Trade Deadline is set for July 30 but moves might be made a couple weeks sooner than the deadline.
Jon Gray & Trevor Story – Colorado Rockies
Jon Gray is eligible for free agency after this season so if the Rockies aren't going to be playing for the playoffs, they'd be fools to keep him around without getting anything in return.
He's had a weird start to the year but has plenty of potential. Gray is currently 4-5 with a 3.71 ERA along with a WHIP of 1.24. He'ss been absolutely dreadful on the road, with an 0-4 record in four starts but has dominated, at home, in Coors Field, with a 4-1 record in seven starts along with a 2.36 ERA.
Obviously, some teams might be nervous about trading for Gray because he's been so bad outside of Coors Field this year. He also finished 2020 with a 6.69 ERA over 39 innings. He's not getting a high amount of strikeouts and his walk rate is still around 10 percent but what he has done well is limiting hard contact, which is one reason he's escaped trouble in Coors Field.
There will always be a couple teams looking to improve their rotation at the deadline whether it's due to performance or injuries. Gray would be an interesting piece to a contending puzzle.
I highly doubt the Rockies end up trading Gray and Trevor Story in a package deal but there are some clubs, like the Yankees, for example, who might be in the market for a shortstop and starting pitcher. Story is going to be a borderline qualifying offer candidate for the Rockies and since they just traded Nolan Arenado away, it's highly likely they also trade away Story and really rebuild this ball club.
Story is striking out just 22.4 percent this season which is actually really good for Story, who has struck out way more in other years. If Story just walked out, they would get a 2020 draft pick in return. Therefore, they'll have to make sure that whatever they're receiving in return for Story, in a trade, is worth more than that draft pick due to the qualifying offer not being given.
Mitch Haniger – Seattle Mariners
At the start of the year, the Mariners were raking offensively and some thought maybe the Mariners could stay consistent at the plate. That didn't happen. Now they've added prospect Jarred Kelenic to their roster and he's struggled at the plate as well. Kelenic will be fine and I'm sure he'll mash eventually but the Mariners obviously want to rebuild and bring in young talent.
Haniger seems like he's always injured but when he's not, he's a productive hitter. The Mariners would have just one more year in control of Haniger. But with Kyle Lewis, Jarred Kelenic and Taylor Trammell, along with Julio Rodriguez, it might make sense to move Haniger for some more prospects that are almost ready for the big leagues. He's only earning 3.01 million in 2021 and should be a major, middle-of-the-lineup bat for any contending team.
Matthew Boyd – Detroit Tigers
Boyd was so bad last year. This year, he's kind of figured it out but with low strikeouts, there are some question marks surrounding Boyd and if he can continue his success this season. He added a new changeup that has helped him against righties this season, as a left-handed pitcher.
The Tigers are nowhere near close to the playoffs and have a lot of interesting talent at the pitcher spot with Casey Mize and Tarik Skubal starting to come around a bit. After the 2022 season, Boyd would be a free agent. The Tigers can't think they'll be contending next year either, so looking at potential possibilities at the deadline with Boyd should be a necessity.
Adam Frazier – Pittsburgh Pirates
The Pittsburgh Pirates stink this season. They've had a bunch of injuries and really just don't have enough talent to compete in the NL Central or really anywhere at this point. Frazier is having one of the best starts to a season that he's ever had.
The Pirates should capitalize on that because if you watched Frazier bat in 2020, things were ugly. There will be questions if he can stay consistent at the plate this season.
He's capable of playing second base or the outfield and gives any contending team a versatile option at an affordable price of just 4.3 million for this year. He's an average player who is playing above average on a poor team.