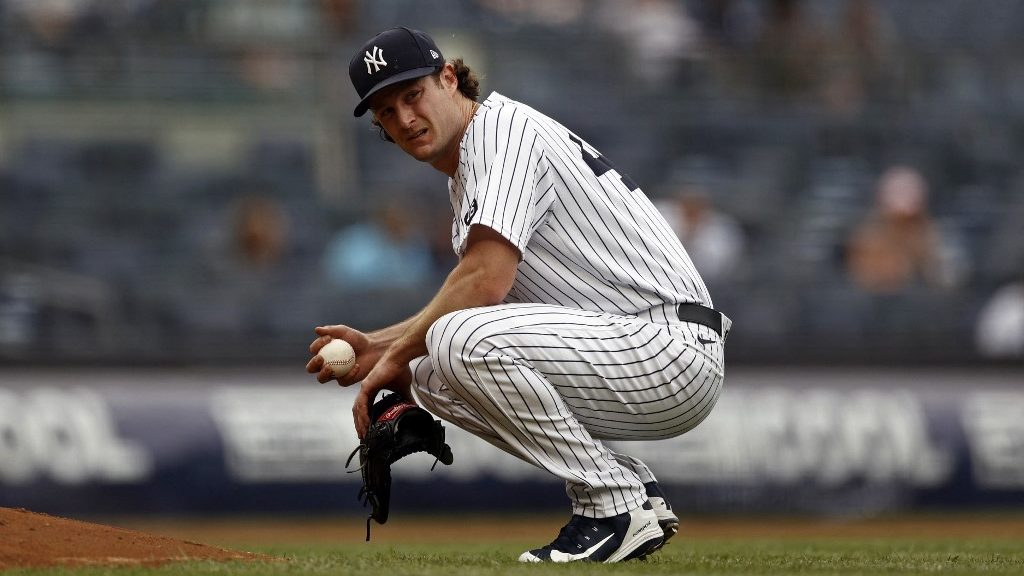 Gerrit Cole was caught off guard when a reporter asked if he had ever used Spider Tack, which is a sticky paste used to get a better grip and spin pitches.
He stumbled on his words for 10 seconds and gave awkward silence. He looked embarrassed and he acted like he was caught.
His response finally came through.
"I don't quite know how to answer that, to be honest," he said. "There are customs and practices that have been passed down from older players to younger players, from the last generation of players to this generation of players, and I think there are some things that are certainly out of bounds in that regard. I've stood pretty firm in terms of that, in terms of the communication between our peers and what not. This is important to a lot of people who love the game, including the players in this room, including fans, including teams, so if MLB wants to legislate some more stuff, that's a conversation that we can have. Because ultimately we should all be pulling in the same direction on this."
When Cole was traded from Pittsburgh to Houston in 2018, his spin rate took a massive jump. Those numbers continued to be extremely high with New York, until a start against Tampa Bay last week.
He saw a decrease in his spin rate against the Rays and was clearly uncomfortable on the mound in that game. It's believed that Cole stopped using the sticky stuff once four minor leaguers were suspended for 10 games.
That's what Josh Donaldson, the Twins third baseman, believes. In the last week, he's seen 12 pitchers decrease their spin rates in the last week or so. He discussed it in more detail when he spoke to reporters before Wednesday's game.
"When I say something, it's been thought through before. It's not just something on a whim," Donaldson said. "I would say this: With Gerrit Cole, he was the first guy to pitch since the [minor league] suspensions had happened and he was the first guy you could see spin rates going down. Since Gerrit did that — we're going off an interview that was done four or five days ago — there have been 12 or more guys already whose spin rates have magically dropped in the last week. So it's not just Gerrit Cole; I want to get that out. With that being said, we'll see how it plays out."
Last night, Cole went six innings while allowing five hits and two runs with nine strikeouts. Cole gave up two home runs but still struck out nine batters. Donaldson didn't get a hit off Cole in the game as the Yankees pounced on the Twins early.
There's a lot of talk around the league on whether or not pitchers should be able to use the stick stuff. If batters can use batting gloves for a better grip, why can't pitchers use sticky stuff for better grip of their pitchers? Or is this really cheating?
Pete Alonso, first baseman and slugger of the New York Mets threw out his own conspiracy theory when talking to reporters on Wednesday. He discussed how pitchers have always used substances like rosin bags. He said he doesn't mind pitchers using it because he would rather pitchers have the most control over their pitchers as possible so he feels safe in the box.
"I think the biggest concern is Major League Baseball manipulates the baseball year-in and year-out, depending on free-agency class, or guys being in an advanced part of their arbitration," Alonso said. "So I do think that's the big issue, the ball being different every single year. In other sports the ball is the same, like basketball, football, tennis, golf, the ball is the same.
Now we've got Josh Donaldson ripping every pitcher in the league for using sticky stuff and on the other hand we've got Pete Alonso pleading for pitchers to use the sticky stuff.
The only way to make it fair is to allow pitchers to use sticky stuff but to also juice the baseballs like the previous year and allow some more long balls. We get the best of both worlds.
If pitchers are on their game, they'll be able to throw pitches by batters. If they're not, batters will slug home runs over the fence. That's how baseball should be right now.
By next year we might see that. The National League should have a designated hitter, pitchers should be able to use foreign substances and the balls should be juiced for more home runs and less warning track shots.
That's what the online betting fans want to see and that's what they deserve.