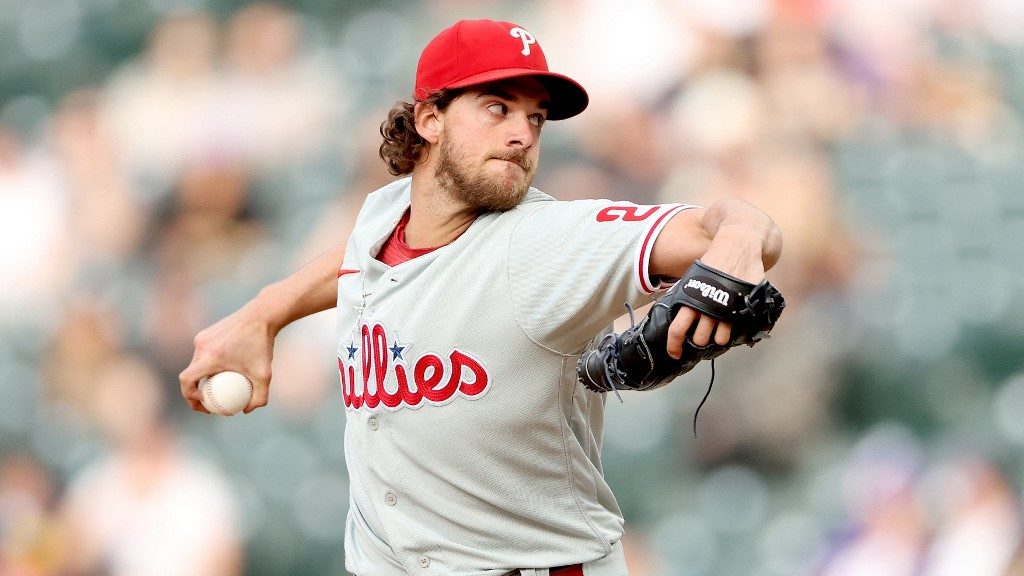 Top Sportsbooks have released their odds for tonight's Sunday Night Baseball rendition between Philadelphia and Atlanta.
In addition to the match-up, we'll consider the situation that both teams find themselves in after participating in a uniquely crazy game yesterday.
For reasons that I will explain, you'll want to play the full-game money-line.

Philadelphia Phillies vs. Atlanta Braves
Sunday, May 9, 2021 – 7:00PM EDT at Truist Park

The Situation
In yesterday's game between these two teams, the Phillies led by multiple runs on two different occasions — in the ninth inning and in the 12th inning — and lost the lead each time. Ultimately, the Phillies lost the game. Knowing what happened yesterday is important because it helps characterize Philadelphia's mindset for tonight's game.
Because this sort of thing has happened multiple times to the Phillies, there is a precedent for how they will react in the following contest. On April 20, Philadelphia earned leads of 4-0 and 6-3 against the Giants before giving up six runs in the eighth inning en route to a 10-7 collapse. On April 23, the Phillies led 4-2 in the 7th in Colorado before giving up a ninth-inning home run to lose both the late lead and the game. Most recently, they led the Mets 4-2 heading into the eighth inning in which the Mets scored six runs before holding off Philadelphia for an 8-7 win.
The thing to note for your Sports Betting is that, when the Phillies suffer a late-game collapse, losing a multiple-run lead, they reliably bounce back in the following game. In the game following each of the three instances of collapse described above, Philadelphia won. Following this recently historical precedent, we should expect Philadelphia to win tonight.
Aaron Nola
For our Best Bets, Philly starter Aaron Nola is just the guy we want to rely on to win no matter the situation. Despite regularly being chalked heavily at the Online Sports Betting Sites, Nola is yielding +2.9 units. Moreover, Nola finds himself in a positive situation because he enjoys strong form. In his career, he is 11-3 as a starter when he is coming off an outing in which he threw 10 or more strikeouts.
Nola is having a strong season in general. His three primary pitches are each yielding a slugging rate of below .350. His three primary pitches are his 4-seam fastball, his curveball, and his change-up. Nola is a great example of a pitcher who succeeds without attempting to blast opposing batters with high-velocity pitches. Instead of velocity, he relies on strong control and deception.
He achieves deception by mixing the horizontal and vertical release points of his pitches so that batters struggle to discern which pitch is leaving his hand. This act of deception causes batters to react late as they become forced to adjust their swing in the last second to different pitches that distinguish themselves strongly from each other in terms of velocity and movement.
Nola vs. Brave Batters
Despite what his career ballpark numbers may suggest, Nola has delivered some superb outings in Atlanta's ballpark. His tougher outings in Atlanta tend to come after very recently seeing the same lineup. So it's more accurate to say that lineups gain an advantage after having just seen Nola, rather than to say unequivocally that Nola is unreliable in Atlanta. But it's been over a month since the Braves last saw Nola.
So far, Atlanta's lineup has been spearheaded by Ronald Acuna Jr. Acuna leads the team's higher-volume hitters in both BA and slugging. Moreover, among Brave batters, he has the best career numbers against Nola. His health is therefore a game-changer. Acuna is listed as day-to-day with a contusion in his left pinky-finger. He is expected to miss tonight's game or, at least, to be far from 100 percent. While Freddie Freeman is the biggest name in the Brave lineup, he has been struggling just to get hits. Also, he's hitting .229 with a meager .354 slugging rate in his career against Nola.
Huascar Ynoa vs. Philly Batters
Brave starter Huascar Ynoa relies primarily on his fastball-slider combo. He throws both pitches over 40 percent of the time. Right-handed batters have given Ynoa the most trouble largely because he owns a vulnerable fastball that yields a high slugging rate especially to righties. While his fastball possesses nice velocity, it isn't accompanied by the high spin rate that higher-quality fastballs are. Moreover, he often leaves this pitch in more hittable, middle locations within the strike zone.
For Philadelphia, catcher J.T. Realmuto continues to be on-fire after upping his BA to .313 and slugging rate to .521 last night. He's slugging over .700 against the high-velocity (94-98 mph) fastball from righties. Realmuto is one of four Philly batters to have already hit a double off of Ynoa in the most limited quantity of at-bats.
Bullpen Fun
One may be scared of betting on the Phillies because of their bullpen issues, which have repeatedly helped create this situation where Philadelphia has to bounce back after suffering a late-game collapse. But as measured by ERA, Atlanta's bullpen is similarly bad and similarly ranked. Moreover, Atlanta's top relievers — A.J. Minter, Luke Jackson, and Will Smith — all threw close to 20 pitches yesterday. So Atlanta has no bullpen advantage tonight.
The Verdict
Philadelphia will find a way to win, as it reliably does after experiencing the bitterness of a late-game collapse. Led by Nola and Realmuto, without having to deal with Acuna, and without being held back by their bullpen, the Phillies look promising also in terms of personnel and match-up.
For the above reasons, bet on Philadelphia with your MLB Picks.

MLB pick: Phillies ML at -111 with BetOnline