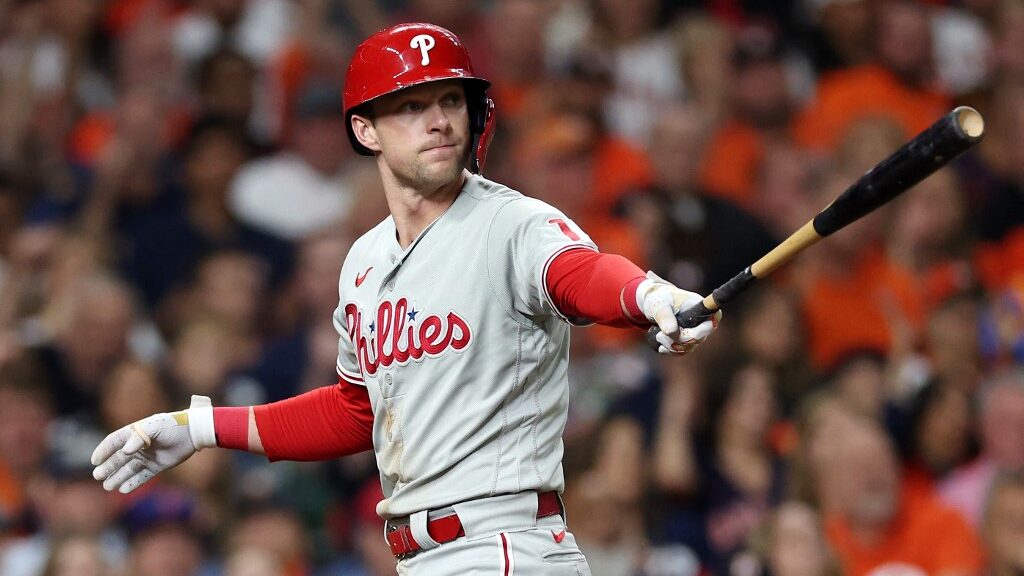 The top sportsbooks have released their betting odds for tonight's World Series action between Philadelphia and Houston.
After mounting a historically unique comeback from a 5-0 deficit and winning in extra innings, Philadelphia leads the series 1-0. One special thing about Philadelphia's Game 1 triumph is that it won without its ace on the mound, while Houston had its best pitcher start.
Tonight, for Game 2, Astro Frambo Valdez squares off with Philadelphia's best pitcher, Zack Wheeler.
For reasons that I will explain, you should take advantage of two prop betting opportunities available at any of our favorite sportsbooks.
---
Philadelphia Phillies vs. Houston Astros
Saturday, October 29, 2022 – 08:03 PM EDT at Minute Maid Park
Player to Hit the First Home Run in the Game
For this bet, we are meant to invest in a player to be the first to hit a home run in tonight's game. However, there is also the option to bet that no player at all will hit a home run in tonight's game.
As I will explain, this is the best option to invest in.
Framber Valdez
One reason why tonight provides a uniquely strong opportunity to invest in there being no home run hit is offered by Astro starting pitcher Framber Valdez.
Valdez is strictly a ground ball pitcher. In the regular season, he induced ground balls at an absurdly high 66.5% rate.
This statistic means that he excels at keeping balls on the ground where not even a strong gust of wind can help them over the fence.
Given this ground ball tendencies, he allowed 0.49 home runs per nine innings in the regular season.
So far this postseason, he has pitched 12.2 innings –seven against the Yankees and 5.2 against the Mariners. No batter from either team hit a home run off him.
Pitching at Home
One might be skeptical of my recommended bet for two reasons, both of which are bad ones.
One reason is just that Philadelphia tends to hit a lot of home runs. But this reason is a bad one not just because of the above information but also because of the fact, a promising one for Valdez, that Philly hitters have accumulated a combined total of 33 at-bats with Valdez and have yet to hit a home run off him.
This isn't a large data sample, Rhys Hoskins, for example, is 0-for-2 against him, but it is consistent with everything else that we know about Valdez.
Another thing that we do about Valdez answers the second concern that one might bring forward for this bet, which is that Houston's ballpark is small, and therefore seems to be a rather favorable ballpark for hitting home runs in.
Valdez is Lights-Out at Home
His regular season FIP (like ERA but factors out fielding) was 2.46 compared to 3.50 on the road. Moreover, the rate at which he allowed home runs was over twice as low at home as it was on the road.
Righties and lefties both struggle to hit home runs off Valdez in Houston and, frankly, anywhere else, too.
---
Zack Wheeler
Philadelphia trots out its ace tonight, a pitcher who not only tends not to allow home runs, but he also allows few runs in general.
So far this postseason, he enjoys a 1.70 ERA through four games. Know when making your MLB picks that, in 25.1 postseason innings, he has allowed a single home run.
It does not help Astro batters that they have gained negligible exposure to Wheeler. Only three Houston batters have at least three career at-bats against Wheeler.
The struggling Trey Mancini has the most, with four.
Wheeler's Stuff
Problematically for Houston, Wheeler is a difficult pitcher to get used to. As the percentiles express, his pitches feature unique levels of velocity and spin.
He favors his fastball most, a pitch that, in terms of slugging rate, Astro batters have had trouble dealing with this postseason.
But Wheeler also often mixes in a slider, sinker, and curveball.
---
Bullpen
Bullpens will still be fairly fresh after one game has been played.
Houston's is deep, and Philadelphia can still lean on its top options, although it is also inclined to bring in typical starting pitcher candidates off the bench, as we saw all night.
This will be the best window for a home run to take place in, but chances will be rarely had since both of tonight's starting pitchers will ensure that relievers have few outs to accomplish.
MLB Pick: No Home Run (+275) at Bovada (visit our Bovada Review)

---
To Record a Hit
For this bet to hit, the player we invest in needs to record a hit.
I wish to focus on Philadelphia players for this bet because they have one of baseball's best lefty-hitting lineups, and Valdez is left-handed.
One may be skeptical of Philly batters' outlook tonight because of the good job that Valdez does keeping balls on the ground, but they actually hit ground ball pitchers more effectively than fly ball-inducing ones.
Rhys Hoskins
Rhys Hoskins is one example of a player who does this. His BA, slugging rate, and other stats show that he is more effective against ground ball pitchers than fly ball ones.
To reiterate, we don't need a home run from Hoskins for this bet to hit. A lousy single will do.
Hoskins' postseason BA reflects his 0-for-9 postseason start, but that appears as ancient history now.
He has a hit in three straight games, showing his positive current form.
Hoskins vs. Lefties
In addition to facing a ground ball-inducing pitcher, he benefits from facing a left-handed pitcher because Hoskins is right-handed.
His BA is .53 higher against left-handed pitchers than right-handed ones.
With the multiplicity of times that he'll face Valdez tonight, he will get a hit early enough to prevent us from breaking a sweat.
MLB Pick: Rhys Hoskins to Record a Hit (-150) at Bovada

Rhys Hoskins to Record a Hit

(-150)
*The line and/or odds on picks in this article might have moved since the content was commissioned. For updated line movements, visit BMR's free betting odds product.