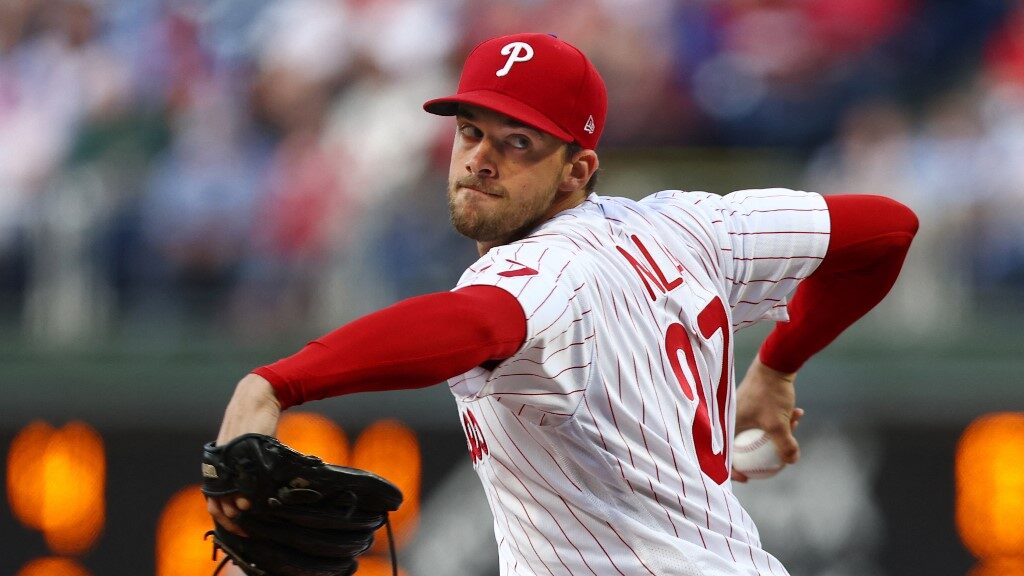 Top sportsbooks have released their MLB odds for today's baseball action. The two latest games on the card interest me as worth investing in: Philadelphia vs. Seattle and Colorado vs. San Francisco. For reasons that I will explain, you should play the money-line for the first game and the run-line for the second game.
Let's stay up late and parlay these bets at a top-rated sportsbook to maximize our profit.
Philadelphia Phillies vs. Seattle Mariners
Tuesday, May 10, 2022 – 08:40 PM EDT at T-Mobile Park
Aaron Nola
Philly starter Aaron Nola shows great form. In his last three starts, he yielded a 0.93 FIP (like ERA, but factors out fielding) against Milwaukee, a 2.24 FIP against the Mets, and then a 3.36 FIP facing the same lineup a second time in a row. Nola is so tough to hit partly because he possesses great control.
This control is evident in his low walk rate. He accrues almost 10 strikeouts to one walk. Heat maps also manifest his precision. He excels at throwing strikes while keeping his pitches away from the middle, more dangerous parts of the strike zone. He is also hard to hit because of his deception.
Join Now: $1,000 BMR 12-Week All Sports Challenge
Nola achieves deception by making the horizontal and vertical release points of his different pitches similar in order to deter batters from discerning which pitch he is throwing until it is too late. While Nola doesn't throw hard, his deceptiveness causes the opposing batter to struggle to react punctually just as if he were facing a hard-throwing pitcher who is not deceptive.
In a similar vein, Nola is unpredictable because of the variety in his pitching arsenal. He throws four different pitches with between 17 and 31 percent frequency: his fastball, curveball, sinker, and changeup. His curveball has always been his most famous pitch. It has a difficult bend, which helps explain the high rate at which Nola whiffs batters with it.
Opponents rarely hit it also because of the extent to which Nola keeps hitters off balance by following his fastball with this pitch that averages an absurd 14 mph less and that he'll often throw low, on the opposite end of the strike zone relative to his fastball.
I like Nola tonight because of his strong form.
When he is pitching well, he is able to mow down any lineup regardless of the matchup details. Matchup details don't account for guys as good as Nola.
Nola vs. Mariner Batters
What is further indicative of Nola's success tonight is the fact that Mariner batters' numbers against Nola aren't exactly promising.
In a combined total of 45 career at-bats against Nola, M batters have seven hits, one of which went for extra-bases.
Jesse Winker, for example, is 2-for-11 (.182) against Nola with two strikeouts.
Overall, Mariner batters are cold. They've scored two runs or fewer in six of their last eight games. Of those six games, they were shut out in three of them. These hitting woes help explain Seattle's ongoing 2-11 run.
Robbie Ray vs. Philly Batters
Seattle starter Robbie Ray will struggle to end his two-start losing streak tonight because Philly batters match up well with him.
Ray is a lefty and the Phillies rank eighth in slugging rate against lefties. They rank much closer to seventh in the category than to ninth.
Five different Philly batters slug .600 or higher in at least three career at-bats against Ray. Bryce Harper, for example, is 4-for-8 with a homer against Ray even though Harper is a lefty.
---
Colorado Rockies vs. San Francisco Giants
Tuesday, May 10, 2022 - 09:45 PM EDT at Oracle Park
Antonio Senzatela vs. Giant Batters
Rockie starter Antonio Senzatela promises to thrive tonight because he is 2-0 with a 2.57 ERA in two career starts in the Giants' venue. Senzatela has built his success in Oracle Park by victimizing Giant batters. Granted, three San Francisco batters could be said to perform well against him.
However, one of them is Evan Longoria who remains injured. Another of them, Brandon Belt, is listed as 'questionable' for tonight's game with a neck injury. The third, Joc Pederson, is literally 0-for-18 in May. No other Giant batter has produced an extra-base hit off Senzatela.
Alex Wood vs. Rockie Batters
Colorado batters matchup well against San Francisco starter Alex Wood tonight. Wood primarily throws a sinker-slider combo. Both pitches make up just over 82 percent of his arsenal. The Rockies excel against lefties. They rank eighth in slugging .431 against Wood's favorite pitches from lefties outside of Coors Field.
Parlay Verdict
Expect Philadelphia to perpetuate Seattle's manifold woes while the Rockies have San Francisco on upset alert. For the above reasons, parlay the Phillies money-line with the Rockies run-line for your Best Bets. Be sure to use our trusty parlay calculator for your parlay betting needs.
Parlay Picks
Phillies ML ( -123)
Rockies RL +1.5 (-130)
MLB Pick: Two-Legged Parlay (+221) with BetOnline (visit our BetOnline Review)

MLB Pick: Two-Legged Parlay (+221) with BetOnline (visit our BetOnline Review)

(+221)
*The line and/or odds on picks in this article might have moved since the content was commissioned. For updated line movements, visit BMR's free betting odds product.