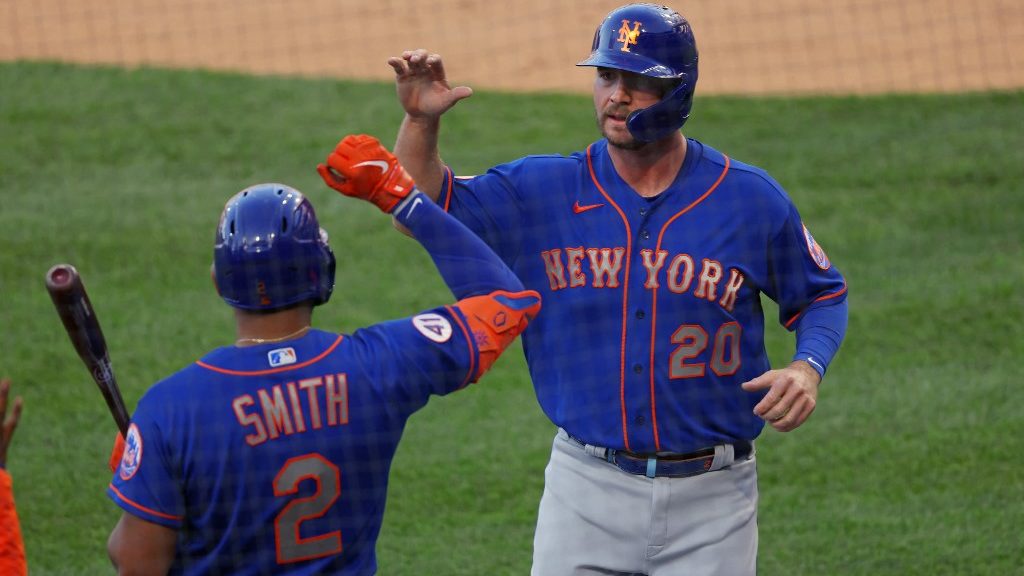 Top Sportsbooks have released their odds for tonight's rendition of Sunday Night Baseball between the Mets and the Phillies. Both the match-up and the situation call for plays on the first-half money-line and on the full-game money-line. You can invest a unit in each bet. A more conservative approach would be to split a unit on each bet since the full-game result is more likely to be affected positively or negatively by the first-half result.

New York Mets vs. Philadelphia Phillies
Sunday, May 2, 2021 – 7:00PM EDT at Citizens Bank Park
David Peterson: Home vs. Away
To be fair to Met starter David Peterson, his surface-level stats are a bit misleading. While he is 1-3 with a 5.59 ERA, his struggles have come primarily on the road.
But since he is pitching on the road tonight, you should expect him to struggle. In two road games — including one in Philadelphia back on April 7 — he has allowed nine earned runs in 7.1 innings. Outside of his home ballpark, he is a different pitcher. Note this fact for your Sports Betting.
Peterson's Pitches
Peterson is more likely to lack command on the road, where his walk rate increases. His tendency to lose command is interesting to consider in juxtaposition with his tendency to leave pitches in the more hittable parts of the strike zone. Either tendency hurts him. The increased likelihood with which he fails to land his pitches in the strike zone is problematic because, in most games, he doesn't induce batters to swing at pitches outside of the strike zone at a high rate.
Problems arise as well when he leaves pitches in the more hittable parts of the strike zone. In three of his four starts, he failed to generate soft contact at a rate of 10 percent or higher. In the second time through the lineup, Peterson generates even less soft contact. His underlying problem is a lack of pitch quality. If he possessed this quality, he could induce a higher swing rate at pitches outside of the strike zone and he could get away more often with bad location.
But especially his slider gives him problems. It's his second-most frequent pitch. Yet opponents hit .348 and slug .565 against it. Peterson's slider is vastly less effective this year because of its reduced vertical and horizontal movement and its frequently poor location.
Philly Batters
Look out for Rhys Hoskins, who is 5-for-8 (.625) with two doubles and two homers against Peterson. Bryce Harper and JT Realmuto are listed as 'probable' for tonight's contest. Assuming both play, they should do well. Both hit at least .333 and slug at least .500 against Peterson.
Against the sinker and slider from lefties, Philadelphia's slugging rate jumps to 10th-highest at home. Have confidence in Philly batters when looking at the betting options offered by Sports Betting Sites.
Zach Eflin
Philly starter Zach Eflin is coming off a bad-luck outing. He yielded a 6.75 ERA last week in St. Louis. Lasting 6.2 innings, he yielded an improbably high .429 BABIP (batting average of balls in play), despite doing a good job of limiting hard contact and generating soft contact. His 0.67 FIP (like ERA, but factors out fielding) in that game indicates the quality of his individual performance. He has now yielded an FIP below 2.10 in two consecutive starts.
By any statistical measure, Eflin has been at his best at home where his highest opposing run total was two in a seven-inning performance against St. Louis. From a betting perspective, too, Eflin is reliable at home. In three starts here in Philadelphia, he is 3-0 and is yielding +3.1 units. Be sure to trust Eflin at home with your MLB Picks.
Eflin vs. Met Batters
To say that Eflin lacks the walk problem that characterizes Peterson would be an understatement. Eflin has walked two batters this season, none since April 10. While his slider movement is tight, Eflin's control is impressive largely because of the incredible horizontal movement that his sinker enjoys. He promises to thrive with both pitches today against a Met lineup that is slugging .292 away from home against the sinker and slider form righties.
The Mets rank 25th in slugging away against these two pitches from righties, although five of their road games have been in Philadelphia and they even got to play in very hitters-friendly Coors Field.
Favorable Situation
Two trends suggest that the Phillies find themselves in a strong betting situation tonight. One, the Phillies are 5-0 in their last five games following a loss. Two, the Mets are 0-4 in their last four games following a win. Also, they haven't won consecutive road games all season. With closer Hector Neris fresh enough and with top reliever Jose Alvarado enjoying a day off yesterday, Philadelphia possesses the bullpen prowess to secure a win over New York. These details do not seem to be baked into the MLB Odds because the Phillies are still priced very cheaply on the money-line.
The Verdict
I like the Philadelphia money-line for the first-half because of Philly's edge in starting pitching. With my other Best Bet, I like the Phillies' full-game money-line, too, primarily because of meaningful trends.The Mets are in a tough situation because Peterson struggles away from home, the lineup matches up terribly with Eflin and his pitches away from home, and they regularly fail to win consecutive road games.
For Philadelphia, Eflin promises to thrive at home and the team is in a bounce-back spot in which it can count on big-named hitters and top relievers.

Best Bet: Phillies first-half moneyline at -115 with BetOnline & Phillies Full-Game ML at -104 with Heritage