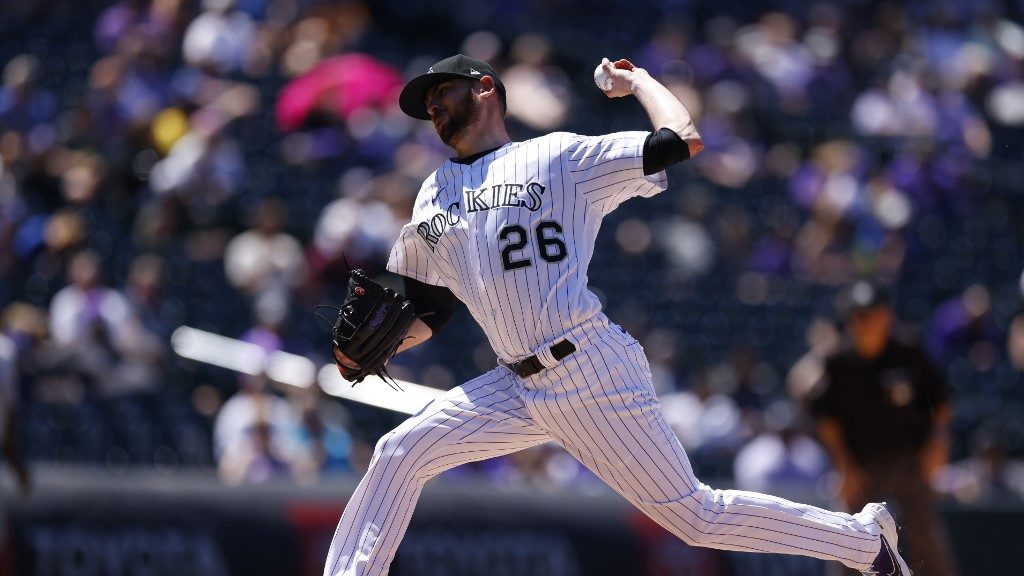 The Rockies traded Nolan Arenado to the Cardinals in exchange for plenty of young pieces. At the time, it seemed like the Cardinals got away with murder, adding Arenado for lefty pitchher, Austin Gomber, position players in Mateo Gil, Elehuris Montero, and more pitching in Tony Lacey and Jake Sommers. Gomber had a chance to make the Cardinals rotation this year had he stayed but the Rockies had room for the lefty.
Colorado's scouts saw something in Gomber that maybe the Cardinals missed. Gomber was abysmal to start the year. In 23 innings in April, he allowed 17 hits, 19 runs, 17 earned runs and 19 walks. He struck out 23 and had an ERA of 6.65.
The walks were outrageous for Gomber and he had one start against the Giants where he couldn't finish two innings after allowing seven hits and nine runs along with four walks. Something changed.
Something clicked. In April, he went 34.1 innings and allowed 29 hits and 16 runs (12 earned) with seven home runs but four walks and 37 strikeouts. Yes, he allowed seven home runs in the month of May but he's also pitching in Coors Field and that's bound to happen to Colorado pitchers. But the fact that he went from walking 19 batters in 23 innings to walking four batters in 34.1 innings is astonishing.
In the month of May, he contributed two quality starts of his six starts and didn't allow more than two earned runs in any game but the game against his former team in the Cardinals. In June, he continued his hot stretch, defeating the Texas Rangers while allowing three hits in six innings with no runs and six strikeouts. Better yet, he walked no batters.
In his last 40.1 innings, he's walked four batters. In his first 23 innings, he walked 19 batters. So the question is, how did this happen? What did Gomber do differently to limit the walks? Gomber went from 7.4 walks per nine innings in April to just 1.1 walks per nine innings
in May. He's really changed his pitch mix. He's throwing a mix of fastballs, changeups, sliders and curveballs. He'll throw the four-seam fastball 42 percent of the time and the slider 22.8 percent of the time.
That curveball and changeup have been thrown the fewest but he's thrown them more often in some starts. The curveball and changeup aren't shown often and those are the two pitches that batters have the lowest batting average against in 2021.
That wasn't the case with the curveball last year. His curve was hit for a batting average of .286 last year and it's now being hit with a .151 average. He's getting a 34.2 percent whiff on that curve while he had just 23.7 percent whiff on it last year.
And the same goose for the change up. Both of those pitches have been high strikeout pitches that he waits to use for the right time. Gomber has quickly become the ace of the Rockies and is becoming more consistent as the season progresses.
Being in Colorado might not help Gomber's ERA but he's certainly showing why he was the main piece for the Rockies in the trade with the Cardinals for Nolan Arenado. The Rockies have a pitcher with real potential on their hands and might've actually made a solid deal for their organization with Gomber.
He's nowhere near the face of the franchise but he has the stuff to be just that. Gomber's last five weeks have been as elite as it gets for the Rockies. Let's see if he can continue that kind of success through the entire season.