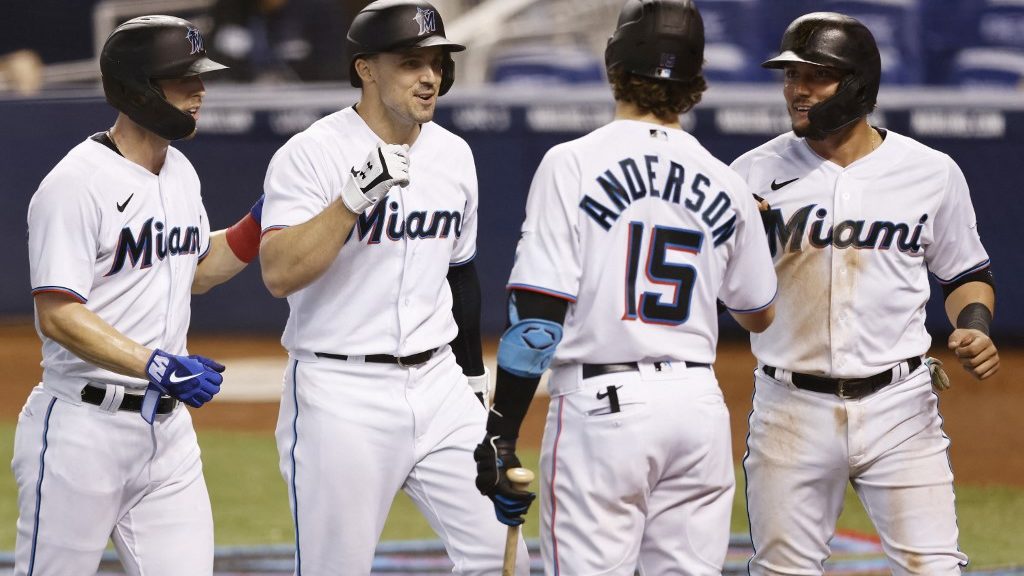 The Miami Marlins will look to finish off a sweep of the Arizona Diamondbacks with a Thursday evening game in South Florida.
Arizona Diamondbacks vs Miami Marlins
Thursday, 6 May 2021, 6:40 PM EDT at loanDepot Park
The Miami Marlins seem to have found their batting stroke, perhaps partially enhanced by some shaking Arizona Diamondbacks pitching. After scoring a total of four runs in the previous series, against Washington, the Marlins exploded for 17 runs in the first two games against the D-Backs. Miami looks to finish off a series sweep on Thursday evening when the teams meet again in South Florida.
The Marlins are the only team in the National League East with a positive run differential, at +18. They're also the only team in the division who hasn't been in first place. After winning two straight, Miami is two games out of the top spot, despite being in fifth place. Meanwhile, the losses in Miami have dropped Arizona to .500, at 15-15. The Diamondbacks are in fourth place in the West, 2.5 games out of first.
In a quirk of the schedule, after not playing since 2019, the two teams will meet seven times in a 10-day span. A four-game rematch in Arizona will start after the weekend.
Offensive Downturn
The Diamondbacks entered the series on a high note. They hadn't lost a series since getting swept in two games on April 12 and 13. Since then, Arizona has beaten the Reds, Braves and Rockies, while splitting with the Padres and Nationals. Arizona had scored five or more runs in four straight games, seven of eight and 11 of 13 entering the series. On Tuesday, they managed just three, and the D-Backs were shut out on Wednesday, the fourth time this season Arizona has gotten blanked by an opponent, all on the road. The shutout snapped a streak of 15 straight games with a home run for Arizona.
The team will look to salvage a game in the Marlins series with Madison Bumgarner, who knows something about salvage work this season. In his first three starts of 2021, Bumgarner went 0-2 with an 11.20 ERA, allowing opposing batters to hit .367. In the three starts since, he's gone 3-0, 1.06 and given up a .107 average against. That includes a seven inning "non no-hitter" (since it didn't go nine innings) against the Braves at the end of April.
MadBum will try to get the Diamondbacks pitching back on track. Since Arizona shut out Atlanta in both ends of an April 25 doubleheader (which included Bumgarner's seven no-hit innings), Arizona has allowed 53 runs in eight games, including double figures twice and 17 in two days against Miami.
South Florida Heat
Miami's offensive success since starting this six-game homestand has been a turnaround. The fish scored twice as many runs in one inning on Tuesday (six) as they've allowed in the two games (three). On Wednesday, Adam Duvall joined the offensive rebirth. Duvall's only success at the plate this year had been against his former team, Atlanta. He was hitting well below .200 entering the Arizona series. He went deep on Wednesday night for his first home run in 19 games, and he's boosted his batting average by 16 points in two days.
The Marlins need their power to be working to have success. The Marlins is 11-6 when they hit a home run, 2-10 when they don't The Marlins send Pablo Lopez to the mound to try to finish off the sweep. The team used a bullpen game on Wednesday to get Lopez an extra day of rest. He is 0-2 despite a 2.34 ERA. He's allowed two runs or fewer in five of his six starts this year, including seven scoreless innings in his last game.
The Pick
Bumgarner seems to have put things together after a slow start, but he'll need run support, which doesn't seem to be coming from Arizona's bats this week. Lopez has also had a run support problem this year, with a record not showing how well he's pitched. Look for the Marlins to get enough runs on the board to support their guy on Thursday.
MLB Pick: Marlins (-119) with BetOnline