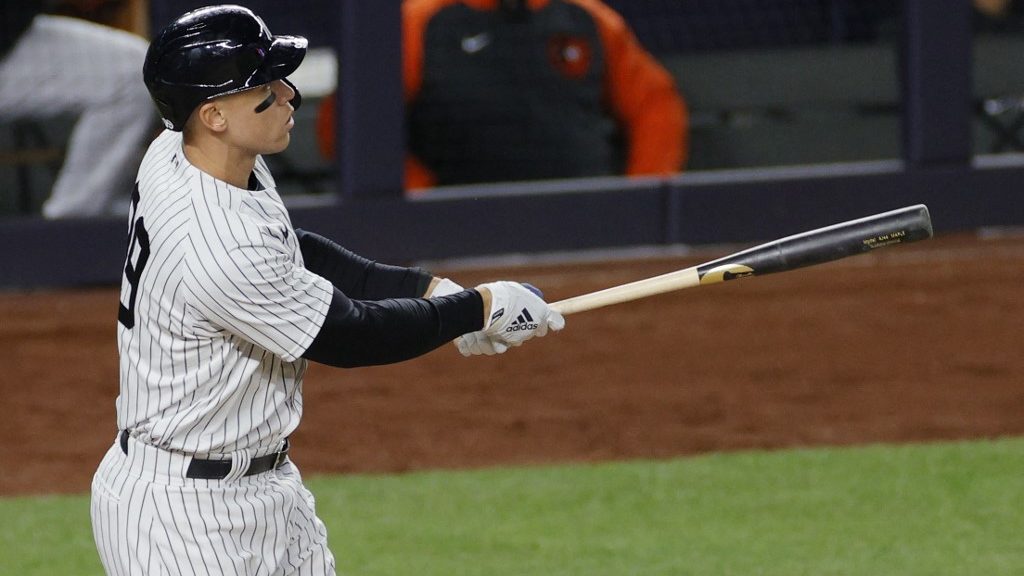 You name the sportsbook and the New York Yankees were favored to win the American League on its website. With the Yanks closer to the bottom than the top of just the AL East, let alone the entire junior circuit, what's up with the Bronx Bombers?
The Yankees have not come close to meeting online sportsbooks 2021 expectations and while skipper Aaron Boone keeps saying he's "not worried", he might be one of the few that has a white 'NY' on his hat that feels that way.
To Boone's credit, he understands the sport and seldom are divisions and league pennants determined in April and his team just took three of four on the road at Cleveland to give Yanks' backers a ray of hope for their MLB picks moving forward.
What is wrong with the Pinstripes? Can they fix themselves or do they need outside help either from the farm system or possibly a trade? Let's further examine these questions.
Yankees Offense Not Hitting
It is a very bad sign that the only AL team that has scored fewer runs and has a lower batting average than New York is the Detroit Tigers.
As of April 26, the Yankees were scoring an unsettling 3.5 runs a contest, which is in line with a .204 batting average. Here is a list of those hitting below .200 with at least 40 at-bats.
Gary Sanchez .182
Giancarlo Stanton .192
Rougned Odor .159
Aaron Hicks .172
Clint Frazier .143
Add in 51 more total AB's from Brett Gardner and Mike Ford and that ends up at .176 average and that is a lot of nonproduction. Granted, in today's world, batting averages mean less than they did before and all the analytics people in front offices gloss over this. Yet, when you are averaging 3.5 RPG, you're last in slugging percentage and 12th in OPS, no amount of numbers-crunching will dress this team up.
This collective slump encompasses every facet of this team with Gleyber Torres, Aaron Judge, Gio Urshela, and even DJ LeMahieu all well below normal.
For the most part, Boone's hitters have been patient at the plate, leading the league in walks. There just hasn't been any juice to start rallies and get the conga line moving around the bases and when runners do get on base, there is a decided lack of clutch hitting. Though it is not true, the sense one has in watching New York is that every game plan to pitch against Boone's lineup is working.
New York has gotten off to sluggish starts before and once the weather started heating up in May, so did the bats. And let's be honest, the Yankees are only three games in the loss column behind first-place Boston, thus, this is hardly an insurmountable situation.
Luke Voit would add a needed bat. If the Yankees were really in the market for free-agent-to-be Ned Story to shore up the shortstop position, why wait until the offseason to make an offer and beat the competition and grab him sooner.
New York can win with their non-pitchers part of the roster if they start putting up numbers like in the past. As of today, let's see what shakes out and if they are still doing poorly come Memorial Day, that could be a call to action.
Starting to Look Like Yanks Need Another Starter
Outside of Gerrit Cole, do opposing teams feel threatened by any other New York starting pitcher? Not likely looking at the current cast of arms.
The other four present starters, Jordan Montgomery, Corey Kluber, Jameson Taillon and Domingo German have ERA's from 4.5 to 6.2, which will not overcome a struggling offense.
Montgomery has not been the same since Tommy John surgery. Kluber for all intents and purposes is at the end of the line and Taillon is 29 and never exceeded early potential at Pittsburgh.
German's 18-4 2019 season is seemingly more a fluke than a building block for the future. Luis Severino should be back from Tommy John at some point, but a reliable arm, unlikely.
Deivi Garcia has lots of promise at 21, with a sinking fastball and high spin rate. However, at 5'9, is he a long-term solution?
The Yankees bullpen appears as strong as ever, nevertheless, unless more production is forthcoming from the starters, there will be tired arms before August arrives without someone going deeper in games to help beat the MLB odds.
It's not like there is a deluge of starting pitchers to find and the Yankees farm system is a little thin these days, thus, they are somewhat lacking in assets for a No. 2 or No. 3 starter behind Cole.
For now, New York could use an effective hurler to take the ball every fifth day and everyday players are still a wait-and-see proposition that could see improvement in the not too distant future.