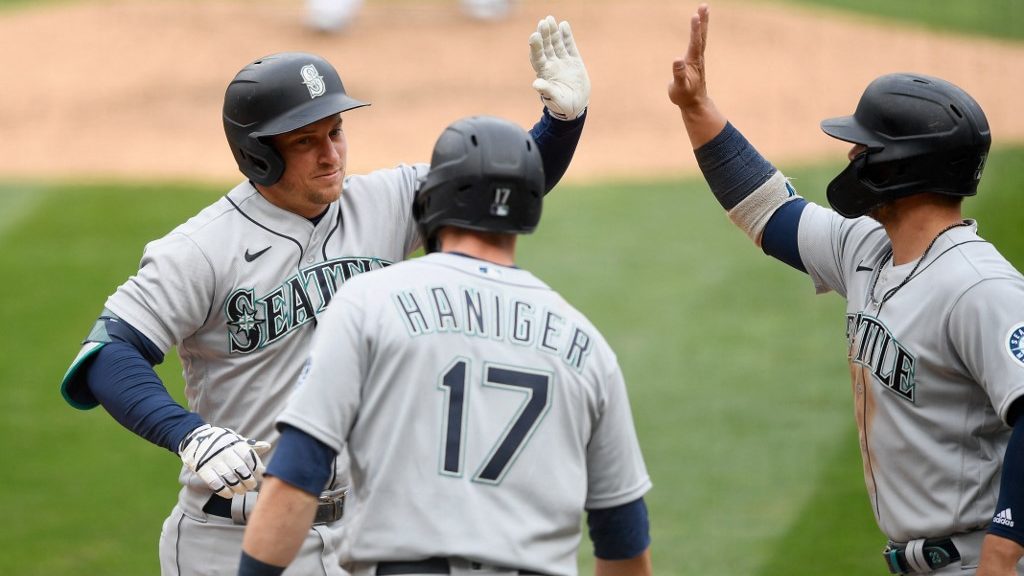 The Mariners are 13-11 as of April 28th and it's been fun to watch. This all comes after former Mariners president and CEO, Kevin Mather made comments about the team's organization during an online event where he spoke about strategy, personnel moves and the finances of the club.

He gave out way too much information and said things that just didn't reflect the organization like saying future Mariners Hall-of-Famer Kyle Seager was overpaid. He talked about Hisashi Iwakuma who joined the team as a special assignment coach and said he was tired of paying his interpreter and he made fun of how Iwakuma's English "got better" when he learned that the interpreter would be paid $75K a year.

He resigned before the season began. At that point, thoughts were that this team was going to be a dumpster fire. That they'd finish last in the AL West and start their rebuilding process.

Yet, here we are. 24 games into the season, the Mariners are sitting just two games out of first place in the division with a winning record and better record than the Astros, Angels and even the Rangers.

The Mariners have received really solid production out of their lineup including Mitch Haniger, Ty France and Kyle Seager in the top of the order. In the middle, they've got young talent like Kyle Lewis, who missed the beginning of the year, but is going to be a generational talent for years to come.

But it hasn't been just the bats picking it up. The bullpen has an XFIP of .317 and have allowed a wOBA of .230 on the season.

Currently, the Mariners are using a six-man rotation even after James Paxton went down with an injury early in the season. Manager Scott Servais explained that he's trying to keep his rotation healthy through a long season.

"I think as we talked about early on, when we committed to it early in the offseason and through spring training is the positives far outweigh the negatives," Servais said of using six starting pitchers in the rotation. "… Keep in mind that we came off a short season last year. This is a marathon. I think everyone gets excited (but we've only played 23) games. We have a lot of baseball ahead of us. It's so vitally important to keep your pitching healthy."

But he continued speaking and used the word development in his quote on 710 ESPN in Seattle.

"We really think the health benefit of giving the guys the extra day (between starts) along with the developmental benefits of some of these guys (is important)," Servais said. "Justus Sheffield didn't have the slider (on Monday) … but because he gets an extra day on the mound in between starts, he's got a chance to work on that a little more aggressively than he ever would if he was in a five-man rotation. That's very valuable for young pitchers along with some extra rest time if certain guys need it."

There's no denying that maybe having a six-man rotation will benefit this team in the long run. But if a guy like Marco Gonzales gets hot, you're going to want to pitch him as many times as you can.

Imagine being the Mets or the Yankees or the Indians and not pitching deGrom, Cole, and Bieber every 5th day.

Granted, the Mariners don't have that kind of arm. They've got Gonzales, Yusei Kikuchi, Chris Flexen, Justus Sheffield, Justin Dunn and Nick Margevicius.

Margevicius has allowed 11 earned runs and 13 hits in 12 innings pitched. Wouldn't you rather those other five guys above Margevicius? That might haunt this team moving forward.

The bullpen has been solid so far this season, of course. Ljay Newsome is like the 7th starter on this team and is a reliable arm out of the pen. I mentioned their stats as a bullpen already but some areas that can catch up to them are as follows.

Seattle is only getting 31.1 percent of grounders out of the bullpen.

Seattle is only getting 9 percent of swinging strikes out of the bullpen.

Seattle is only getting 13 percent soft contact out of the bullpen.

So let's think this through. If Seattle can't get a high amount of grounders, can't get a high amount of strikeouts and can't get a high amount of soft contact, the ball is going to find grass and seats eventually against this bullpen.

So sure. The Mariners can stay competitive. Are they a contender for the AL West? Certainly not. But it's been a fun ride so far.