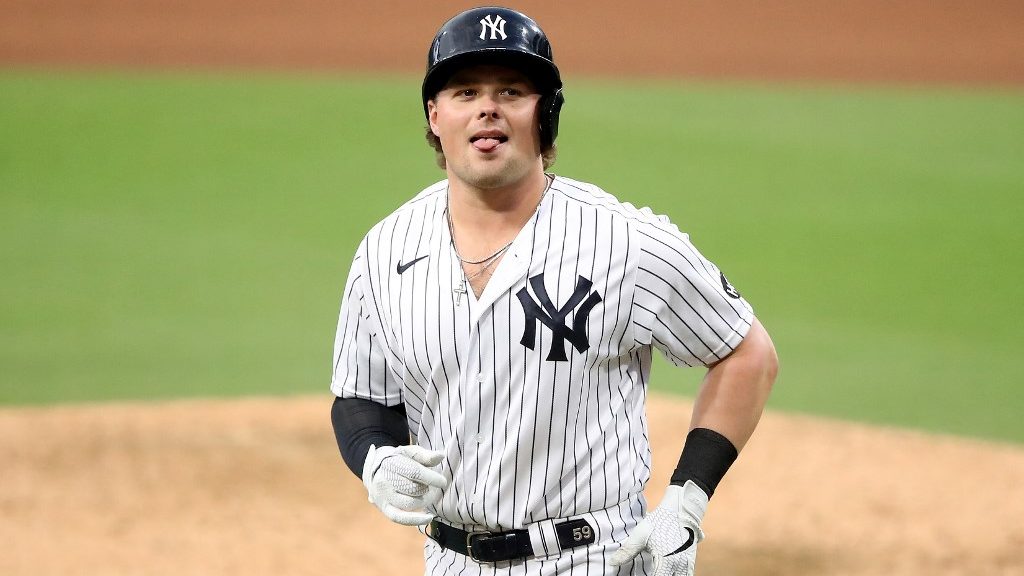 The Yankees have started the season 9-13 as of April 27th. It's hard to believe that even the Baltimore Orioles have a better record to this point.

The Yankees lineup is struggling and they've already lost a player due to retirement in Jay Bruce.

Bruce was supposed to hold down first base until Luke Voit returned to the diamond. That didn't last. Bruce couldn't produce at the level he had wanted and for that reason, he retired a couple weeks into the season.

It appears as though Luke Voit will make his return in May. So far, we've seen DJ LeMahieu and Mike Ford at first base along with Jay Bruce, of course.

The Yankees used to smash right-handed pitching with Voit in the lineup. Voit hit .291 against righties with an on base percentage of .348. He knocked 16 home runs against righties in a shortened season and had 40 runs batted in with just 165 plate appearances.

Right now, this Yankees offense is lost. LeMahieu has struggled to even get a weighted OBA of .300 against righties. Last year, he got on bases basically automatically. Giancarlo Stanton has struggled against righties, striking out 35.7 percent of the time.

The same can be said about Aaron Judge, who has struck out 25 percent of the time against righties. Gleybar Torres has been awful. Hicks signed a huge extension to provide absolutely nothing this year.

Fans are calling for Gary Sanchez to leave the team after his start to the season and now reporters believe Clint Frazier is a trade chip while other reporters thought Rougned Odor could be a season saver.

For the Yankees, this is unacceptable. The offense has not provided but it's not like pitching has either. The Yankees decided to bring on Corey Kluber and Jameson Taillon instead of more reliable pitching. They went for has beens and potential bargains compared to other teams who went and bought solid pitching.

This is not what Yankee fans are used to seeing.

Voit can come in and help be a presence in the lineup. Maybe Judge and Stanton can get more pitches to hit. But right now, no pitcher is scared of this lineup. They strike out at a high rate and even though this team is working out walks well, they're struggling with runners on base and have not been clutch at all this season.

Voit is a career .274 hitter with 62 home runs and 168 RBI's. His career OPS is .891 and if he can get close to that this season, the Yankees should see higher numbers on the scoreboard.

But many believe this is a one-on-one type of game. It's not. It's a team game and everyone has to do their part on the field and up at bat.

It's about situational hitting and solid fundamentals. As I stated earlier, this team has high strikeouts, swinging for the fences every chance they get.

This is more of a reflection on the MLB and where it's gone the last decade or so. Strikeouts are higher than they've ever been and that's because these players are only swinging for the fences.

And if you're looking for clutch hitting, that was usually LeMahieu. But that hasn't happened this season.

Voit played 12 games in the postseason in 2018 and 2020 and had an average of .218 with an OBP of .346. He hit well below his average at the dish during the regular season.

Voit won't save the Yankees. He'll be a piece to the puzzle. It starts with everyone doing their job. He's going to have to do his job. He'll have to field at first base, pick one hoppers off from bad throws from the infield and make hard stops against lefties who pull the ball with high exit velocity.

He'll have to look to drive in runners in scoring position and help put the Yankees in position to win games using his bat.

No one player can save a team. He'll bring leadership when he returns but it's the production that is lacking on this team. One bat can't change that.