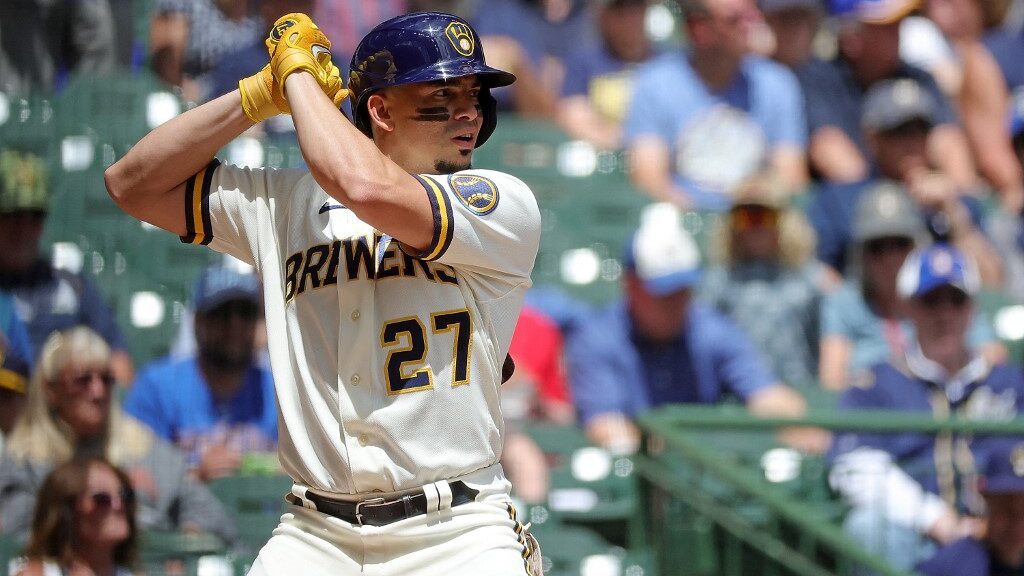 The Milwaukee Brewers have a slight moneyline edge for Friday's MLB picks – but is the run line a better bet?
Toronto Blue Jays vs. Milwaukee Brewers
Friday, June 24, 2022 – 08:10 PM EDT at American Family Field
The Blue Jays are Reeling
It's okay if you didn't sell at the top. The Toronto Blue Jays entered the month of June on a hot streak, one they rode for eight games before they started to run out of juice. Now they've lost five of their last seven heading into Friday's matchup with the Milwaukee Brewers.
Should You Bet on the Brewers?
There's still time to make a small profit off Toronto's demise. The Brewers are +133 home dogs at Heritage Sports (visit our Heritage Sports Review) as we go to press, holding steady since the open; FiveThirtyEight project Milwaukee to win 44 percent of the time, or -127 when you use the light, yet filling BMR Odds Converter.
That's a tiny window of potential profit, though. Can we get a better price on the run line, where the Brewers are +1.5 (-130) at Bovada (visit our Bovada Review)? Join us and find out.
What About the Total?
It's probably not worth the risk. That 8.5-run over/under looks pretty tight with each side priced at -110, and even though FiveThirtyEight don't do totals, we can assess that tightness ourselves by using a different kind of calculator: a Pythagorean expectation calculator.
Several good ones exist out there on the interwebs. Pick one you like, then put in two different Runs Scored and Runs Allowed numbers that add up to 8.5, until you get a Pythagorean expectation of 56 percent, matching the FiveThirtyEight projection.
Or just let me do it. Let's see, carry the one... yup, if the Jays score 4.5 runs and the Brewers four, that works out to 55.9 percent. And that makes 8.5 (-110) a very tight line indeed for both the Over and the Under. No sale.
Will It Be Hot in Milwaukee?
I see where you're going with this. Yes, it should be a sultry night in Milwaukee with temperatures in the mid-80s at first pitch. However, it's only a semi-dry heat with the humidity around 50 percent, and the forecast also calls for 10-mph breezes pushing in towards home plate.
Then there's the non-zero chance they'll decide to close the retractable roof. They didn't Thursday afternoon when the Brewers beat the St. Louis Cardinals 6-4 as -112 home faves, but you never know – until game day, when you can call the American Family Field Roof Hotline at 414-902-4636 to find out. Charges may apply.
With all that noise being thrown at us, let's give the total a pass and look at our other straight bet options. We've already decided the Brewers are worth a slight lean on the moneyline; a little comparison shopping will show us if Bovada's run line is the better bet.
What Is a Run Line?
That's a fair question to address for our newer readers. If you're already familiar with the point spread in football and basketball, the run line is baseball's equivalent.

It just handles a bit differently. Point spreads often go up or down with the vigorish holding steady at –110, but with the run line, the spread is usually set at 1.5 runs, and the sportsbooks move the vigorish up or down as necessary.

You can learn more about all these things by scrolling down the MLB odds page and reading the descriptions for each type of bet. Check out our Betting Tips and Tutorials page while you're at it. You'll be glad you did.
So Which Is Better: Moneyline or Run Line?
Now we get to the fun part – and I'm assuming you consider math fun. Let's look at those two Milwaukee lines side-by-side:
Brewers +133
Brewers +1.5 (-130)
As a general rule, a run is considered to be worth 50 cents, either on the moneyline or the vigorish, so 1.5 runs is 75 cents. The Brewers are only adding 63 cents to their price when they shift from the moneyline to the run line, so that should be a 12-cent bargain.

In theory. Working with cents (or moneylines, for that matter) is a bit tricky; the further away you get from -110, the more things get warped when it comes to assessing value. One last bit of math today, moving this time from odds to implied probability in increments of 50 cents.
(-110): 52.38 percent
(-160): 61.54
(-210): 67.74
(-260): 72.22
I could go on. Anyway, you can see how the gap between the percentages narrows as the favorites get bigger, which only makes sense; the bigger the favorite, the larger the expected winning margin, and the less effect a single run will have on the game.
Also, you'll never reach 100 percent. The moral arc of baseball is long, and in this case, it bends away from 50-cent runs. But we're not straying too far at -130, so let's give that run line a spin, and may the sphere be with you.
MLB Pick: Brewers +1.5 (-130) at Bovada

*The line and/or odds on picks in this article might have moved since the content was commissioned. For updated line movements, visit BMR's free betting odds product.