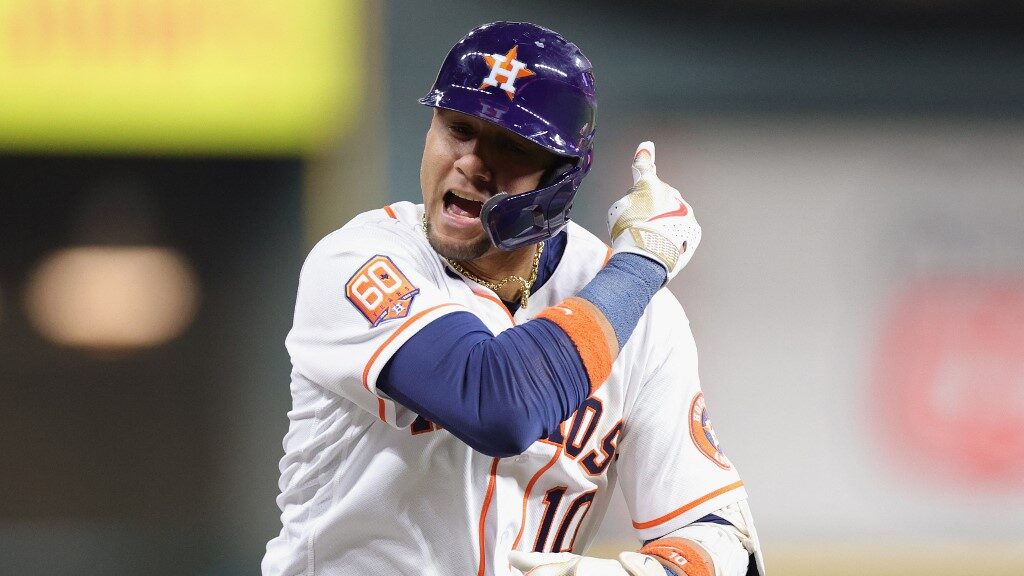 The top sportsbooks have released their betting odds for today's Game 2 of the ALCS, which takes place between the Yankees and the Astros.
After winning yesterday's series opener, Houston leads the series 1-0.
For your MLB Picks, you should consider the available prop betting opportunities offered by Bovada (visit our Bovada Review).
Here is a breakdown of the best available player props for tonight's game. This information will also help you place more informed wagers on the moneyline and total.
---
New York Yankees vs. Houston Astros
Thursday, October 20, 2022 – 07:37 PM EDT at Minute Maid Park
Player to Record 2+ Hits
There isn't much value in investing in a player to get a hit. What is a much more attractive play, in view of the odds, is to bet on a player to accrue multiple hits.
A top candidate to get multiple hits will be a player with a good track record against the opposing starting pitcher.
This specific matchup –between the batter and the opposing starting pitcher– is crucial because the batter will probably get multiple at-bats against the other team's starting pitcher.
Yuli Gurriel
For Houston, Yuli Gurriel is the top option to get multiple hits. It's tempting to go with a more well-known guy like Jose Altuve, but Altuve has a poor track record against Yankee starter Luis Severino.
Gurriel, however, hits Severino extremely well, and has proven to do so over the course of a meaningful data sample. In 17 career at-bats against Severino, Gurriel is batting .353.
Slugging rate, here, does not matter, because we just need hits of any kind. Gurriel has played in four postseason games so far, and achieved three-hit performances in two of those games.
If he plays tonight, he will have a great game, which for him repeatedly involves getting multiple hits.
MLB Pick: Gurriel to Record 2+ Hits (+275) at Bovada

Gurriel to Record 2+ Hits

(+275)
---
Total Hits, Runs and RBIs - Aaron Judge
It might be tempting to hit the "over" on this player prop option simply because it is Aaron Judge. While two might seem like a low number for this betting option, let's look at how Judge has actually been performing.
So far this postseason, he has all of two extra-base hits in 24 at-bats, and most alarmingly, he is batting .167.
This inconsistent ability of his to get hits makes the "under" on his hit, run, and RBI total so alluring.
Valdez vs. Right-Handed Batters
One might try to derive optimism about Judge's prospects tonight from the fact that he is facing a left-handed starter, but Framber Valdez has a strong FIP (like ERA but factors out fielding) against both left and right-handed batters.
Valdez's second-favorite pitch is a classic weapon, a curveball, for pitchers to employ against opposite-handed batters. He'll also somewhat frequently employ another such classic weapon, a changeup.
He features both pitches specifically against opposite-handed batters.
Opponents struggle mightily against these two pitches, hitting .145 and slugging .195 against his curveball while hitting .239 and slugging .269 against his changeup.
Judge vs. Lefties
Judge, actually, is hitting way better and has a way better slugging rate against same-handed pitchers than left-handed ones.
So, one should not just invest hope in him simply because Valdez is a lefty.
MLB Pick: Judge Under 2.0 Hits, Runs and RBIs (-125) at Bovada

Judge Under 2.0 Hits, Runs and RBIs

(-125)
---
Most Hits, Runs, and RBIs: Yordan Alvarez vs. Anthony Rizzo
This prop bet asks us to choose which player will accrue a higher total of hits, runs, and RBIs.
Yordan Alvarez
Alvarez might be the more tempting option because his walk-off home run against Seattle boosted his public perception, but Alvarez has been ice-cold.
He has gone hitless in two straight games, including one in which he amassed nine at-bats.
Anthony Rizzo
Conversely, Rizzo has been a consistent force at the plate. Rizzo has at least one hit in three straight games and has at least one hit in five of six postseason games.
He has also managed some extra-base hits, leading his postseason slugging rate to be .684.
Rizzo is interesting because, this year, he hits lefties better than righties, so he is well-equipped to have success against Valdez.
On top of everything else, the MLB Odds have him listed at -105 for this bet, whereas Alvarez is much more expensive. The cheaper option is, in this case, absolutely also the better option.
MLB Pick: Rizzo for Most Hits, Runs and RBIs (-105) at Bovada

Rizzo for Most Hits, Runs and RBIs

(-105)
*The line and/or odds on picks in this article might have moved since the content was commissioned. For updated line movements, visit BMR's free betting odds product.