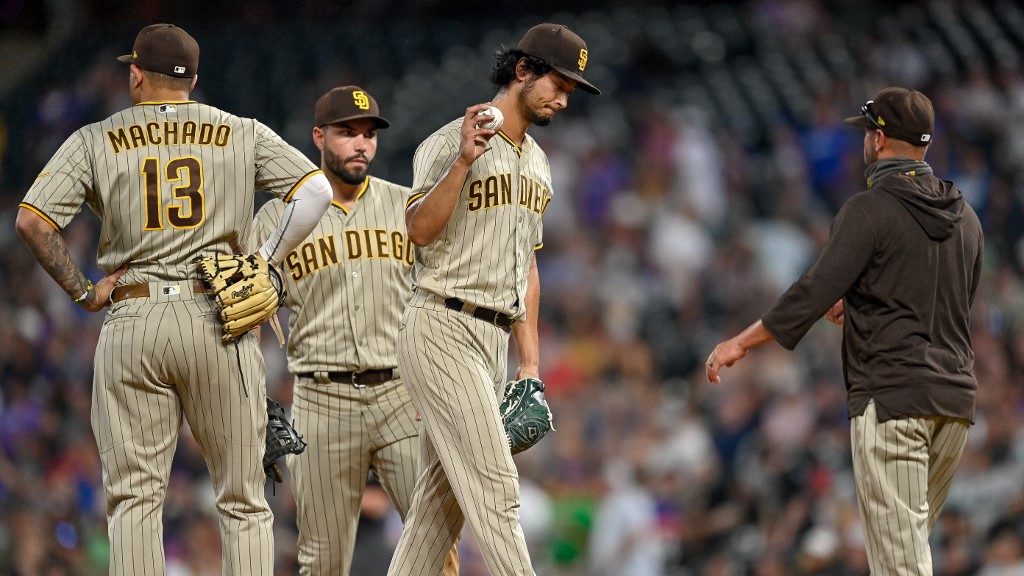 As of Monday, June 15, the Padres are 38-30 on the year despite plenty of injuries and COVID issues. Yet, it still feels like the Padres should be better.
The leader in team batting average is currently Jake Cronenworth with a .271 average. Yes, Fernando Tatis Jr. is batting .273 but he hasn't played enough games to qualify. Tatis Jr. is basically carrying this offense with 19 home runs and 44 runs batted in. In just 50 games, he's got a WAR of above 3. But other than Tatis, it's been just Cronenworth and Trent Grisham who have been able to produce with WAR's at 2 or above 2. Grisham has only played 39 games and had been out for a while but is finally back in the lineup.
But the reality is, this offense hasn't performed as the team had hoped through the first couple of months. The Padres production against lefties has really dipped and they're striking out nearly 25 percent of the time with their starters.
Against righties, the starting lineup hasn't done that much better, with a wOBA of .339 and a strikeout rate of 21.8 percent. Only Tatis has an ISO above .210 on this Padres team with Grisham hitting an ISO of .206. And while this team has been walking at a high rate, they have not been clutch and aren't driving in enough runners to compete.
The Padres are only winning due to their starting rotation and heavily used bullpen. The rotation is stacked behind Yu Darvish, Joe Musgrove, Blake Snell, Chris Paddack and Dinelson Lamet. The Padres have also started Ryan Weathers and he's been surprisingly good for this team as well. Darvish, Musgrove, and Weathers all have ERA's at 2.50 or lower while Lamet, Paddack and Snell have ERA's below 5.
Darvish and Musgrove will likely continue their dominance for the most part and Lamet will be just fine as he works his way back from injury, but Paddack and Snell are huge question marks for this pitching staff. Snell has had some terrific outings, as has Paddack, but they've also been absolutely smoked in some starts. The inconsistency from those two pitchers will hurt this team at times.
When you look at the lineup and rotation, on paper, the Padres have everything. But the offense isn't really producing other than Tatis at this point and the rotation is centered around two aces and a bunch of guys who have been inconsistent this season. The Padres are batting .232 on the season which is 21st in the league but have stolen 67 bases which has been a huge reason why they're able to find ways to win. Still, at some point, it's going to get harder to steal bases when pitchers and catchers know what's coming.
With terrific pitching, anything is possible but when the playoffs come around, this team is going to have to hit and right now they're showing just how incapable they really are. There's no consistency outside of Fernando Tatis Jr. offensively. On top of that, the Padres have a fielding percentage of .981, which is 25th in all of baseball.
With that said, it's really hard to rely on this ball club. The Padres are scoring 4.09 runs at home while scoring 4.81 runs on the road. Last year, they scored 5.35 runs per game. This year, they're nowhere near close to that number.
Until the offense reappears, this team is overrated. Pitchers are going to have off-nights. It happens in baseball, especially with no sticky stuff. But these hitters have shown no consistency all season long. With no consistency, the Padres are certainly an overrated bunch.