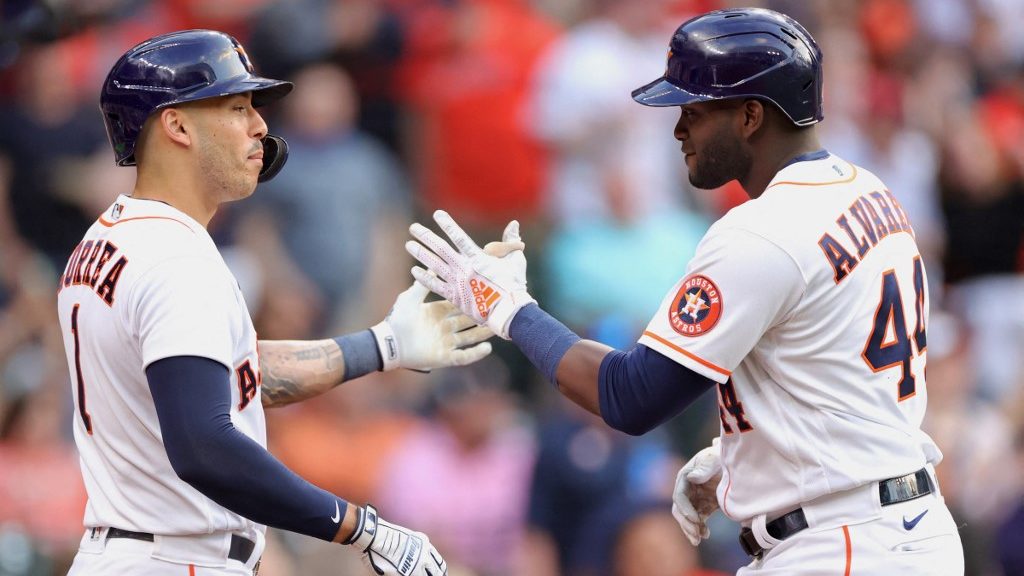 A light baseball schedule features an AL West clash on ESPN with one team trying to get back to the top of the division and another attempting to escape the basement. Who takes the series opener? The Houston Astros opened the homestand with a series victory over Toronto, winning yesterday 7-4 over the Blue Jays leveling their record at 9-8 home and away.
The Los Angeles Angels look to better their 7-9 road record and to do so need to score more runs after an unsavory homestand in Anaheim that saw them register a 2-5 record, though they did take their series over the weekend over their freeway rival the Dodgers.
Los Angeles Angels vs. Houston Astros
Monday, May 10, 8:10 PM EDT at Minute Maid Park
Bovada is one of the top sportsbooks that posted Houston as a money line favorite according to their betting odds. Should the Astros be considered this large a favorite or can Mike Trout and the Angels pull off the upset?
Halos Again Are Imperfect Squad
If you saw the Angels (15-18, -6.6 units) at the beginning of the season, you thought their offense was potentially pretty good and with Trout, Shohei Ohtani, Anthony Rendon and first baseman Jared Walsh showing excellent potential. As we head to the middle of May this week, that thought was correct with Joe Maddon's club a Top 8 scoring crew, averaging 4.8 runs per game.
The belief was the offense could pick up the starting pitching on certain nights and outscore the opposition. This has not worked out with Halos surrendering an un-holy 5.6 RPG, the worst in the majors. Forcing this or any team to average 6 RPG just to win is unthinkable. It's not fair to ask Angels fans to use a rosary every inning a starting pitcher or someone out of the bullpen is throwing and they're praying they don't give up runs.
Astros Offense Clicking Again with All the Pieces
Houston (18-16, -3.9) came flying out of the gate at 6-1. Next, the Astros went cold and suffered a variety of injuries, and fell back to the earth like the Chinese rocket ship over the weekend with a 1-9 stretch. Since, Dusty Baker's crew has gotten healthy again and W's started adding up.
After dropping a trio of tilts last week, one in Tampa and two in the Bronx, the offense has taken flight again in winning three of four, plating 28 times with 43 base-knocks.
The usual suspects (possibly a poor choice of words involving this team) like Jose Altuve, Alex Bregman and Michael Brantley are all swinging the lumber. However, outfielder Yordan Alvarez is tied for first on this club with homers and is second in runs batted in. Though a known quantity if not a recognized star, Yuli Gurriel is hitting well over .300, with an on-base percentage over .400, and leads his team in RBI.
Pitching Breakdown
Betting sites started the day trying to figure out who will start for the Angels. Alex Cobb was the expected choice but he's on the 10-day DL now. Left-hander Jose Suarez was recalled to L.A. on Sunday and either will start or likely be a part of bullpen day for the Halos.
Luis Garcia (0-3, 3.28 ERA) will make his third straight start. The right-hander has 14 strikeouts in only 9 2/3 innings, but he's allowed two bombs that have cost him.
The Houston bullpen has not been lights out with a 3.88 ERA, yet by comparison, they are like the local firemen compared to the Angels' bunch. That group is like arsonists, setting fires to bad situations and contributing greatly to Anaheim's losses with a 5.12 ERA.
Game Prediction
For MLB picks, we have no faith in the Angels bullpen even though they had a good game Sunday against the Dodgers in victory. Garcia might not have a win, but the Houston offense is hot and they have won 12 of 17 in H-Town over the Halos.
Taking the Astros on the money line Monday night
MLB Pick: Astros -163 at Bovada