This is the worst casino and sportsbook site ever. He stole my winnings from me. They do not have money to pay players who make a profit. It's a deposit-only site, and never makes payments from those who need to withdraw. I would not recommend this site to anyone. Anyone who registers an account and places money on this site will only be able to lose. They are dishonest and use hidden and obscure terms and conditions to steal your money. Look for another site to play, a site that is honest. Never create an account or put money in Tipbet, or you will lose everything and you will have many headaches for this.
Hello BMR team and players friends, I am having difficulty solving a subject occurred on
Tipbet
website
Below, I will tell you what happened, in detail and with printscreens that will facilitate understanding. With this, I humbly ask you to help us to get in touch with the staff of the site or its supervisors, with the intention of reaching an honest resolution to this
I am an old site user, depositor and with thousands of bets made. I had never made a withdrawal before. However, recently I participated in a promotion where I would win a bonus and would have to meet the conditions of playing his value multiplied by 10. The maximum winnings after the rollover was 100.00. OK no problems
So I started playing, I stayed days, weeks, months playing. Normally. Until I was able to fulfill the difficult and heavy rollover. My account balance was, now after the rollover ended, 119.56 (according to the print screen attached here, which shows the value after the rollover and below shows the bets made that fulfilled the rollover). In other words, the 100.00 of maximum gains + 19.56 extra that I left in the account without using it, because it was not mine and the site should remove at any time. This balance was now withdrawable money balance
Perfectly, everything okay up here. I did not want to make the withdrawal of 100.00. The terms and conditions of the promotion or website did not report anything about this. I decided to continue playing on the site. Using those 100.00, using values ​​deposited by me, using new bonuses offered by the site, using new deposit bonus, and all this mixed in a single balance, obviously
I spent more days, weeks, playing, without asking for any retreat. By the time my balance was now at 522.56. So I decided to make a withdrawal of a small part of this amount
But here the problem began. While I was happy to have had some profit after weeks of playing, I imagined that the site would only withdraw the additional extras 19,56, I was taken by surprise: the site removed 464.00 from my account! Suddenly, suddenly, suddenly and without speaking, nothing
Immediately, I contacted the support to complain about this, reporting the error, to remove only the 19.56 and not 464.00. And the site claimed that the maximum earnings was 100.00
In other words, the site has the thought that all my thousands of bets was still with the bonus. The site disregards that I made deposits, won new bonuses, fulfilled the new rollovers of the new bonuses, I used therefore real money that were not bonuses, but only because all this mixed with those 100.00 coming from that bonus, the site is in the right to consider everything as arising from the bonus
It's an absurd. They claim that the user would need to make the 100.00 withdrawal as soon as he rolled the rollover. Wait to receive the withdrawal. And re-deposit the 100.00 to continue playing. However, this does not follow an honest logic, this does not exist in any site. The user must withdraw a value, by obligation, having to stop playing on the site while waiting 1, 2 or 3 days to receive, and then re-deposit that. This is unacceptable. On the contrary, I liked the site and decided to continue playing on it, including depositing and making thousands of other bets, participating in new promotions!
If there was really this obligation, after the rollover, to stop playing, withdraw the value 100.00 immediately, wait 1, 2 or 3 days to receive, and then re-deposit, to just now continue to play the account, they put this on the terms and conditions, expressly and clearly saying: after the rollover, stop playing, withdraw the 100.00, wait for payment, deposit again the 100.00 and start using your account again! Or that the site had contacted me by email to report this! But, no, none of this was on the terms and conditions, nor did anyone on the site contact me to warn about this, which made me continue to play on the site without making any withdrawals, make deposits, win new deposit bonuses, fulfill your rollovers normally , make everything real money cash withdrawable, so only after all this try to withdraw some part of the balance
Attached, it follows the image of print screen that shows the moment that I finished the rollover:
119,56 = balance in account made with the bonus
150.00 = rollover required to comply with rollover
150.20 = the sum of the bets I made and rolled
0.20 = remaining value to end the rollover (negative because I did more than needed)
Below, in Bonus Stake History, follow the bets that I made and that counted to fulfill rollover
I humbly ask your help and respectfully ask for the understanding and fair play by the Tipbet team to return my balance of $ 464.00 to my account so that I can continue playing on the site or pay me this amount as withdrawal so that I re-deposit and continue playing because there was no reporting withdrawal obligation after rollover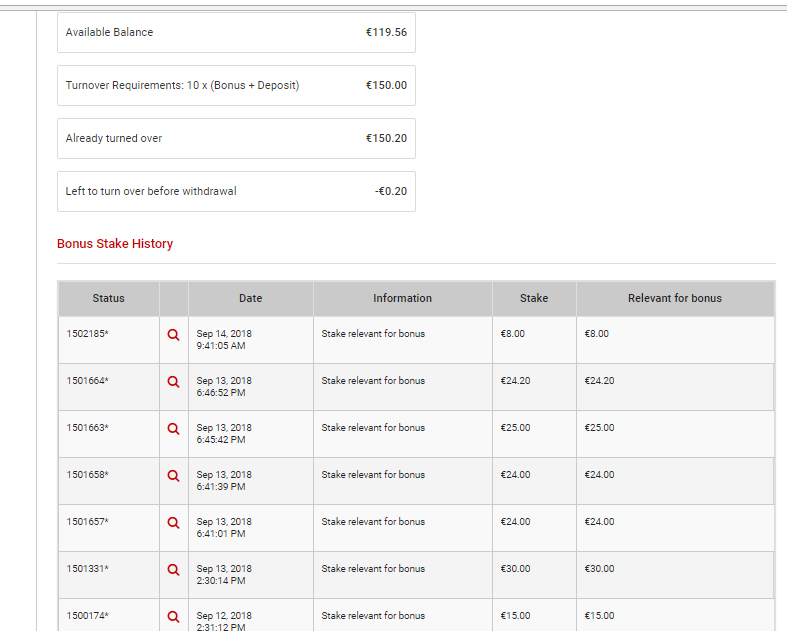 Last edited: