Joined

Jun 16, 2016
Messages

3,231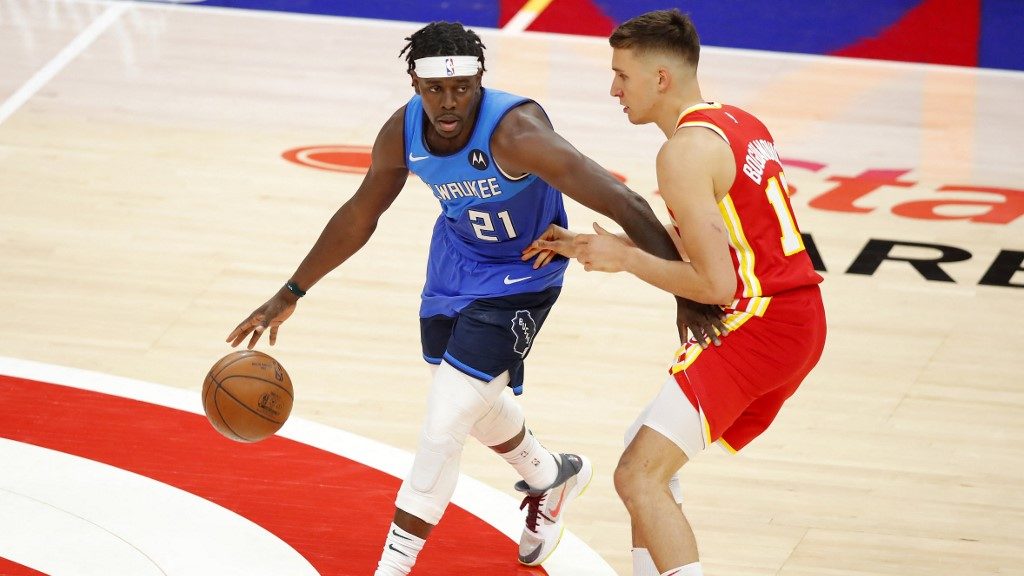 Jrue Holiday #21 of the Milwaukee Bucks. Todd Kirkland/Getty Images/AFP
The NBA Playoffs continue with one game tonight. Let's break down what the
best bet
to place is.
Top Sportsbooks
have released their odds for tonight's NBA playoff game between Milwaukee and Atlanta. With a 2-1 series lead, the Bucks look to win a second game in Atlanta in order to bring the Hawks to the brink of elimination. For reasons that I will explain, you should bet the spread for this game.
Milwaukee Bucks vs. Atlanta Hawks​
Tuesday, June 29, 2021 – 8:30 PM EDT at State Farm Arena
All Odds for this Matchup
Trae Young's Injury​
In the fourth quarter of Game 3, Atlanta held a seven-point lead. A big reason why Atlanta lost was the injury-derived pain that afflicted star point guard Trae Young. Without Young able to be effective on offense, Milwaukee won the game by 11. An MRI revealed that Young suffered a bone bruise in his right foot.
This injury made it painful and therefore difficult for him to move. Lack of movement or difficulty in moving is critical for Young because he characteristically uses his speed to beat his on-ball defender, to get to his spots,
to create for himself an uncontested shot, or to create for others
. At 6-1, he is not going to shoot over his opponent like Kevin Durant.
He needs to use speed since he lacks size. A worrying thing about this injury is that Young couldn't overcome it during the game. Often times, a player can play through pain when he incurs an injury during a game because he carries a lot of adrenaline and adrenaline can mask pain. Now that Young's body has cooled off after the game, I imagine that his foot is giving him at least as much pain.
An Already Disturbing Trend​
For our
sports betting
, I am comfortable in my pessimism towards Trae tonight because this pessimism does not depend on his injury status. Obviously, it would help a play on Milwaukee if he were still hurt. But it can make one uneasy to predicate plays on speculations about player health.
We can justifiably avoid this sense of uneasiness because an already disturbing trend exists that reflects the positive adjustments that the Buck defense has made with its personnel. In Game 1, Trae drove 23 times. In Game 2, he drove 15 times. In Game 3, he drove nine times.
While he is driving less, his rate of three-point attempts has increased each game -- from 38.2 percent in Game 1, to 50 percent in Game 2, to 60.8 percent in Game 3. Another way of looking at this trend in
Young's activity is to compare the amount of miles per game that he is moving on offense
.
He is moving much less, which is important for a guy who likes to use his speed to move past his on-ball defender. While his injury merely exacerbated this growing tendency, the fact is that Milwaukee is converting Trae from a speedster and a creative menace inside to a shot-taker.
It is true that Trae scored more points in Game 3. He made six of his 14 three-point attempts. But this three-point efficiency was anomalous. In the second round, Trae's three-point percentage was 32.8 percent, which is consistent with his regular season three-point percentage.
Evidently, Trae is less dangerous as a three-point shooter. So the point is not that he had an rarely good shooting effort in Game 3, but that he is continuing to have to attempt shots that he does not want to take.
Milwaukee's Adjustments​
In Game 1, everything was too easy for Trae as he was unpressured by and comfortable against Milwaukee's conservative ball-screen coverage. The Bucks employed their usual drop coverage, which affords the opposing ball-handler added operating space by positioning the center closer to the basket.
But the Bucks have adjusted by using the length and size of center Brook Lopez to disrupt Trae as he tries to use the ball-screen to get past his on-ball defender. With Lopez behaving more aggressively, Trae lacks the operating space that he made such free use of in Game 1.
Physicality has also characterized the renewed on-ball defending efforts of Jrue Holiday, who bounced back after Game 1 and showed why his length and overall
defensive skill set have made him a member of this year's All-NBA Defensive First Team
. Trae is a finesse player, a small and slender snake, who is susceptible to the hard-nosed defending that guys like Holiday can confront him with.
Buck Offense vs. Hawk Defense​
A question heading into this series was how Atlanta's statistically improved rim protection would fare against the weapons that Milwaukee's offense boasts. Perennial MVP candidate Giannis has answered this question by consistently thriving inside. He shed his earlier bad habit of settling for early-shot clock three-point attempts and instead is focused on attacking the paint.
Through three games this series, he is averaging 30.7 points per game. Keep this trend in mind for your Best Bets. In the Buck offense, success inside the arc helps open up propitious opportunities behind the arc. So Milwaukee will continue to average over 30 open and wide open three-point attempts per game.
The Verdict​
Given Trae's lack of mobility, which is a
consequence of Milwaukee's defensive adjustments
and which is made more severe by his bone bruise, the Hawk offense lacks the star-driven quality that Milwaukee's does starting with Giannis' paint-penetrating prowess. For the above reasons, invest in the Bucks with your
NBA picks
.
NBA Pick
:
Bucks -6.5 at -110 with BookMaker
(visit our
BookMaker Review
)
http://c.bookmakersreview.com/28ac