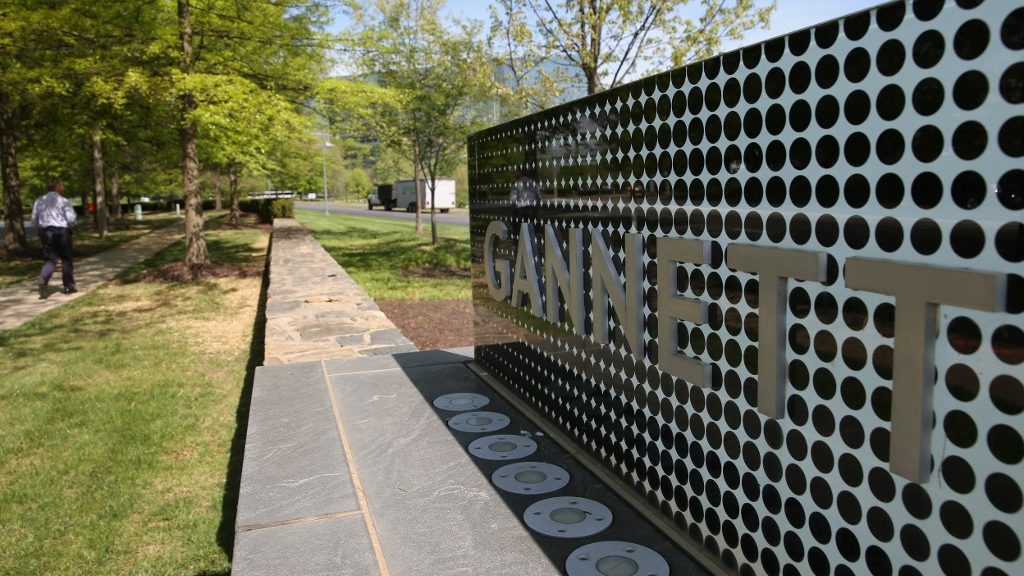 Gannett Co Inc, headquarters. Mark Wilson/Getty Images/AFP
Gannett Co Inc. has officially moved away from the unregulated to the regulated realm of legal sports betting content. Previously a user of
offshore
sportsbook Bovada for odds on its family of media outlets, which includes USA TODAY Sports, Gannett, thanks to its deal with
Tipico
USA Technology will start to employ sports betting content that has been regulated in at least one state on US soil.
It is a big step for the media giant as the US legal sports betting scene moves away from illegal sportsbook offerings to more mainstream options available in the ever-growing US scene. Currently the sixth-largest sportsbook in the world, Tipico, which is based out of the country of Malta and has an enormous presence in Germany, is live in New Jersey with the aim of growing the US presence in the very near future.
"We are thrilled to gain exclusive access to Gannet's portfolio of iconic brands and premium digital properties," said Adrian Vella, Tipico U.S. Chief Executive Officer. "Integrating their leading media properties with Tipico Sportsbook marks an important moment as we begin our acceleration in the U.S. Gannett's best-in-class editorial operations and massive local footprint, partnered with Tipico's game changing technology, including end-to-end proprietary sports betting and iGaming products, will offer U.S. fans a slam dunk combination."
The Deal​
The agreement will last five years and will make Tipico the exclusive sports betting and iGaming provider for Gannett, with integration of odds, props, free to play games and betting trends across the USA TODAY NETWORK. The deal assures Gannett will benefit from a $90 million media spend by Tipico on Gannett's media outlets, along with 4,990 common shares in Tipico's US business, making them a minority shareholder. Gannett will also get a referral fee from Tipico for any customer referrals from their platform.
Gannett, for their part will provide Tipico broad exposure called "premium marketing assets at a pre-negotiated value based upon the expected aggregate sum of the cash consideration, performance incentives, and right to acquire common shares." Tipico will co-brand all NFL Wire Team sites and For The Win, including a re-launch of the Bets subsection to "Bet For The Win, powered by Tipico Sportsbook" and providing co-branded digital odds pages throughout the USA TODAY NETWORK, in print and digital.
Win for Gannett​
Gannett and USA Today officially move on from an offshore book to one regulated in the US. Their sports content gets a boost from the experience and legitimacy of Tipico's established platform. It also moves USA Today closer to an emerging, almost complimentary sports industry, in similar fashion to other media giants that have already tied themselves to top-notch sportsbooks operating in the US scene.
The logical move gives Gannett's sports industry a chance to profit off their 250 daily local sites including The Indy Star and Detroit Free Press, and its USA TODAY Sports Media Group, including in-depth USA TODAY Sports coverage
. National sites include For the Win Golfweek, MMA Junkie. "Our highly engaged audience of more than 46 million sports fans crave analysis, betting insights, odds and unique features which we will provide with our Tipico alliance," said Michael Reed, Gannett chairman and chief executive officer. "Tipico adds incredible expertise from their European operations and next generation product capabilities, which offer our sports enthusiasts and local consumers a way to become even more invested in the games and sports they care about.
Win for Tipico​
Tipico, despite being a relatively small name in the US legal sports betting industry lands one of the big fish in the overall US sporting industry in USA Today. That publication is one of the most respected sports reporting entities in the country with elite writers on every major sport including the NFL, the NBA and college sports. The goal for sportsbooks in the increasingly competitive US market is to maximize exposure. USA Today and Gannett, with their estimated 450 websites and 250 other print and digital publications across the US gives them a chance to do just that.
"This historic agreement with Gannett, one of the most trusted names in global news, media and sports, will immediately bring additional credibility and trust to Tipico Sportsbook's U.S. operations," said Stephen Krombolz, Tipico Vice President of U.S. Business Development and Strategy. "These assets will serve as a key component of our North American marketing strategy, driving awareness of the Tipico brand and our products among Gannett's millions of readers, viewers and listeners – ultimately delivering fantastic acquisition and retention opportunities as we prepare to scale rapidly in the U.S."
Mutual Benefits​
As for the winner of this deal, there doesn't seem to be a clear one. Tipico is a solid global brand that is going to eventually make a name for itself in the US too – they get a new and broad set of eyes on their product from the deal. New Jersey and Colorado, two jurisdictions they should be live in by the fall are a good start for their growing brand. USA Today will definitely be as assist with that.
For USA Today, they get to jump in on the mainstreaming of the US legal sports betting industry. The use of an offshore sportsbook for their odds and betting content wasn't going to cut it anymore in the US industry. They now have the backing of a successful, experienced global brand that has US roots. It should all be up-and-running in August, in time for the NFL season.