Hawks vs. Bucks NBA Playoffs Game 5 Odds Preview and Pick​
By: Doug Upstone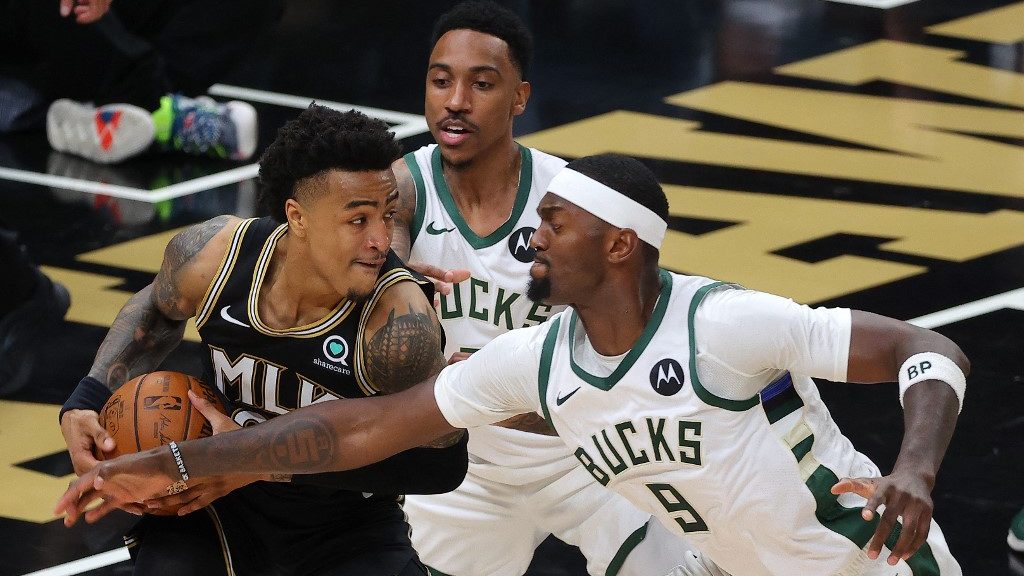 Jeff Teague #5 and Bobby Portis #9 of the Milwaukee Bucks defend John Collins #20 of the Atlanta Hawks. Kevin C. Cox/Getty Images/AFP
The NBA Playoffs have been fun and filled with surprises. They have also been marred with injuries to numerous brand-name players. Once again, this could affect the outcome of Game 5 between Atlanta and Milwaukee. On Thursday afternoon, the story broke Milwaukee's Giannis Antetokounmpo was – doubtful – for Game 5 and his return for this series is murky. At least he did not, according to reports, suffer structural damage to his left knee, but that might only be a consolation prize for Bucks' fans if he cannot return for this series.
Oddsmakers like those at
BookMaker
(visit our
BookMaker Review
) and others dropped the total like an anvil from 219.5 to 215. How will this play into bettors' picks? And now what side should you choose for the total?
Atlanta Hawks vs. Milwaukee Bucks​
Thursday, July 01, 2021 – 08:30 PM EDT at Fiserv Forum
All Odds for this Matchup
Atlanta's Reworked Game Plan​
With no Giannis, that helps Atlanta in multiple ways on both ends of the court whether Trae Young is back or not. The Bucks MVP is a nightmare when he has the ball 18-feet from the basket. He's too quick for centers to guard and he can overpower forwards with his size and maneuverability. Eliminate him from the mix and Atlanta can focus on putting pressure on other Milwaukee players.
On defense, everything switches to limiting Khris Middleton
. The Bucks shooting forward has been up and down like an elevator in the playoffs. The Hawks will look to harass him from the start and roll different defenders at him to do whatever possible to have him start slowly and not find a rhythm.
Though he's played unfazed, Jrue Holiday has also not delivered as a consistent scorer and he'll have to alter his ways for Milwaukee to retake a series lead.
Antetokounmpo is a high effort defender and an excellent off-the-ball shot-blocker. Atlanta players can go to the rim knowing Giannis is not around to swat away shot attempts.
Milwaukee's Big Adjustment​
Coach Mike Budenholzer is not known for playoff wizardry in making game-to-game playoff adjustments, but he'll have to come up with something here.
Lost in Antetokounmpo's absence is remembering Milwaukee earlier in the playoffs, they were already playing without another starter, shooting guard Donte DiVincenzo. That makes what was a solid bench during the regular season less so. It's not like coach Bud has felt great about his non-starters to begin with, but now he has to coach them up.
Like all such adjustments when a star player is out, it's a team effort that makes it work.
Budenholzer does not have to preach or implore his team to do something impossible, just have his players watch what Atlanta did to his team two nights ago.
The Hawks overcame the loss of Young by passing and moving the ball and not settling for one-on-one play. Ball movement can lead to open shots and as long as the Bucks are aggressive and selective, they can stay in the contest.
On defense, it will be all about effort, which was sorely lacking in Game 4. The thinking has to be disruption, not permitting even one Atlanta player to feel comfortable about a single shot. If Milwaukee does this, they will be playing Saturday to win the series.
What's the Play On?​
When thinking about the
NBA odds
, the winner of the past three matchups has held the opposing team to 93.6 points. That tells us that defense will have a greater impact on the outcome than offense.
If Young does play, the total will just rise, but who contains who will matter the most.
Atlanta will hit the Brew City 7-1 UNDER when catching digits. Milwaukee's history shows they are 12-2 UNDER in the 5th game of a playoff series and 13-2 UNDER at home off an upset loss as a road favorite. The UNDER it is.
NBA Pick:
UNDER 215 (-110) at BookMaker