[h=1]LA Lakers player makes NBA debut aged 32[/h]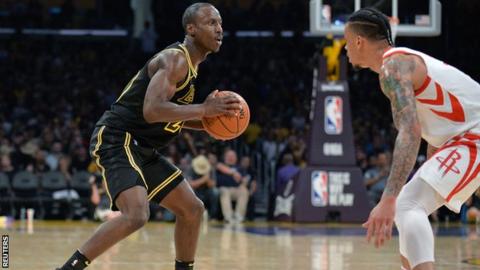 One minute you're tutoring maths students, the next you're playing for Los Angeles Lakers in front of Magic Johnson, Will Ferrell and Nicki Minaj.
It's fair to say it has been something of a whirlwind week for 32-year-old Andre Ingram, who finally made his NBA debut after more than 10 years and 384 matches of trying when he lined up against Houston Rockets on Tuesday.
And while his team might have fallen to a 105-99 defeat, Ingram still had plenty to smile about.
After all, he is 384 games into a career which, until now, had been mostly spent in the G-League, the NBA's minor league.
The rookie, who has been signed by the LA Lakers for the final two games of the season, scored 19 points and his performance caught the eye of NBA legend
Kobe Bryant.
"A lot of people that try and live the basketball dream probably would have given in, with the amount of years he has been trying," said Lakers head coach Luke Walton.
"You do not make lot of money in the minor league system, playing crazy schedules, in small towns, constantly waiting for others to think you are good enough. That can get mentally tough.
"It shows how mentally strong he is, how much he believes in himself and how much he loves the game."
Ingram said: "I just felt some electricity out there. It was amazing. The crowd, the lights — it was once in a lifetime."
http://www.bbc.com/sport/basketball/43722677