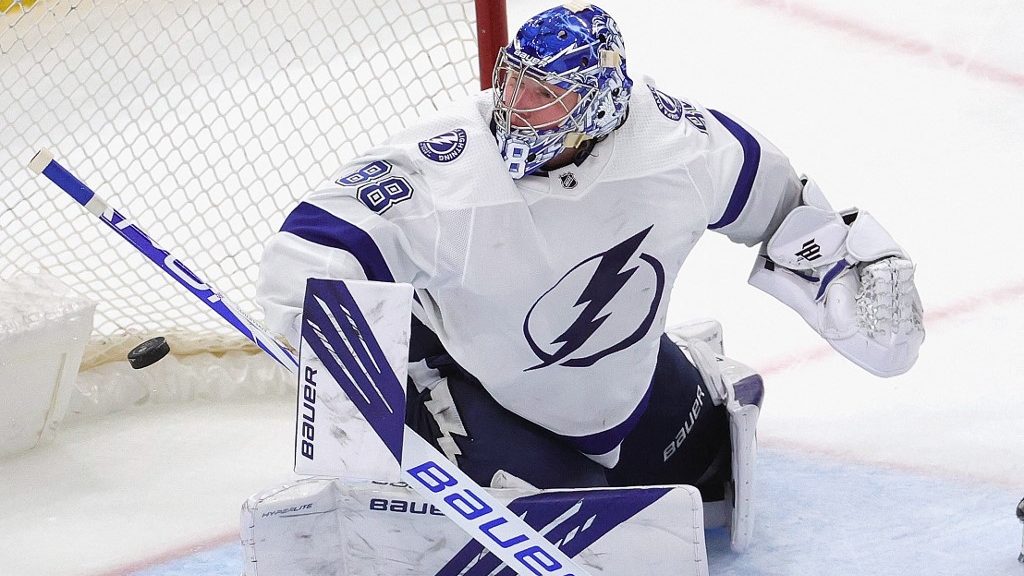 Just like we check what pitchers are starting in Baseball and what Quarterbacks are starting in the NFL, in the NHL we check to see what goaltenders are in the crease for the game that night and how important it is to check who is the starting goaltender before you place a wager on the game. Before we start let's look at some historical records set by Goaltenders.
Historical Goaltender Records
Longest Winning Streak
Gerry Cheever's – Boston Bruins – 32 Games Undefeated in 1971
Most Saves in a Game
Ron Tugnutt – Quebec Nordiques – 70 Saves in 1991
Most Wins in a Season
Brendan Holtby – Washington Capitals – 48 Wins 9 Losses in 2016
Most Shutouts in a Season
George Hainsworth – Montreal Canadians – 22 Shutouts in 44 Games in 1928
Goaltender Stats To Look For and Avoid
Goaltending can be a massive factor in a teams overall performance in any given game, they are the last line of defence and often times than not are the deciding factor in a team's overall performance on the night. With that being said they are not the be all and end all and we can get situations in many NHL games were some really poor or average tenders play like the best goaltender in the world and loose, and similarly we can get some of the best goaltenders having a stinker of a game and come away with a win. With that being said long term seasonal stats can aid you in your handicapping decisions.
5v5 Save Percent
Save% is a good place to start, but we would delve a little deeper and look at save% when its 5v5 on the ice, as there is lesser variables in play when the game is even strength.
Goals Saved Above Average
This is a relatively new stat that people have started to use in the NHL, it tells you how many goals a particular goalie has saved/allowed compared to what a league average goaltender has done. This is what is considered an advanced hockey stats. you can check out our advanced hockey stats here (possible link to advanced stats article?)
Goals Against Average
This is a stat that would have been very popular back in the day, but its mostly been put on the top shelf these days as it doesn't truly reflect how good a goaltender is and is more of a reflection on how good or bad his defence is. It's a useful stat to start off with if your new to handicapping the NHL, a nice place to start and learn the ropes.
Wins v Losses
Just like the previous stat, its not one we would rely heavily on as this usually comes down to how good the team is and nothing to do with the goaltender, yes, they might have an extra win for their team under their belt if they put in a really good performance, but overall its usually going to reflect the strength of the team. Of course there are some exceptions, but these are few and far between.
Conclusion: The Stats Must Be Respected But Not Relied Upon
Its important to check which goaltender is starting in goal, but we wouldn't hang our hat on who is the starting tender. For example, if you really love the odds of an NHL team to win and believe their capable of winning on that given night, but you see their backup goaltender is starting, don't let that put you off your pick unless theirs some unique circumstances like he genuinely is the worst in the league or he is a young kid making his debut. Often times than not a backup goaltender can get his team a win if he has the right team in front of him.
In essence, over the course of a season an average goaltender could still win the Stanley Cup if he has the best team in front of him but the top goaltender in the league most likely won't hoist the Stanley Cup if he has a bad or average team in front of him. He might be able to get them into the playoffs and maybe win a series or two but sooner or later they will be beaten, of course it's possible but I bet my bottom dollar more average goaltenders have hoisted the Stanley with the best teams than the other way around. Goaltender stats can be a helpful aid when handicapping the NHL, but don't rely too heavily on them.
As a one off game case study we could take a look at the Detroit Red Wings v Dallas Stars which took place on April 24th, 2021. At the time Detroit were bottom of the west division and massive underdogs at odds of +300 on home ice against the Dallas Stars. Detroit goaltender Jonathan Bernier had been a bright spot for the Red Wings despite their dismal season. He had a winning record of 8-6, which is average but when we check their results without him, they have gone 4-15-4. In this particular game he put up a massive 50 saves from 52 shots against him, to eventually loose in overtime. Our point being, he did virtually everything he could possibly do to try get his team a win and they still lost, it was most likely his best ever game in the crease. Goaltender stats can be a helpful aid when handicapping the NHL, but don't rely too heavily on them.