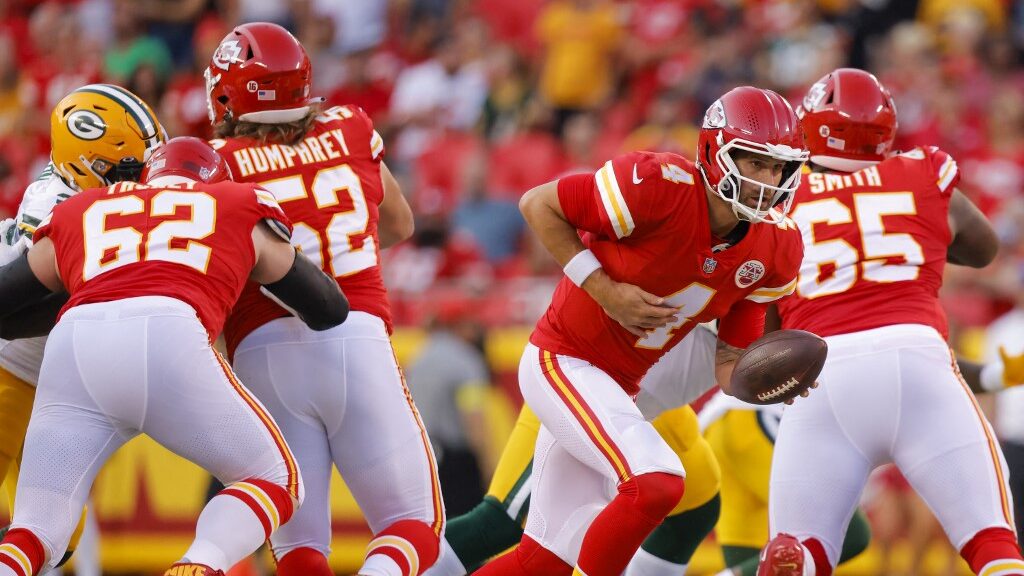 There's nothing like betting NFL football, and it's even better when the bookies give you a head start.
But why would the house give you an advantage and is it one worth taking?
What's a Teaser?
There are various forms of football teasers but the most common is the two-team, six-point teaser we find at virtually all of the best online sportsbooks.
The big benefit is that the bettor is allowed to move the point spread or the total (over/under) six points in any direction but this must involve two wagers, and the downside is that both must cover for the bet to win.
To reiterate, there are several kinds of teasers but the one most commonly used is the standard two-team, 6, 6 ½, or 7-point teaser. In the example below we will use the six-point teaser in which the bettor will pay the standard vig (commission) of 10 percent if the bet loses.
Let's use two games to create our teaser:
Broncos vs. Chiefs (-7, 47 total)
Seahawks vs. Rams (-9, 42 total)
We must decide which sides or totals we like in these two games – although there are a dozen or more games available to choose from on a typical regular-season NFL Sunday) – and use the six points to our advantage.
Remember, we get to use six points in any way we choose, but we must decide on two teams and/or totals (in this example). Therefore, we can use the six points in the following ways:
Sides
Chiefs -1 (-7 + 6 teaser points = -1) or Broncos +13 (+7 + 6 teaser points = +13)
Rams -3 ( -9 + 6 teaser points = -3) or Seahawks +15 (+9 +6 teaser points = +15)
Totals
Broncos/Chiefs total of 47 – Over 41 (47-6 teaser points) or Under 53 (47 +6 teaser points)
Rams/Seahawks total of 42 – Over 36 (42-6 teaser points) or Under 48 (42 +6 teaser points)
---
Pick Two
We should note some sportsbooks will not allow for correlated teasers, which means you cannot choose a side and total in the same game.
But for this example, we will assume all options are available and we can see that we have a total of eight possibilities (Chiefs -1, Broncos +13, Rams -3, Seahawks +15, Over 41 Broncos/Chiefs, Under 53 Broncos/Chiefs, Over 36 Rams/Seahawks, Under 48 Rams/Seahawks) of which we must choose two to build our teaser.
Now that we have our options, let's make our choice! In this example, we will choose Over 41 Broncos/Chiefs and the Seahawks +15. The fun part is using the six points, but the edge slides towards the house once the games begin because now, we must cover not one, but two separate point spreads in order for our wager to be graded as a win.
In the event of a push (tie) in one leg of a two-team teaser, with the other leg covering, most books will view this entire teaser as a push and will refund the wager, although some may grade pushes as a loss.
Simple Teaser Table
---
Are Teaser Bets Worth the Risk?
The sportsbooks wouldn't allow teasers if they proved to be detrimental to their bottom line. And we know teasers have been around forever so it's fair to say that they are not in the bettor's favor.
But they are an alluring bet which is why they are called teasers.
Therefore, if we are going strictly by the sports betting bible then we would see a verse that read, "Thou shalt not bet teasers."
But if we want to color outside the lines and take a chance betting teasers every now and again then there are some simple rules to follow:
Never use a favorite or underdog in a teaser in which the number is 3, 4, 6, 7, or 10. These are the most common margins of victory with 3 being the most popular while 7 checks in at a distant second.
NFL totals also have common numbers which should be avoided if at all possible. Those numbers are 37, 41, 42, 44, 45, 49, and 52.
Arbitrage
Some of the more sophisticated bettors will use teasers as an arbitrage opportunity in which they are hoping to middle the last leg of their teaser. Let's use the examples above:
1:00 PM EDT – We are teasing the Chiefs from -7 to -1 (1st Teaser Leg)
4:25 PM EDT – We are teasing the Seahawks from +9 to +15 (2nd Teaser Leg)
Assuming our 1st Leg wins (Chiefs -1) we now have a golden opportunity to try to middle this teaser.
The line on the game is Rams -9 but we have the underdog Seahawks at +15, which means we can bet the Rams -9 for the same amount of the teaser guaranteeing that the most we can lose is the vig.
But the upside is we could win both bets!
Possible Scenarios
The Seahawks cover +15 but the Rams do not cover -9 (Bettor wins $100 on the teaser and loses $110 on Rams -9 for a net loss of -$10).
The Rams cover -9 but the Seahawks do not cover +15 (Bettor wins $100 on the Rams -9 but loses the 2nd Leg of teaser with Seahawks +15 for a net loss of -$10).
Seahawks cover +15 and Rams cover -9 (Rams 27 – Seahawks 17) which means Bettor wins $100 on the teaser and $100 on the Rams for a net win of +$200. This is what is called a "middle" in the sports handicapping parlance.
Teasers can be a fun way to bet on NFL football, but don't make it a staple of your betting profile.
Straight or flat bets are universally accepted as the best way to grind out a net gain to your bankroll over the long haul that is the NFL season.