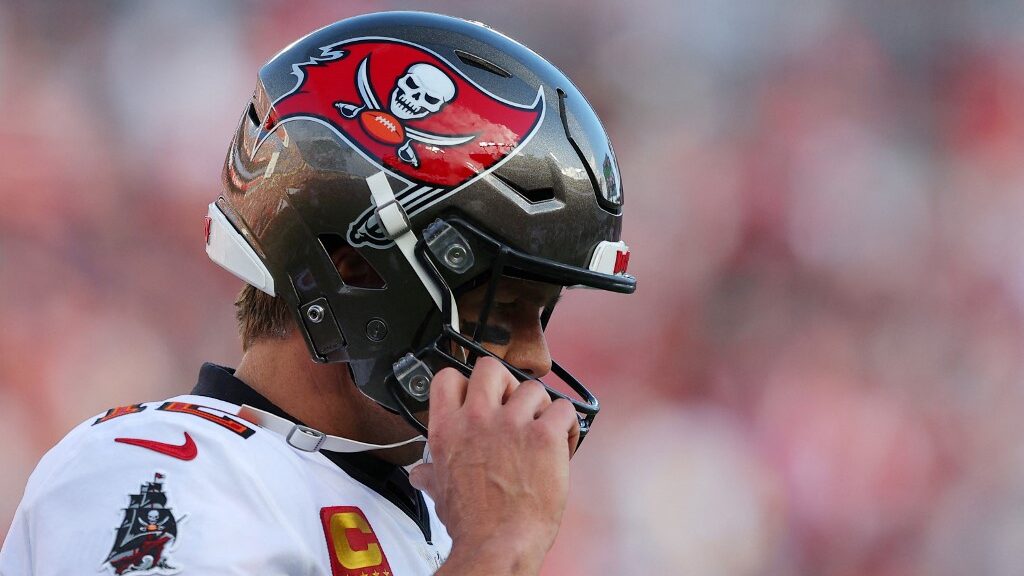 Tom Brady and the Bucs have spectacularly underachieved this season and those who have been blindly backing Brady with their hard-earned money are starting to rethink their strategy.
A Year to Forget
Tom Brady has long been acknowledged as the GOAT of professional football, and when coupled with a supermodel wife, three adorable children, and a handsome face that seems to grow more chiseled as time marches on, it embodies an idyllic life that seems straight out of Disney.
But things have suddenly changed both on and off the field for Brady. The kids are still beautiful, the face is strangely getting younger, and there's enough money to last for generations. But the lovely lady of the house has served Tom his walking papers and it just so happens this has coincided with Brady's worst year as a professional.
After the Bucs' 27-22 loss on Thursday night, Brady is now riding a three-game losing streak for the first time in 20 years. And if you have been betting that the Bucs will wake up and snap out of their funk, then you already know that after winning and covering their first two games, Tampa Bay is 1-5 straight up and 0-6 over their last six contests.
According to virtually all of the best online sportsbooks, the Bucs were the second choice at +750 to win the Super Bowl before this season began. And if we take a peek over at BetOnline, we can see those odds have drifted to +2000, now the eighth choice to hoist the Lombardi Trophy aloft.
Mentally Speaking…
This season we have seen Brady melt down on the sidelines, excoriate his offensive line, smash tablets after coming off the field, and generally act like the rich kid who got a Chevy and not a Benz for his 16th birthday. TB12 has always had a fiery temper but he's managed it well over his two decades of unmitigated excellence, but this year – not so much.
This harkens back to another celebrated athlete who lost his golden boy status shortly after he lost his wife. We speak of Tiger Woods and his Cadillac Escalade's ill-fated meeting with a fire hydrant and a tree.
It was in the early morning hours of Thanksgiving 2009 when Tiger was allegedly being chased by the stunning Ms. Woods, aka Elin Nordegren, with a golf club intent on bashing the rear window. We would soon learn that the interruption of their domestic bliss was the result of Tiger's serial philandering.
And just like that, Woods went from chasing Jack Nicklaus's 18 major championships while being adored and venerated by every golf gallery in the world to struggling to make the cut at even the most pedestrian tournaments and being vilified as the callous, arrogant, and self-absorbed American athlete who cheats on his wife.
Is This Brady's Swan Song?
And although there are no reports that Brady was anything but faithful during the power couple's 13-year marriage, we can see the effects of how one's personal struggles can manifest on the field of play. These mighty athletes we worship are put on pedestals because they can perform physical feats of greatness that the rest of us cannot.
But when the lights go down and the crowds go home, their lives become much like ours, sans the accouterments of being a highly-paid athlete. They deal with household dynamics, schedules, kids' games, and events, all while trying to maintain a peaceful and loving relationship with their spouse.
But disagreements happen and they either get resolved or they linger. And if these contentious issues do not get resolved they can become a malignancy in the marriage. Once that festers, instead of focusing on athletic mechanics, they're dwelling on domestic discord, and that can have a devastating effect on their performances and precipitate a career spiral.
All Is Not Lost for the Bucs
A life-altering event like divorce has clearly shaken Brady as he has flashed only glimpses of his jaw-dropping talent this season. But before we assume the curtain has closed on Tom Brady's legendary career, let's also consider that after Week 8 of the 2022 season, he is leading all passers with 2,267 yards. Let's also point out Brady has 9 passing touchdowns to just 1 interception and has a completion rate of 65.9%.
But here's the kicker. The Bucs reside in the least talented division in football, the NFC South. They are in second place with a 3-5 record, ahead of the Carolina Panthers and New Orleans Saints, but below the 3-4 Atlanta Falcons. The rest of their schedule looks like this and we have taken the liberty of predicting wins and losses for each.
Nov 6 – Sun • 4:25pm vs. Los Angeles Rams (W)
Nov 13 – Sun • 3:30pm (Germany) NFL International Series – Seattle Seahawks (W)
Nov 27 – Sun • 1:00pm at Cleveland Browns (W)
Dec 5 – Mon • 8:15pm vs. New Orleans Saints (W)
Dec 11 – Sun • 1:25pm at San Francisco 49ers (L)
Dec 18 – Sun • 4:25pm vs. Cincinnati Bengals (L)
Dec 25 – Sun • 6:20pm at Arizona Cardinals (W)
Jan 1, 2023 – Sun • 1:00pm vs. Carolina Panthers (W)
Jan 8, 2023 – Sun • TBD at Atlanta Falcons (W)
Assuming our crystal ball is clear, that's 7-2 straight up the rest of the way, which will leave the Bucs with a 10-7 record and good enough to win the division.
There's a reason the oddsmakers still have Tom Terrific and the Bucs at only +2000 to win it all because, believe it or not, they're still very much in it!