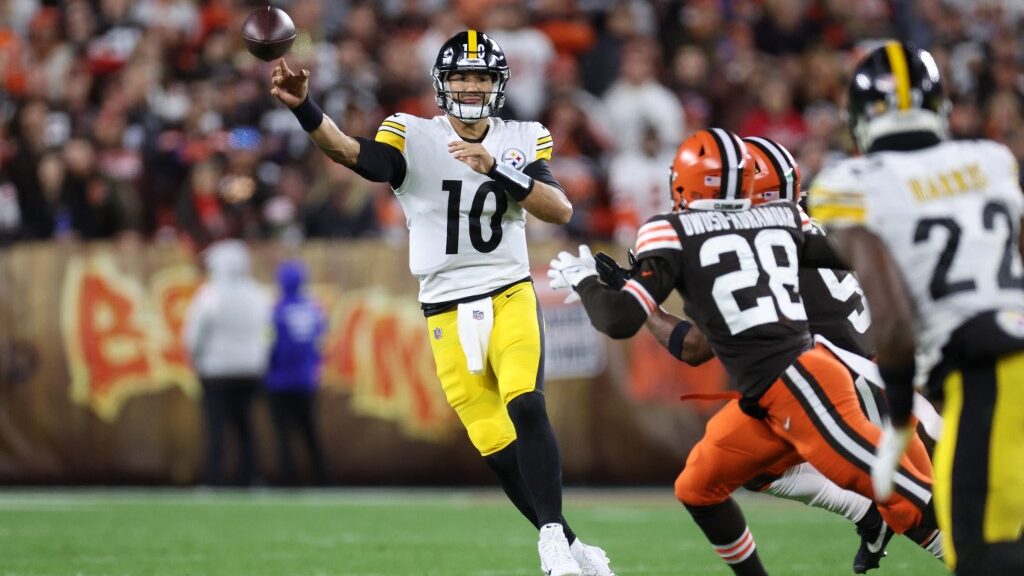 The games played in September tell us a great deal about the teams' current edition compared to the previous season. Some will exceed our expectations while others will disappoint.
Below we list five important factors to watch for in the early going that could impact a team's fortunes and your NFL picks in the coming months.
PLAY NOW: $25,000 Free-To-Play NFL Contest: BMR's 2022 Pick'Em Pool Opens for Registration
---
1. Injuries Matter
Obvious, right? But you might be surprised how often the average NFL bettor is unaware of an injury that occurred during the week because it is only until Sunday morning when the Joe Q public of the sports-betting world take the time to check out the NFL odds and make a decision, often with faulty information.
But let's assume you are a bit more informed than the average guy or girl and keep abreast of injuries to the skill position players.
Injuries Are Not Always Obvious
Injuries to quarterbacks, running backs, and receivers always grab the headlines and the oddsmakers adjust their lines based on that information.
However, a few things to keep in mind after September passes, teams begin to assume an identity, and public perception begins to crystalize based on those three or four performances.
Just because a skill player is not on the injured list doesn't mean he's not injured to some extent. Some players can play through the pain while others become noticeably hobbled.
Moreover, injuries to the big uglies in the trenches can have an enormous impact. They are the quarterback's bodyguards and an injury to a star lineman can have a devastating effect on his quarterback's performance as well as his running backs.
Injuries Changing the Game
If there's no time to throw, an elite quarterback can look downright average, and so too can a star running back if there is no daylight to be found.
Defensively, the same thing can be said. There are many cornerbacks, safeties, linebackers, and down linemen who are a click below the best and whose absence or injury can change the complexion of a game.
The average bettor doesn't even know their names nor the impact they have because the media focuses on household names. Become familiar with the injury reports because they will help you formulate more educated choices going forward.
---
2. Track the Stars
Have you ever seen a star player fall off the map? Great last year, but not so much this season and we wonder, what happened? Historically, we have seen that a compilation of issues can contribute to a player's sudden decline that might only be temporary.
If the working parts around him appear to be functioning at a high level, then it is likely a problem with the player himself. Maybe Father Time has finally caught up with him, Tom Brady excluded, or he could be dealing with an undisclosed injury.
Remember, the public is slow to adjust their perceptions of a player and will continue to bet on teams based on historical performance, as opposed to handicapping in the here and now. Take advantage of those weak lines that will manifest because of it.
Remember, oddsmakers don't set lines based on who they believe will win and by how much but rather their understanding of the public's perception of those teams. They create lines based on attracting betting on both sides so they can collect their commission without having a dog in the fight.
---
3. Coaching Schemes
Think about your own job. Your old boss leaves and a new one arrives. There is always a bit of trepidation when there is a new sheriff in town.
The same can be said of a new head coach and his hand-picked coaching staff. How well he fits with the team he is taking over has massive import in the early part of the season and that vibe will carry throughout the season.
We should also note that if a coach enters with visions of a high-octane passing scheme, but the roster is built more towards smash-mouth football, then there will be issues.
A coach needs to design his offensive and defensive schemes around his team's strengths and not his ideal vision of what a team should look like. If he doesn't adjust and remains committed to his blueprint then it is a recipe for disaster.
---
4. Regression to the Mean
Some teams start slow while others break out of the box like a jackrabbit. The oddsmakers understand the public has a short-term memory and will predicate their wagers on what have they seen lately.
If a bad team has a great September or, conversely, a good team has a lousy start, chances are there will be a regression, to some extent, to the middle.
This is always a powerful opportunity to fade the public and bet on the other side. Look for things like a bad team enjoyed a series of lucky breaks while the opposite held true for the good teams that are going bad.
That will eventually change and you must be ready to pounce when it does.
---
5. Shop Around
Point spreads matter and a half point can make or break your day. Make sure you have plenty of outs (online sportsbooks) at your disposal. If you are unsure which are safe to play with and will pay you when a payout is requested, check out Bookmakers Review top-rated sportsbooks.
All sportsbooks move their lines differently. It is best if you can recognize the patterns early so you are aware of how quickly they move. Some are a bit slow at the switch.
However, the information highway known as the internet communicates rapidly and even a slow book will adjust before you can take advantage if you don't act fast.
Understand How Business Works
Know how your books adjust to breaking information, as some will overcompensate while other others will be more deliberate and calculated.
In other words, know thy enemy, you are betting to take their money and they are setting lines to take yours. If you are an informed and educated consumer, your odds of winning over the long haul that is the NFL season will greatly improve.