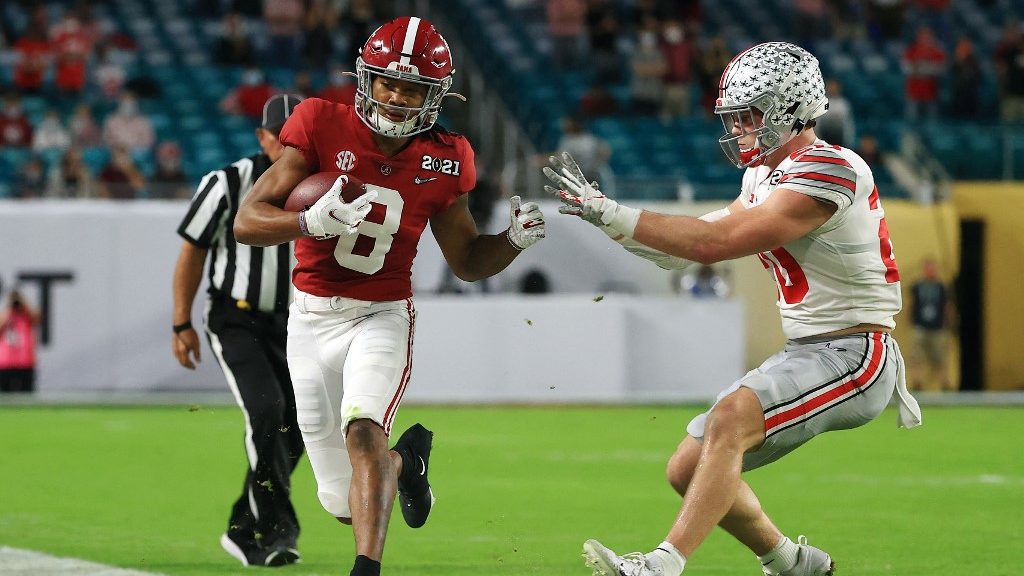 College football bettors looking to expand their horizons should take a look at a number of NCAAF props bets where there is money to be made.
There are two CFB props that typically offer bettors a lot of value – the first touchdown scorer prop and the anytime touchdown scorer prop. To get the most out of each of these best bets, it helps to understand how they work first.
Follow along in this college football touchdown scorer props betting guide.
Understanding Touchdown Scorer Props
Bettors must be aware of what constitutes a touchdown when betting these props. Planning to bet on your favorite college quarterback – Oklahoma's Spencer Rattler, for example – to score first by throwing a touchdown pass is not a good strategy.
Touchdown passes by the quarterback do not count as touchdowns for the quarterback. A touchdown, for the purposes of these prop bets, is recorded by the player that actually gets into the end zone. When Rattler throws a touchdown, the touchdown is scored by his receiver that caught the touchdown pass.
A quarterback can register a touchdown that counts in both of these prop bets by rushing for a touchdown or by catching a pass and scoring a touchdown.
First Touchdown Scorer Prop Bets Explained
Now that we understand which touchdowns count, we can take a look at the first touchdown scorer prop. When you place this bet, you are wagering on a specific player to score the first touchdown in a game.
Since these bets are unpredictable, the odds on the first touchdown scorer are usually longer than the anytime touchdown scorer. Let's use an example featuring Alabama. The Crimson Tide are playing Miami.
Odds to Score First Touchdown
John Metchie III +650
Brian Robinson Jr. +700
Xavier Williams +750
Slade Bolden +900
Bryce Young +1000
John Metchie III, a wide receiver, is the favorite to score first. A $100 bet offers a nice $650 payout if Metchie is the first player to score in the game.
A bet on Bryce Young, Alabama's quarterback, would only pay out if Young ran for a touchdown or caught a pass for a score. That $100 bet would pay out $1000.
Anytime Touchdown Scorer Prop Bets Explained
When you make this bet, you are betting that the player will score a touchdown in the game. Looking at Alabama once again, we see that Metchie is listed at +125 and Robinson at +250 to score.
Odds to Score a Touchdown Anytime
John Metchie III +125
Brian Robinson Jr. +250
Bryce Young +350
It's more likely that Metchie or Robinson would score a touchdown than specifically score the game's first touchdown. Therefore, the odds are shorter. Again, Young's touchdowns only count if he rushes for one or catches a pass for a score.
NCAA Football Touchdown Props Betting Strategy
When considering these prop bets, start by looking at a player's stats. Looking at their recent performance can be a good indicator of how they may perform. The other thing to consider is the matchup.
For example, in an Alabama-Miami matchup, bettors should consider the strength of the Crimson Tide defense. They are normally near the top of the rankings in scoring defense. Bettors would likely opt for an Alabama player to score first, for example.
Other tips include looking at a team's offense. A team like Iowa State, for example, relies on their running game. Since their running backs are going to touch the football a lot, betting on one of them on the anytime touchdown prop should be a strong bet.
Make sure to do your research on top sportsbooks and, if you do, you should be able to take advantage of these two college football prop bets.